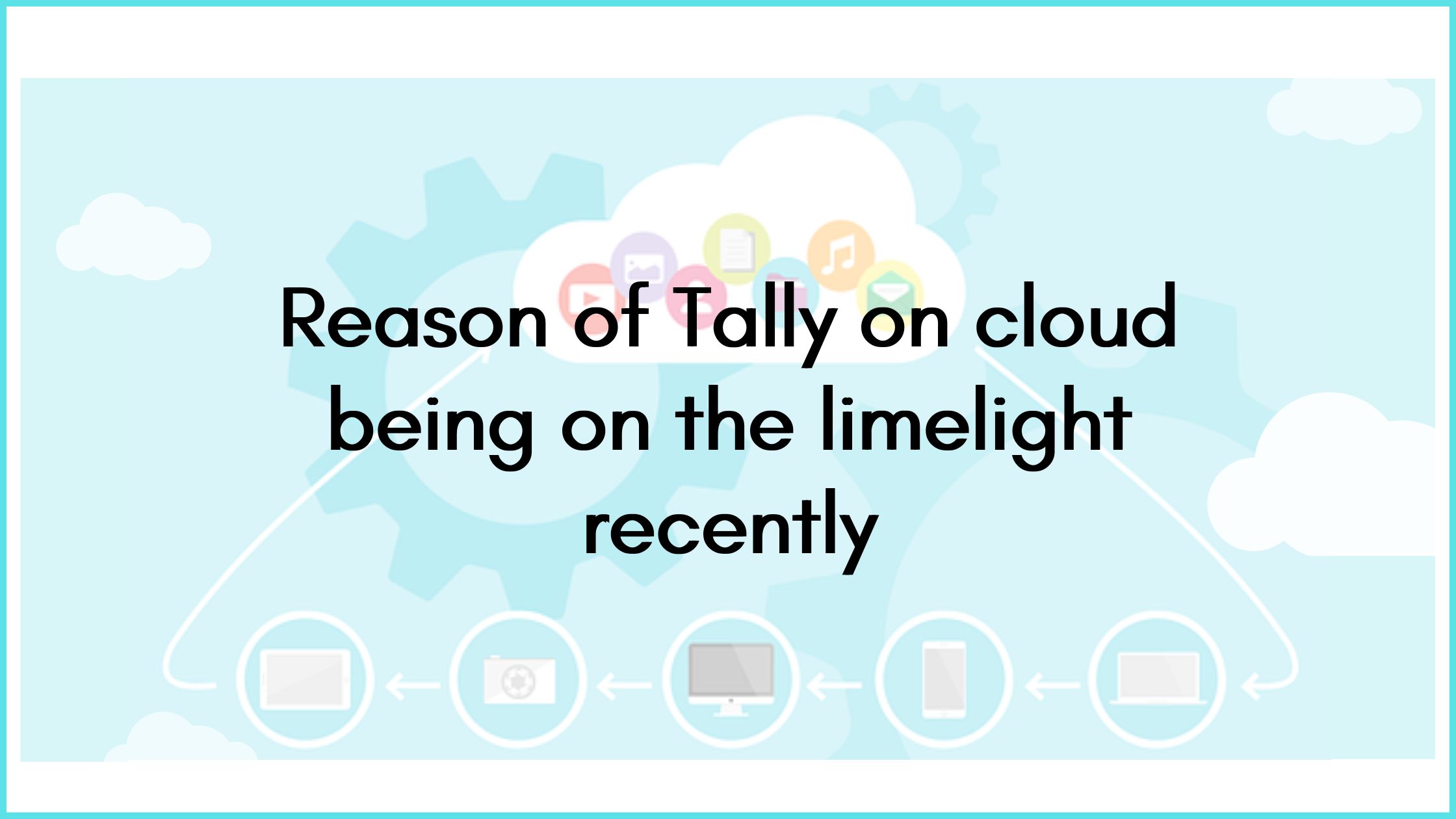 Reason of Tally on cloud being on the limelight recently
Why Tally combined with Cloud platform is in the limelight?
The word Tally on Cloud comes with the two important terms: Tally and Cloud.
It's the combination of cloud which has made tally more convenient with the use of virtual technology.
Tally on cloud came as the complete solution for all the business requirements.
Tally on cloud facilitates the access of your tally account online from anywhere, anytime, and on any device, not only this awesome feature but many more have a further view in this article.
If you have any query related to Tally on cloud services, feel free to reach us.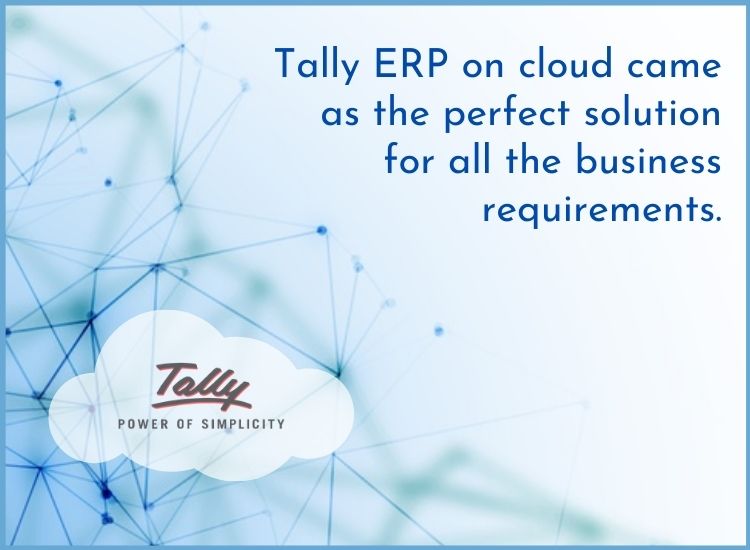 Why Tally ERP accounting software is considered as a boon for businesses and accountants?
Once its introduction came into light all over, the installation of Tally accounting software increased rapidly.
Tally eased up the whole accounting and auditing transactions for businesses and others with easy to use and easy to record features.
Every business using Tally software had shaped a new way to perform their accounting activities.
How Tally accounting software helps businesses to more productive?
Tally ERP complying with the present conditions of accounting and has proved to be a perfect pick for businesses.
Tally software came up as a comfort to businesses and accountants who were incurring a huge number of hours and costs.
Tally helps in generating accurate accounting, financial reports, and other records.
Tally ERP 9 enhance productivity to a large extent by minimizing errors and saves time on manual efforts.
How Tally ERP software assist with GST compliances?
Since the implementation of GST (Goods and Services Tax) in India, all the tax recording and accounting practices were changed which required a need for software complying with all the GST recording features.
Tally was very fast to adapt to this change in Indian taxation and introduced a more enhanced version of Tally where GST and all the changed releases of Indian accounting can function easily.
Tally had produced a GST compliant version which is the reason why people find it more convenient recently.
You must have heard about the Tally accounting software revolution but there's something more which has strong-armed its grip and which has retained the interests of businesses and that is Cloud infrastructure.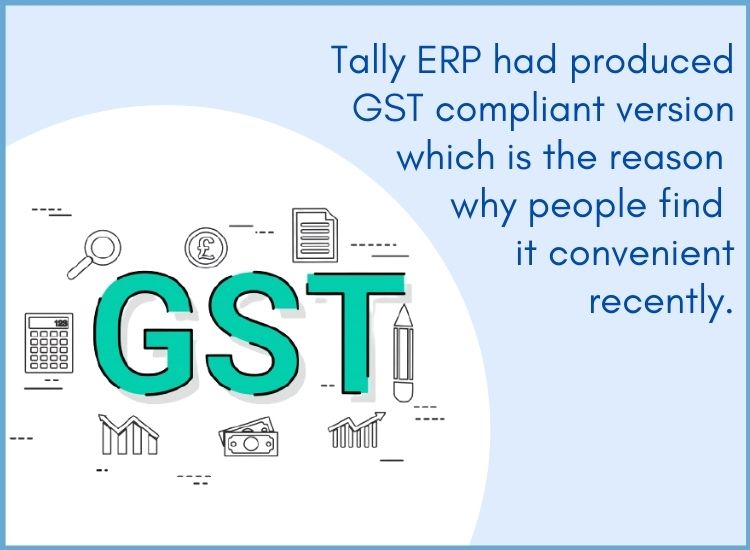 Why cloud infrastructure is preferred by businesses?
In recent days, cloud infrastructure is adopted by most of the businesses.
The cloud platform is used to store the valuable data and browse through from any location on any device at any time.
The cloud is widely used as it offers the benefit of multiple locations, multi-user & multiple devices.
Can Tally be hosted on Cloud?
Yes, by hosting the Tally application on Cloud the user can combine the power of Tally simplicity along with a secure and robust cloud platform that offers multiple benefits.
Tally cloud computing service makes it feasible to work on Tally ERP from anywhere around the globe 24*7.
Tally data can be accessed on any device as long as you have an active internet connection.
Why businesses use Tally on cloud service?
This has resolved all the issues of businesses and complies with all the functions required to use Tally in a cost-effective way.
The installing of Tally was getting hard with all the hardware and software individually at all centers.
It was also difficult to manage Tally at every individual system which incurred lots of time, diverting businesses from their valuable core operations.
Therefore, businesses need Tally on cloud to dissolve their problems of managing it day-to-day and use it from wherever they wish to.
Tally on cloud provides this impressive feature to access your Tally EPR from anywhere, anytime use on a PC or any device.
You also need not worry about the Tally on cloud configuration and its day-to-day management as your service provider will take complete care of that.
So, it came as a complete solution for all the business needs.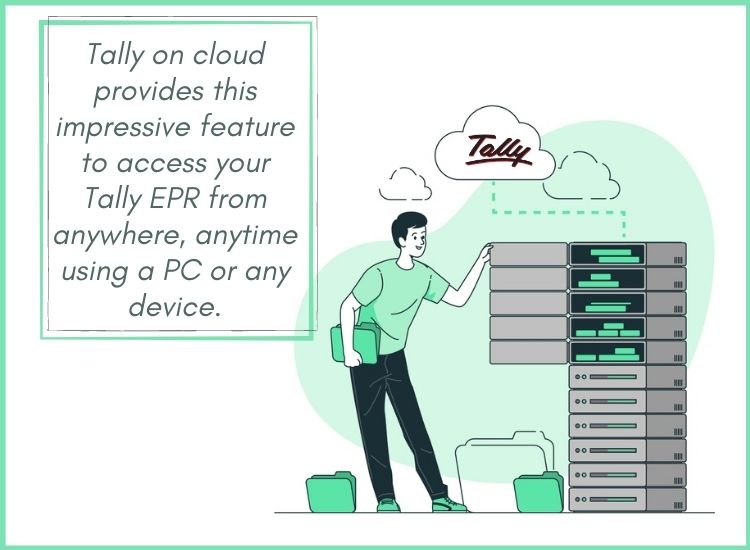 Tally on Cloud has made it possible to use Tally in a more efficient way without wasting much of time and expense on its working, ultimately benefiting the company's growth. The ulterior features and efficiency have made Tally on Cloud to be a popular choice among all the businesses today. To avail free Tally on cloud demo visit Tallystack.in.
How does the cloud ensure Tally data security?
With the cloud server, tally data are highly secure as it assures that only authorized users can access your tally account. Tally data stored on cloud tally is safe from all malicious activities as it offers security with Multi-Layer.
What are the advantages of hosting Tally on cloud?
Tally on cloud comes with numerous advantages for business. some of them are mentioned below:
Access any version of Tally from anywhere at anytime
Download live financial and operational reports based on Cloud
Tally on Cloud supports all the reforms of GST
Facilitates auto Tally ERP data backup service
100% protection of Tally data from threats
You can install and access Tally on Mac/ Windows
Allow multi-user access with centralized data
Provides TDL customization support as per business requirement
To learn more about Tally On Cloud, you can check out our videos.