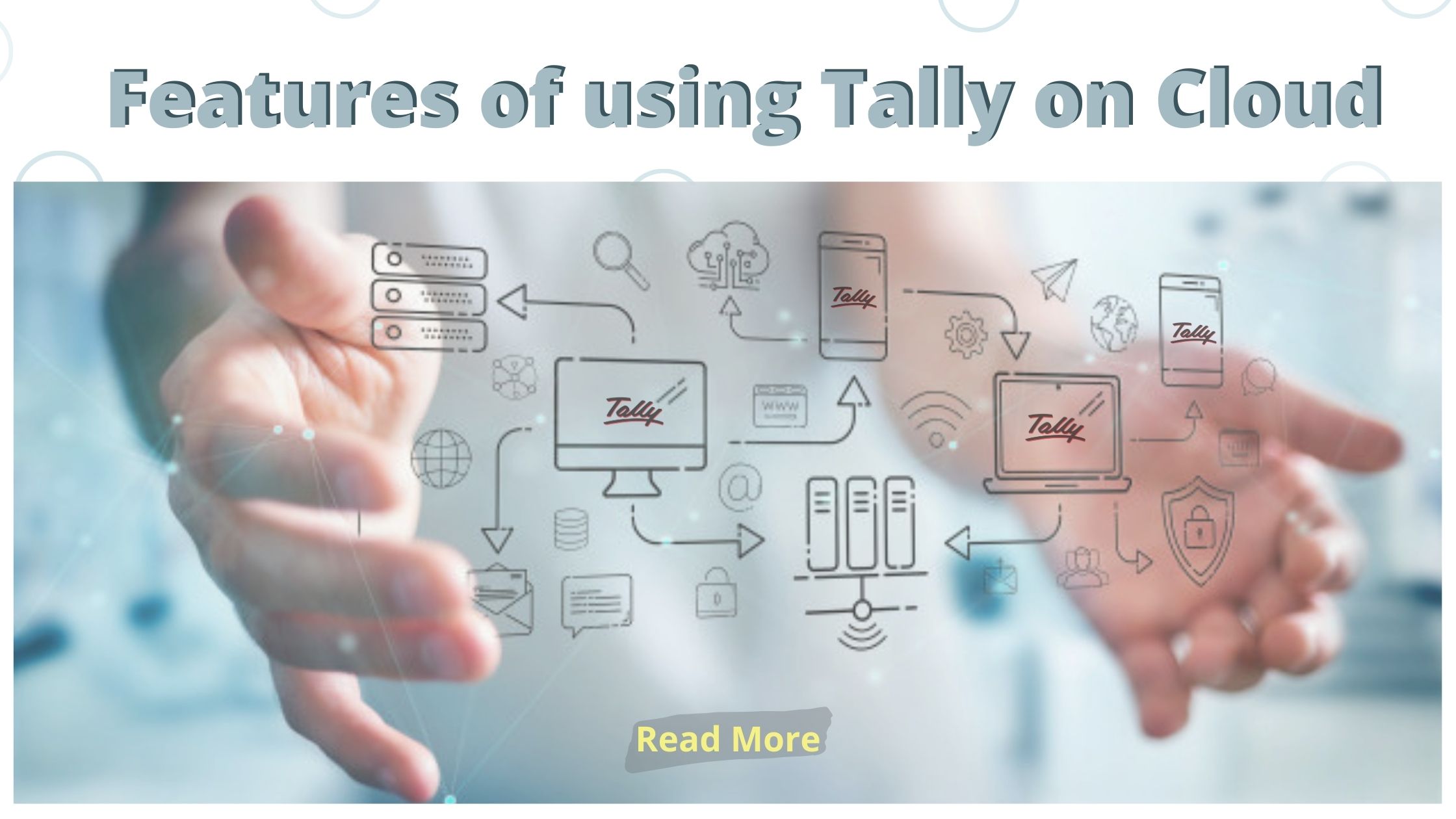 Features of using Tally on Cloud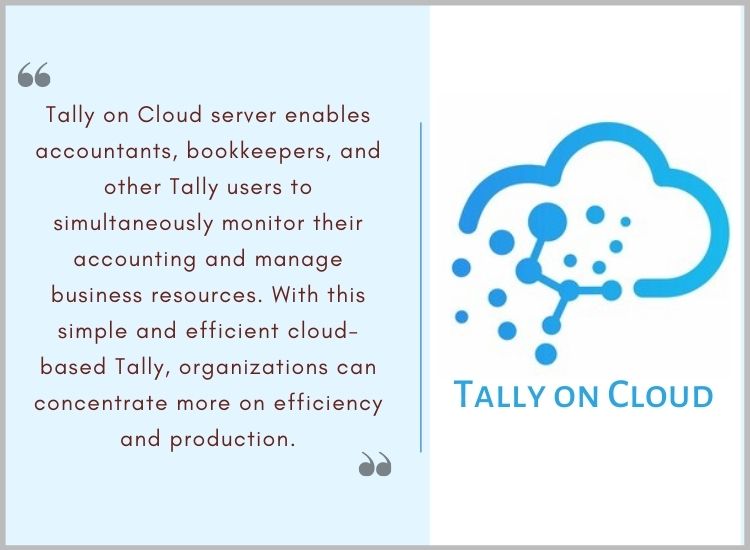 What is Tally on Cloud computing?
A virtual and more effective version of Tally ERP accounting software on cloud computing was created by the use of cloud technologies. Installing & configuring Tally or Tally prime on Cloud servers has made it more safer and remotely accessible.
Tally on Cloud server enables accountants, bookkeepers, and other Tally users to simultaneously monitor their accounting and manage business resources. With this simple and efficient cloud-based Tally, organizations can concentrate more on efficiency and production.
Why choose Tally on Cloud over Tally on-premises?
Cloud infrastructure has been on the verge of its consumption now. Everybody is turning to cloud technology in order to promote better access and mobility of their data. Cloud computing has not just facilitated people to access from different locations but also has helped people to store their valuable data securely.
It is being trusted by many businesses and with its SAAS (Software as a service), PAAS (Product as a service), and IAAS (Infrastructure as a service) technology. Businesses can use any software they need on the cloud computing.
 Businesses generally use Tally ERP 9, one of the most important and significant accounting software. Installing Tally on-premise involves hardware and software installation and various other applications and software set-up. Tally on Cloud eliminates all these requirements and requires a device with an internet connection to use Tally.
With Tally on Cloud, people can access their financial accounts, reports, and data remotely from different locations using any device and at any time. Tally on Cloud performs almost the same as it would perform on-premise but with the add-on of flexibility and effectiveness.
15 Tally on Cloud Features for Business Expansion:
Some of the important benefits of Tally on Cloud:
Automated Backups along with real-time syncing:
Tally on Cloud service is customizable and automate backups at regular intervals and also maintains real-time syncing of all the entries and transactions recorded from different locations. Automatic backup guarantees continuous operation. These automated backups solution in Tally on Cloud ensures that Tally data is backed up at the specified time without interrupting your work.
A Tally data online is susceptible to online viruses, ransomware, etc. Tally or Tally prime on Cloud comes with the latest Antivirus security which prevents any kind of Virus.
Extremely secured infrastructure:
Tally on Cloud is protected with a virtual firewall that performs deep inspections in detecting security threats. One can also limit access of Tally data for different users at different locations. Also, with Cloud innovation, any threats estimated are treated well before it would damage your activities. You are also availed of encrypted backups at regular intervals.
High performance with 99.99% up-time:
Are you pleased with the performance of on-premises Tally? With Tally on Cloud, your Tally's performance may be enhanced further. You get an uptime of close to 99.95% which ensures your Tally account to be run smoothly from different locations.
Downtime is the time spent on server maintenance, backups, etc. This downtime is reduced to a significant amount by Tally on Cloud, allowing the user's job to continue undisturbed. Tally on Cloud solutions assures that your Tally is professionally maintained with multi-layer security and has less downtime for maintenance.
Tally on a Mac and a Mobile Device:
The majority of company owners use MacBook, and they can now use Tally accounting software on Mac via Cloud for data-driven decision-making and strategy development. Only need an active and reliable Internet connection or Browser-based is required for accessing Tally on Mac.
Not only MacBook, but one can also use Tally accounting software on Android or any Smartphone based on mobile user experience. So, Tally data on Cloud can be accessed from mobile also. The availability of Tally on Mac, Tally on Whatsapp or Tally on Mobile has changed the way businesses used to work.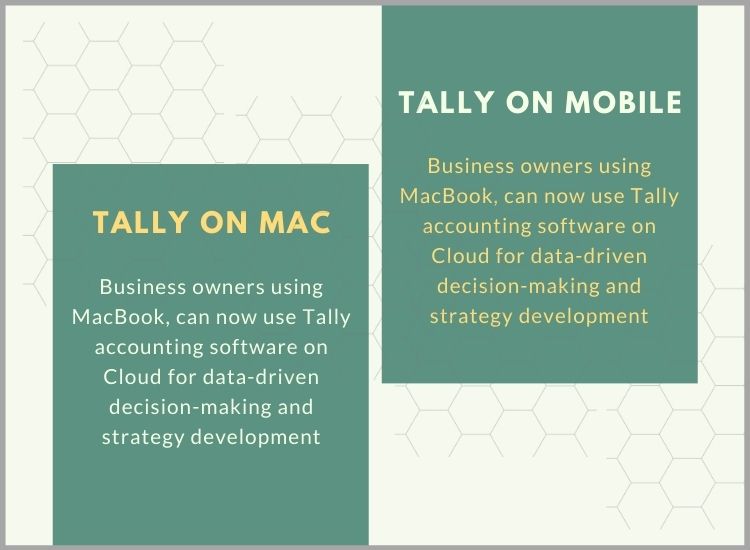 On-premise Tally software necessitates an IT staff that ensures the program is functioning correctly and that any issues are resolved as soon as possible. Tally on Cloud eliminates the need for an IT department since all data stored on cloud servers is maintained by the Tally on Cloud service provider. This cuts down the cost of employing an IT crew and also reduces server maintenance expenses. Other savings opportunities include power prices, hardware costs, etc.
You can easily print the invoices really fast even at a 3G connection. This fast print facility is an added advantage when using Tally on Cloud. This high-speed virtual machine has eased user experience.
Anywhere, Anytime, Any device access:
Cloud computing brings in this amazing feature of using Tally from anywhere, at any time. One can access your Tally account portably from different locations without incurring extra costs.
Compatible with every Tally version and for all device:
Tally on Cloud supports all versions of Tally like Tally ERP 6x, Tally ERP 9, Tally prime, and is also accessible from any device be it a laptop, PC, iPad, or even mobile.
With Tally on Cloud, all your on-premise hardware, software, and installation costs are eliminated. Also, Cloud based Tally multiple users from multiple locations can use from one centralized Multi user license which ultimately minimizes license costs of acquiring separate licenses for each user.
Completely Managed Service:
The staff handles all costs associated with IT maintenance, so there is no need to budget for it. The perks of Tally cloud service providers entail no maintenance cost and no hidden charges.
Tally online cloud servers are located in  Tier 3 Data Centers that guarantee high uptime in any event.
Our professional in-house Tally on Cloud specialists are ready to assist you with any difficulty. Contact our  Tally Cloud Experts who are available 24*7*365 by live chat, call, or mail.
Tally on Cloud or Tally prime on Cloud comes with multiple unavoidable benefits that supersede itself Tally on-premises. With businesses going virtual and developing at multiple locations, cloud innovation like Tally on Cloud could turn out to be a major players.
Tally on Cloud provides several benefits over Tally on-premise; thus, an increasing number of customers are migrating to Tally on Cloud because one can access it from anywhere on any device. These advantages might propel your company to the next level.
For any information about Tally on cloud services please get in touch with Tally on Cloud service providers like Tallystack.in. You can check the Tally on cloud prices and pick a plan as per your requirements.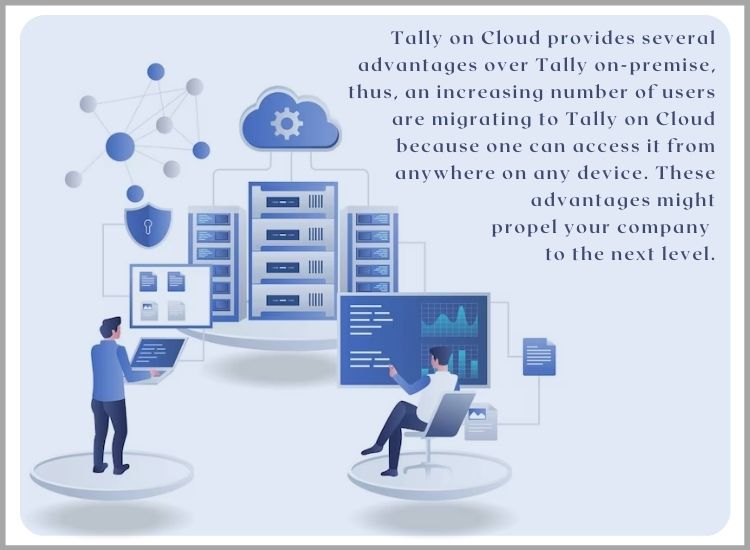 What advantages does Tally on Cloud offer?
⦁ It is not required to install Tally software on every local system.
⦁ You may print straight to the default local printers on your system.
⦁ It enables you to have your own customization and configuration file.
⦁ Work-hour restrictions might be imposed on users to restrict Tally use.
⦁ Tally on Cloud service provider takes care of all server and hardware maintenance, administration, & security so you have nothing to worry.
⦁ With multi-layer security, your centralized Tally data is protected from all internal and external data threats.
What is the difference between Tally on Cloud and on-premises Tally?
There is no change in features, all functions are the same but they are more secure. The difference between any on-premises Tally and Tally or Tally Prime on Cloud is that on-premises Tally cannot be accessed from different locations, but with any Tally hosted on Cloud, you can access all Tally data from all branches from anywhere and at any time. So, Tally on Cloud is a much better option than on-premises Tally.
To learn more about Tally On Cloud, you can check out our videos.