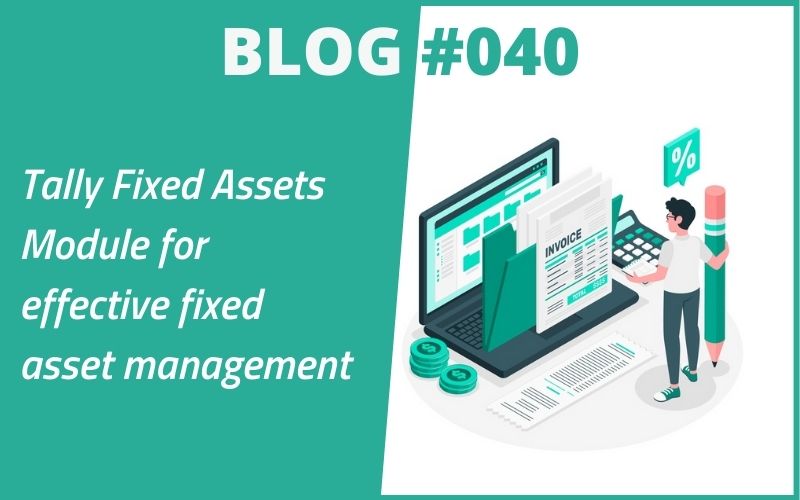 Tally Fixed Assets Module for effective fixed asset management
Tally Fixed Assets Module
Tally Fixed Assets Module replace these excel spreadsheets containing asset information with an integrated platform based on Tally ERP 9 that collects the comprehensive data of business process related to fixed assets in the Tally ERP database and produces all the necessary fixed asset reports in compliance with government legislative and managerial requirements aimed at meeting the auditors & managerial requirements and accounting standards.
Download Free 90+ Tally Shortcut Keys
Tally ERP 9 ready to use fixed assets module track and manage fixed assets over multi-company, multiple locations, or branches with the fixed assets register.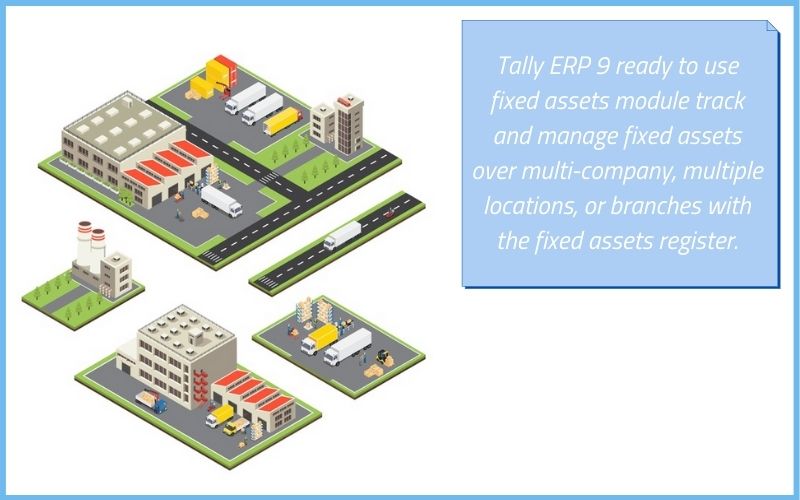 Tally Accounting software is considered to be one of the best accounting software in the market today.
It is known for its easy-to-use functions and resource management abilities which makes it to be effective and productive.
It also comes with up-to-date GST Compliance and other accounting standards.
Tally ERP 9 is the most upgraded version of the Tally accounting software and it comes with excellent Tally fixed assets Module features for your business to have the utmost control and transparency over fixed assets.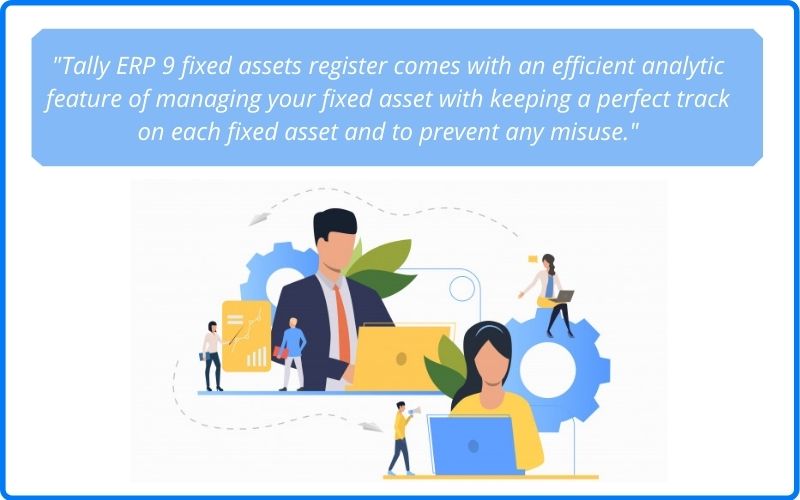 2. What is Tally Fixed Assets Module?
Tally Fixed assets module, known as the Tally ERP 9 fixed assets register.
It comes with an efficient analytic feature of managing your fixed asset with keeping a perfect track of each fixed asset and to prevent any misuse.
Tally ERP 9 gives you the perfect accounting software to record fixed assets entry like of purchase or sales entry along with GST Compliance.
3. How Tally ERP helps in recording Fixed assets?
Fixed assets entry with Tally gets you the potential to allow and record input and output tax liabilities in summary reports.
Fixed Assets entry are recorded at their net book value in the accounting software minus the accumulated depreciation and impairment charges yearly.
Tally ERP 9 fixed assets register automates workflow processes and eliminates errors generally caused by manual entries.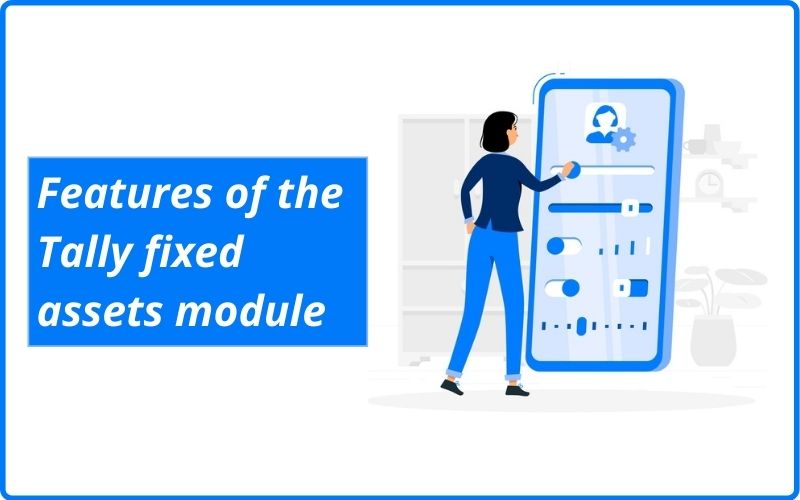 Features of the Tally fixed assets module:
1. Asset Lifecycle Management
Purchase of assets by manual or by bulk import from MS-Excel
Asset addition, disposal, and servicing management
Assignment of user and location
Booking of Expenditures Department wise
Componentization of Assets
Asset Split
Movement of Assets
Management of Asset documents
Closing Balance and Re-Valuation of Asset
Management of Asset Orders
Auto-posting Monthly and Annual Depreciation
Sales of assets with the effect of profit & loss
2. Tracking & Reconciliation of Asset
Generation of UNIQUE ID and associated with assets
Barcode printing for assets
Using excel import or manual entry for physical verification
Reconciliation
Income Tax Act and Act 2013 on New Companies
Creation of all related statutory reports like FAR
Numerous Financial Years
Revaluation of Assets
4. Capital Work In-progress
Adding cost to assets
Capitalization of Assets
Put to Using Dates
5. Administration of Assets
Expiry, Warranty, AMC and Leasing
Useful Life Change Asset
Depreciation Rates Manually
Report on Asset Purchase
Register of Fixed Assets
Tracking of all assets based on category, location, & User
Under the IT Act and the Companies Act full chart of depreciation
Assets Warranty and Expiry of Insurance
Reports on Transfer and Disposal
Report on Asset Selling
Reports for Physical Verification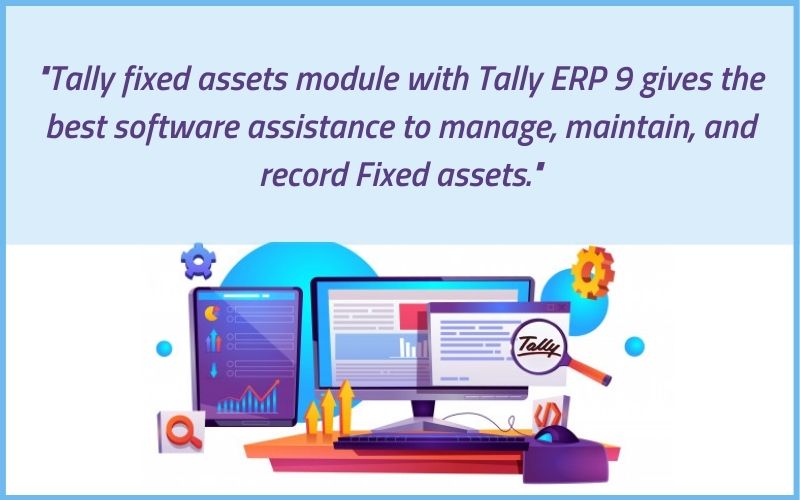 Want to Use Tally Remotely? Tally On Cloud is the Perfect Solution, Contact Us Now for the DEMO.
Tally fixed assets module with Tally ERP 9 gives the best software assistance to manage, maintain, and record Fixed assets. Tally ERP 9 is that all-in-one accounting software package for your business. For any Tally on Cloud detail please visit Tallystack.in.
1. How can we view the fixed assets analysis report in Tally?
Tally Gateway – Audit & Compliance – Audit & Analysis – Other Analysis – Fixed Assets Analysis.
2. Reasons an organization certainly requires Tally ERP 9 Fixed Asset Register module.
For the following reasons, an organization certainly needs Tally ERP 9 Fixed Asset Register module:-
Fair Implications:
Licensing of software
Complete coverage
Data integrity lacking
Complete security
Audit Trail
Accurate calculation of depreciation
Usual Monitoring Asset:
Machinery & Equipment
Buildings and plants
Fixtures and fittings
Long-term investment
Vehicles
To learn more about Tally On Cloud, you can check out our videos.