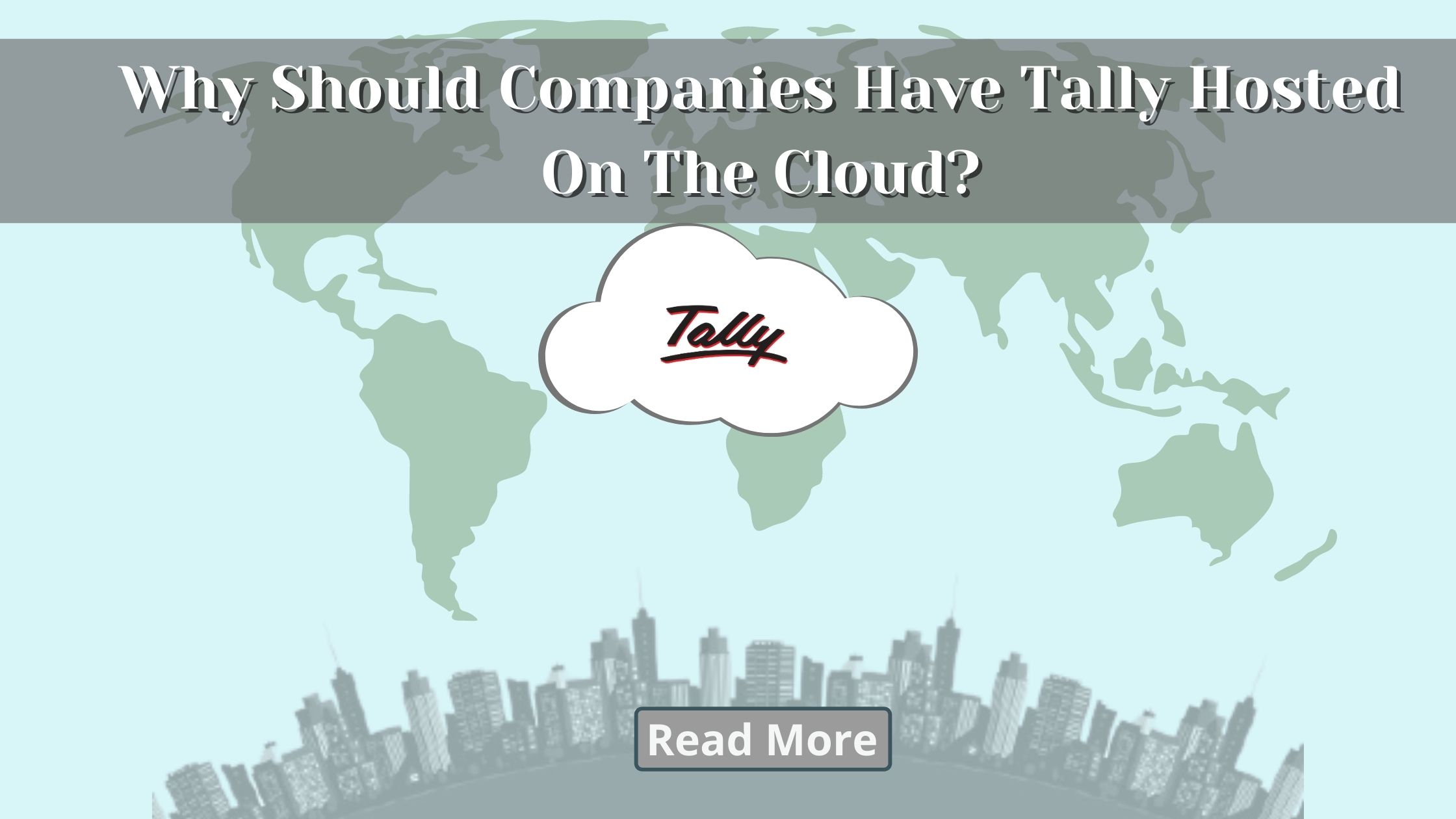 Why Should Companies Have Tally Hosted On The Cloud?
Why businesses must host Tally on Cloud? Which companies should host Tally ERP on Cloud?
Tally on Cloud is a service that unites the area of your Tally and knowledge in high speed powerful virtual machines, this application is distributed using RDP protocol which allows you to get remote working plus easy access in any location or time most of the companies who have many branches want to experience the Tally on Cloud features & benefits.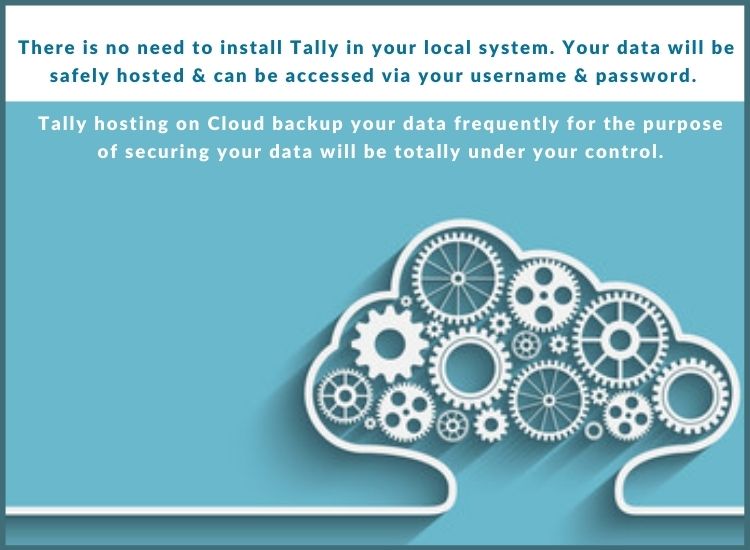 • There is no need to install Tally in your local system. Tally on Cloud is different from on-premises. All your data will be safely hosted and to get access you need to enter your username and password.
• Tally hosting on Cloud backup your data frequently for the purpose of securing your data will be totally under your control.
Download Free 90+ Tally Shortcut Keys
• Installing & configuring Tally ERP on Cloud does not demand to maintain only one company's data on a Tally application.
• But you can manage the data of unlimited companies, this helps in getting mobility.
Benefits of Tally on cloud
• Remote access to Tally feature any time when it is necessary.
• The problem of making hardware and software washed off.
• The objective of Tally on Cloud is to centralize your data without consolidation.
• No problem with data corrupted, slow performance, out of memory.
Advantages Of Using Tally On Cloud
The users of Tally ERP 9 now have the privilege of getting Tally on Cloud. Tally is already one of the most-used accounting software and this cloud-based feature makes it a lot better. A cloud-based Tally could be very useful for businesses in many ways. Here are some of the advantages that come with using Tally on Cloud.
• If a business has its Tally on Cloud then it can access it from anywhere.
• Another great feature that comes with this is that tally can be accessed at any time because it is on the Cloud.
• The best thing about tally on cloud is that they are compatible with PC & other types of devices so that they could be easily used in the office.
• Big businesses with multiple branches can have the benefit of Tally Cloud printing with the help of a cloud-based Tally.
• They can get printing done from one place to another with the help of a centralized printer. This is a great feature for big businesses.
How Secured Tally Is On Cloud?
Security of data is always a concern for all businesses because any loss of it will cost them more and more or lead to dissolvent of the company, use of Tally is very common for the work of accounting and auditing, due to many cybercrime people are more conscious about the security of their data which are stored in it. Cloud data security is the process of available data to get accessed online.
In Tally on Cloud, there is a separate virtual machine for every client which is completely secured and assures that your data is not going anywhere. To get access one needs a user name and password. You can set your username and password to a limited number of users. Cloud server secure Tally data from ransomware attacks.
The process of Tally is related to sender and receiver where they act as a client not as a server. When you fill any data in your tally sheet it is open by default to everyone but you will get an option whether you want to add a password or not.
What Kind Of Companies Should Opt For Tally On Cloud?
Businesses with multiple branches can use a single software for all their branches with the help of Tally ERP hosted on the Cloud. Getting Cloud-based Tally is economical could be very useful for small or medium businesses and also for those that have multiple branches. Tally on cloud technology helps you in getting access to your data at any time anywhere.
Tally on Cloud Adapting To Your Diversified Business Companions
To cope with different business companions, it is important to have a more reliable, stable, and flexible tool to handle this. Tally hosting on Cloud can be the appropriate tool for these diversified needs of businesses as they are completely flexible and can scale their functioning according to the growing scale of the businesses.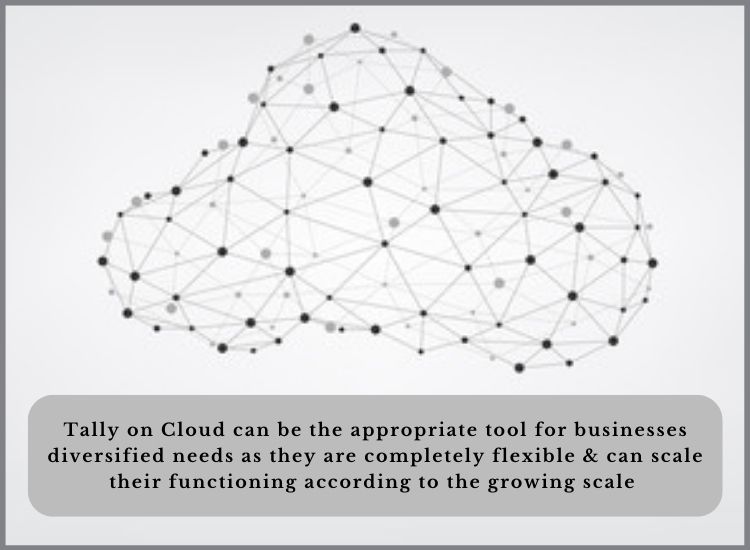 How Tally on Cloud helps with diversified business companions?
As the primary motive of any business is to maximize their profit and achieve their organizational objectives, Tally on Cloud can make this happen as it provides your business, massive relief for accounting, & auditing purposes. There are no complications regarding setup and other hardware and software installations.
With the latest version of Tally ERP 9, businesses can simply run their tally accounts by activating their license and subscribing to their respective VPS service provider. Tally on cloud adapts accordingly to your business. It provides you with simplified configurations that could be customized in unexpected situations.
The benefits of Tally on Cloud also make sure that you are immune to certain virus attacks by promising utmost security to your data and ensuring your data is up-to-date. Tally on Cloud which could adapt to various business companions and can also adapt to unexpected situations occurring.
How can a business get Tally on Cloud?
It is quite simple to get Tally on Cloud. There are Tally on Cloud service providers like Tallystack available online that provide businesses with cloud features. Tallystack provides this service at an unmatched market price and even provides discounts to businesses for single-user or multi-user at a very cheap price.
If a person or business requires this service then contact Tallystack and register for a free demo or get their pricing plans as per the business need, user need to use there own license after this he would be provided with a login credentials with which the user can get his Tally on Cloud.
In the conclusion of Tally on cloud you can only say just go for it especially if you are doing business and want mobility in the work of accounting or auditing as this is a more efficient way introduced in tally application. To know more about Tally on cloud or register for free demo visit Tallystack. We here at Tallystack provide you the efficient services of Tally on cloud using our VM and its cloud technology. Tally on cloud helps you to outsource all the Tally hardware and software management to your Tally cloud service provider.
What points to remember while using Tally on Cloud?
• Get a high-speed net while uploading a tally data file to your cloud.
• The time of exporting files depends on the size of it.
• While Tally on the Cloud server is backing up data get proper access to the net.
How Tally on Cloud computing can be configured?
Tally on cloud installation & configuration is easy and saves you a big buck. Traditional Tally software makes you spend on server hardware, antivirus, backup, storage device, and other things while installing the traditional Tally software in your office. Rather, you can just opt for Tally On Cloud, and access online Tally data without being at the office or anywhere, anytime, and on any device without investing heavily in other things.
To learn more about Tally On Cloud, you can check out our videos.