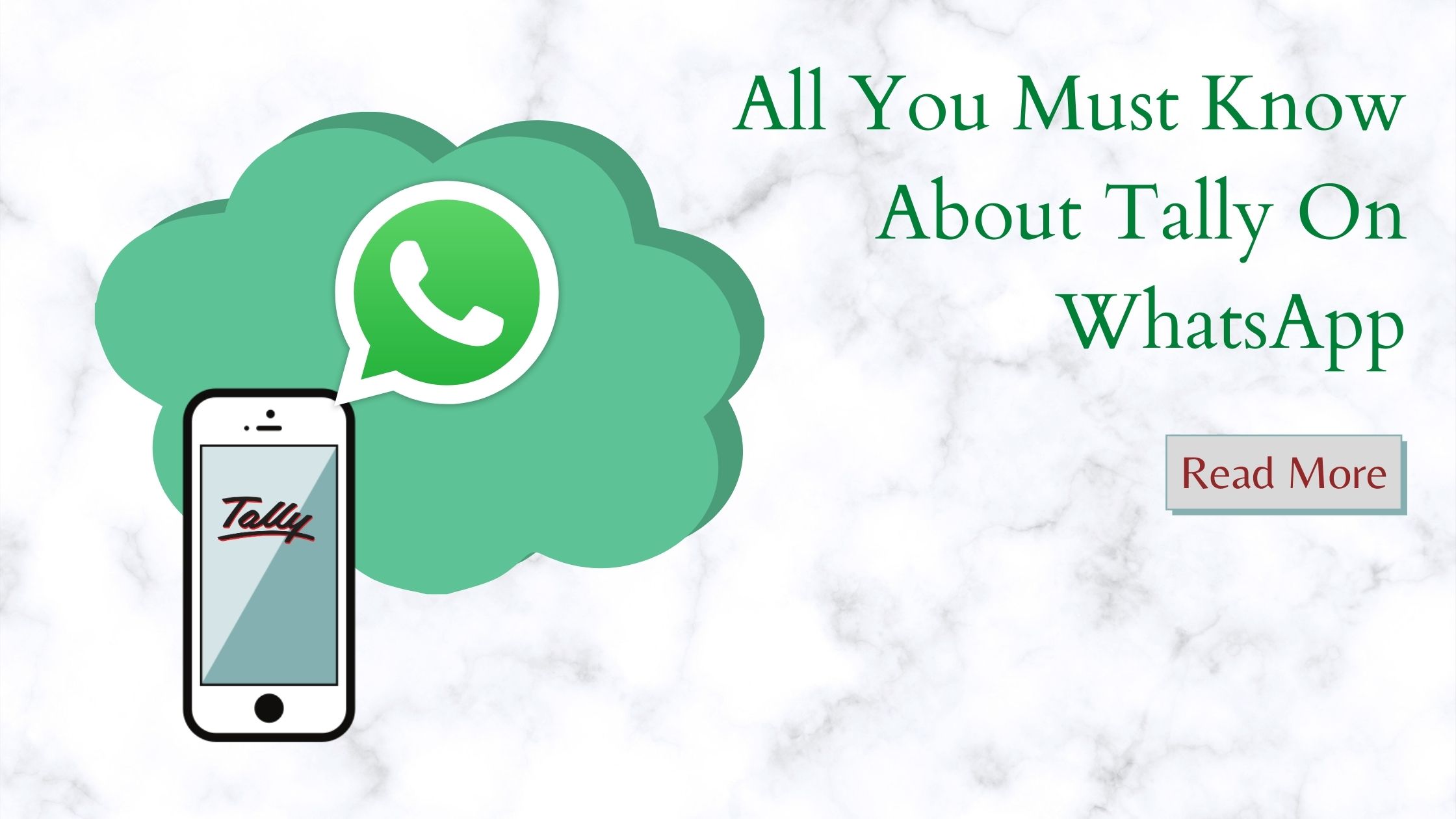 All You Must Know About Tally On WhatsApp
Tally on WhatsApp marks a groundbreaking synergy between accounting prowess and instant communication. This integration empowers users to access vital financial information within the familiar interface of WhatsApp. The marriage of Tally's robust accounting capabilities with the convenience of WhatsApp brings forth a new era of real-time collaboration and streamlined financial management.
Why Is Tally ERP 9 Accounting Software Used By Businesses?
Tally ERP 9 has emerged as a cornerstone in business accounting for several reasons. Its user-friendly interface, robust features, and comprehensive capabilities make it an indispensable tool for financial management.
Download Free 90+ Tally Shortcut Keys
The software simplifies complex accounting processes, offering businesses a reliable tally solution for maintaining accurate and up-to-date financial records. Tally ERP 9's outstanding capacity to handle diverse financial operations, from invoicing to inventory management, positions it as a go-to choice for businesses aiming for efficiency and accuracy in their accounting practices.
Why Integrate Tally Into WhatsApp?
In the fast-paced world of business, communication is key, and integrating Tally with WhatsApp takes collaboration to new heights. By merging the robust accounting capabilities of Tally with the widespread accessibility of WhatsApp, businesses can foster real-time communication and decision-making.
This integration is not just about convenience; it's a strategic move to streamline workflows, enhance team collaboration, and bring financial insights to the forefront of discussions. Tally on WhatsApp ensures that stakeholders stay connected effortlessly, leveraging the power of the WhatsApp cloud to share critical financial information seamlessly. This synergy is a game-changer, propelling businesses into a more connected and efficient future.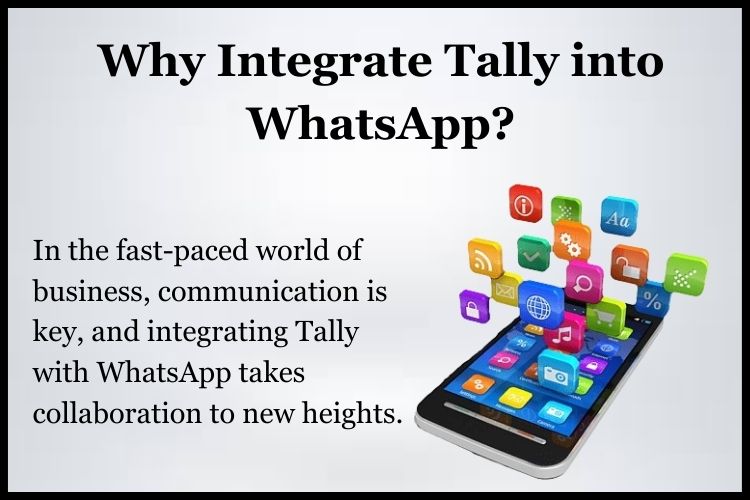 What Are The Module Features Of Tally On WhatsApp?
1. Real-Time Updates
Tally on WhatsApp facilitates real-time updates, ensuring that users can instantly access critical financial information, such as ledger entries, expenses, and sales reports. This feature enhances decision-making by providing timely insights into the financial health of the business.
2. Invoice Generation
Users can generate invoices directly within the WhatsApp interface, streamlining the billing process. This module feature reduces the need for manual data entry and enhances efficiency by allowing businesses to create and share invoices seamlessly.
3. Expense Tracking
Tally on WhatsApp enables businesses to track expenses effortlessly. Users can input and monitor expenses in real-time, ensuring accurate financial records and aiding in budget management.
4. Ledger Inquiry
With the Tally ERP 9 app integrated into WhatsApp, users can inquire about ledger details, outstanding balances, and transaction histories. This module feature provides a quick and convenient way to retrieve essential financial data.
What Are The Benefits Of Tally On WhatsApp?
1. Real-Time Collaboration
Tally on WhatsApp fosters real-time collaboration among team members, allowing instant sharing of financial reports, invoices, and updates. This accelerates decision-making processes and ensures that all stakeholders are on the same page.
2. Accessibility Anytime, Anywhere
With Tally on WhatsApp integrated with cloud services, users can access their financial data from anywhere with an internet connection. This flexibility is especially valuable for businesses with diverse teams or those requiring on-the-go access to critical financial information.
3. Streamlined Communication
The integration simplifies communication by centralizing discussions within WhatsApp. This eliminates the need for multiple communication channels, reducing confusion and ensuring that important financial information is easily traceable and accessible.
4. Data Security and Scalability
Cloud tally ensures the security of financial data through robust encryption and backup mechanisms. Additionally, the outstanding capacity of cloud servers allows businesses to scale their operations seamlessly, accommodating growing data requirements.
5. Integration with Tally ERP 9 App
Tally on WhatsApp seamlessly integrates with the Tally ERP 9 app, providing a cohesive ecosystem for financial management. This integration enhances user experience and ensures a smooth transition between platforms.
What Can Be Done Using Tally On WhatsApp?
Tally on WhatsApp opens up a world of possibilities for efficient financial management. Users can seamlessly share invoices, financial reports, and other Tally-generated documents directly within the WhatsApp interface.
This integration facilitates quick decision-making, collaborative financial analysis, and real-time updates, making Tally operations more accessible and user-friendly. With the convenience of Tally on WhatsApp, businesses can enhance their communication and streamline financial workflows, ultimately contributing to a more efficient and interconnected workspace.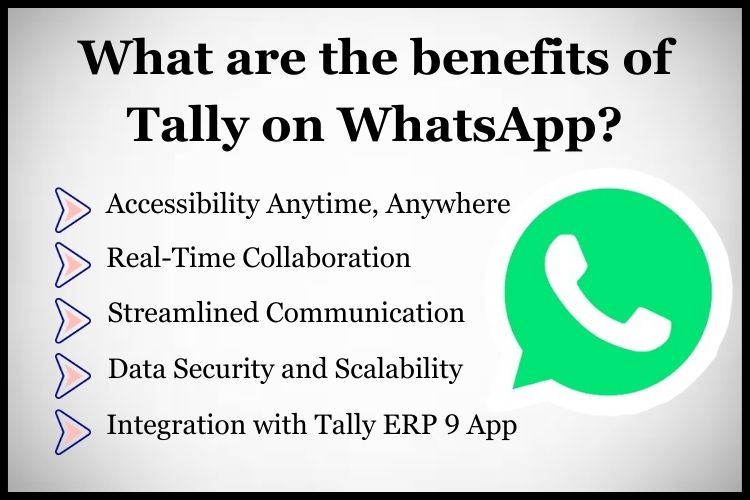 How Does Integrating Tally On WhatsApp Help To Reduce Operational Costs?
1. Real-Time Accessibility
Tally on WhatsApp ensures real-time access to financial data, eliminating the need for physical presence or additional communication channels.
2. Streamlined Communication
The integration simplifies communication, reducing the time spent on back-and-forth interactions and enhancing overall operational efficiency.
3. Minimized Errors
The direct flow of information through WhatsApp minimizes the risk of errors associated with manual data entry, saving both time and resources.
4. Remote Collaboration
Teams can collaborate seamlessly from anywhere, reducing travel costs and enabling businesses to operate efficiently in a distributed work environment.
Tally on WhatsApp represents a significant stride towards efficient financial management, combining the prowess of Tally's ERP 9 app, cloud technology, and customized modules.
As businesses continue to embrace this integration, the landscape of financial operations is evolving, driven by the need for real-time collaboration and accessibility. The future of accounting is here, and it's seamlessly connected through Tally on WhatsApp.
Tally hosted on Cloud can be used remotely at any time, for more details or free demo. visit Tallystack.in
Frequently Asked Questions
Q1. What distinguishes the Tally ERP 9 app from the desktop version?
The Tally ERP 9 app extends the outstanding capacity of Tally's desktop version to mobile devices, providing users with the flexibility to access critical financial information on the go.
Q.2 How do Tally customized modules help businesses?
Tally customized modules allow businesses to tailor the software to their specific needs, optimizing processes such as inventory management and payroll processing for enhanced efficiency.
Q.3 Why is selecting the right cloud service provider crucial for Tally on WhatsApp?
Choosing a reliable cloud service provider ensures data security, accessibility, and a smooth integration experience, key factors in the success of Tally on WhatsApp. One such provider is tallystack.in, known for its commitment to supporting businesses in their digital transformation journey.
To learn more about Tally On Cloud, you can check out our videos.