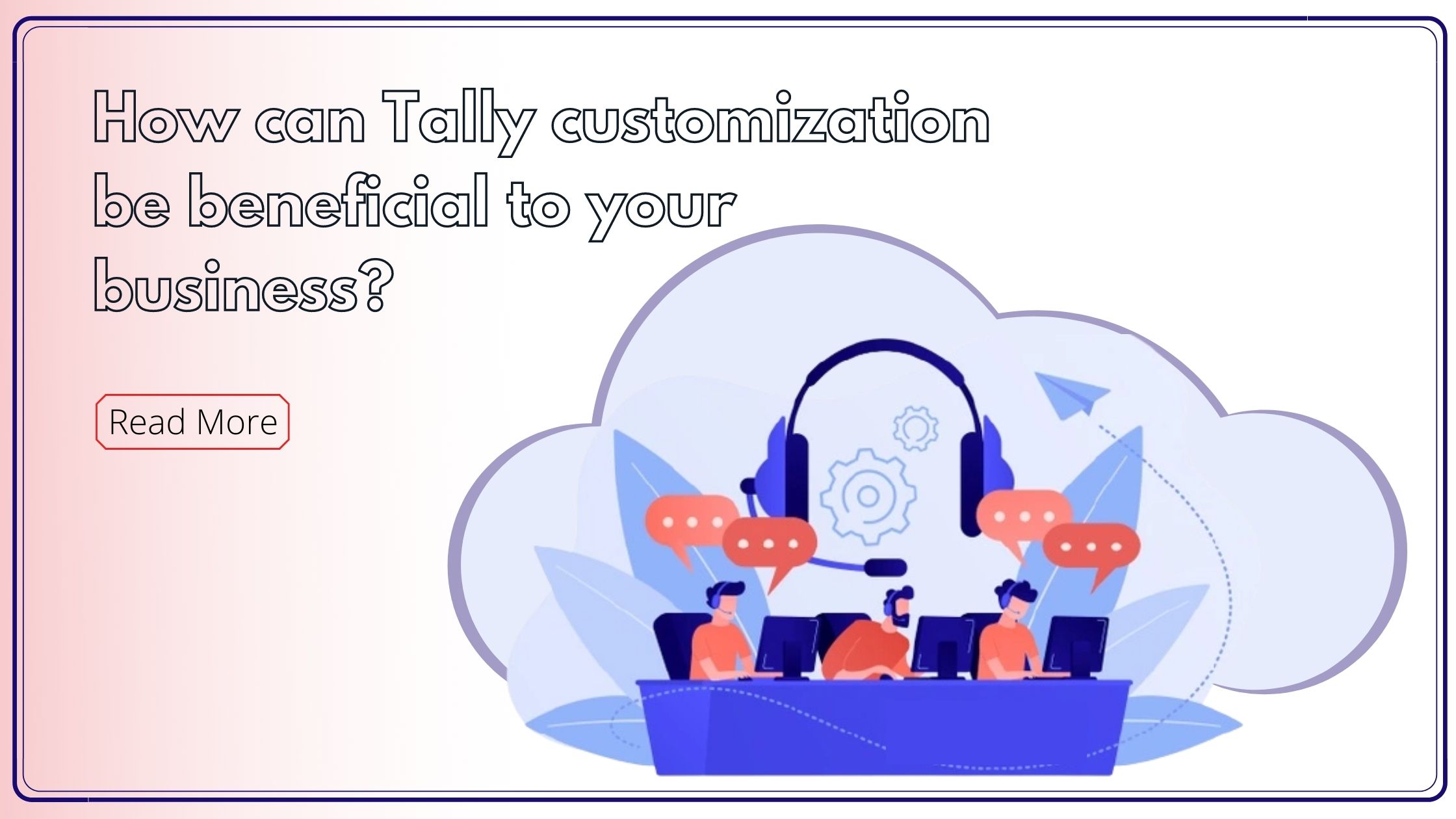 How can Tally customization be beneficial to your business?
Businesses today require customization and efficient techniques and abilities that can make their day-to-day functioning easier and more flexible. Likewise, the Tally software solutions are of the most opted resource management software used by business professionals today to carry on their inventory management, employee management, reporting, booking, payrolls, bank account management, sales recording and many related activities with efficacy and ease. 
The efficient features of Tally ERP 9 can help your business scale more effectively and flexibly. It is also proven to be highly proactive in determining business's right position and performance as far as the fundamentals goes. 
Download Free 90+ Tally Shortcut Keys
The ability of Tally customization helps you to integrate your business tasks and processes with minimal to no efforts. 
The various changes in your Tally business concerning change in inventory management, change in MIS, change in employee turnover, automation, etc. can all be handled by the productive platform of Tally customization. 
In the below discussion, we will dig more on how tally customization can prove so effective in today's era of business functioning.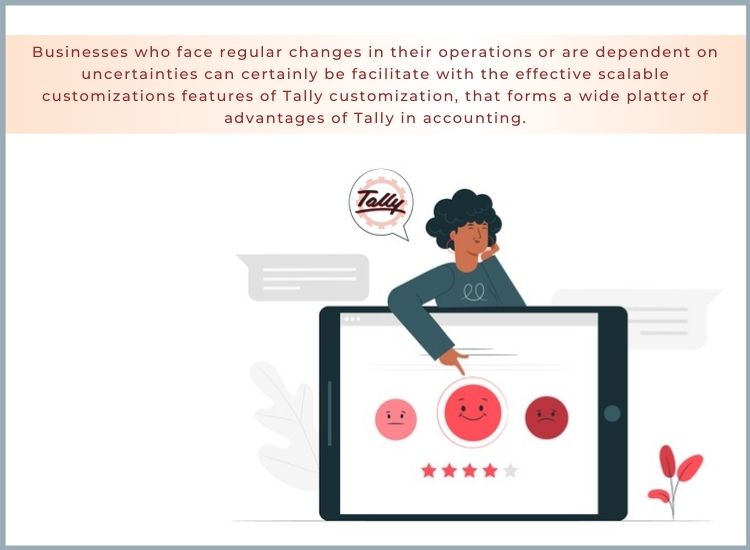 How Tally became the most used Accounting Software?
Tally ERP 9 accounting software has turned out to be a very flexible and affordable solution for businesses to manage their resources and perform reporting and accounting transactions with ease. 
It has brought a wide range of comprehensive solutions, tally features and advantages for day-to-day functioning of businesses like management and recording of inventory, finance, accounting, sales, payroll, manufacturing, and a lot more.
The Tally software download also facilitates with GST accounting tally software solutions which also makes it compatible with new trends and regulations. The efficient features of tally accounting software just amplify with the combination of cloud technology.
Getting Tally on Cloud helps businesses with the convenience of accessing their tally account from anywhere, at any time, using any device. 
This also eliminates the installation or management needs of Tally and also promotes a remote working environment efficiently. With Tally on cloud, users can access all the data and application that is stored on the company's centralized cloud database, from anywhere, using any device virtually. 
This has eventually made Tally more efficient and in result, more and more businesses are looking to adopt Tally on Cloud. 
What is Tally Customization?
Every organization and business are different in terms of way of functioning, sector and use of resources. It gets very important for the enterprise resource management to be highly flexible with numerous customizations features possible. 
The productive software of Tally customization helps you to modify, customize and enhance the features and functioning of the Tally software as per your own business needs. 
Tally ERP Customization helps you to customize all sorts of invoices, reports, and other business-related important resources. 
It also comes with a build-in SOAP that makes it possible to integrate with other business tools. It also facilitates effectively with the open database connectivity that helps you in easy export & import of XML format. 
The exceptional add-on modules and features of tally customization makes it very accessible and user-friendly software that covers everything from retail to manufacturing. Most importantly, Tally software and Tally customization are very easy and convenient to understand.
Benefits of Tally Customization
Tally customization helps majorly in improving your employee's productivity by not making them waste their time in working on data manually. Below are some of the notable benefits of Tally customization – 
It offers you security functions of authorization and control. So, you can decide who can be authorized to access the company's data. 

Customized Tally software solutions

can help you give an overview of your whole financial positions and performance as per your wish. It will also help you get a detailed overview of your complete financial transaction.

The

Tally ERP Customization feature

will also help you get real-time reports as per your requirements and convenience. 
The Tally remote access feature will help your employees with anywhere anytime access to the company's stored data by using certain

customized functionalities

. 

You get great payroll management and operations management features with Tally customization, that makes your businesses operations a lot easier and more efficient to handle.
Why do you need Tally Customization?
Tally accounting software is known to be a very compatible and complete  . If Tally is used to its full potential, there can be unparalleled advantages of it along with utilizing the benefits of Tally on cloud. 
Tally ERP can offer all business management functions and can customize supremely with tally customization as per your specific business functioning, field, and operations. 
Tally customization is also compatible with GST and all the latest regulatory norms required. The new tax and accounting reforms in India can easily be coped up with the help of Tally customization and its exquisite tally definition language. 
It can also support the likes of ODBC and can easily import or export data in the widely considered formats like XML and CSV. It makes the perfect use of SOAP, that will help you and your system to support all the other business integration tools and programs.
Use Cases of Tally Customization
There can be various customized modules as per the specific businesses and use case that can be integrated well with Tally ERP 9. 
Tally customization can be easily and conveniently compatible with GST compliant norms and can guide you well on performing all the GST formalities with ease. Following below are some of the use cases that can be supported well with tally customization – 
House Agents Custom Module –

Tally customization can offer various comprehensive solutions relating to income and expense booking, shipping, and cargo, tracking of agents, and a lot more.
Module for Digital Signatures –

This module helps you to e-sign all the documents. It will help you to have access to multiple copies of signed invoices. It will also assist you in sending digitally signed invoices directly through mail. 
Modules for School –

The module for school can be customized and utilized for routine operations of a school, including finance and payroll management, student management, admission process management, library management and everything relating to the operations of a school.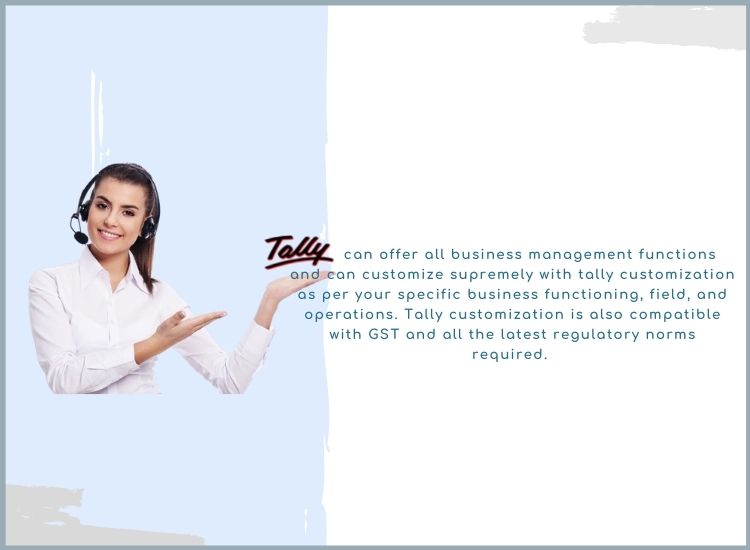 How can you customize Tally?
Tally customization can be used best for invoices. All the invoices can be conveniently customized as per a company's need of invoice. The Tally customization feature can also help you make company's specific vouchers. This can save a lot of time where manual vouchers were rolled out. You also get to add many different fields in transactions and masters. 
The customization control features in Tally customization will help you to customize operational/lower, middle, and higher-level management. The workflow will be made more organized along with complete security of data and resources. It will also help you to add on new features and functionalities along with supporting a day-to-day schedule.
Does Tally on Cloud enable Tally Customization files?
With GST's implementation that works effectively with Tally on Cloud, the efficiency and compatibility of tally with cloud gets justified to a great extent. Tally customization service can work well with Tally ERP on cloud taking into consideration a particular business's Management Information System (MIS), inventory management, payroll management, security, control, etc. 
The changes in business operations can easily be adopted by customized Tally software on cloud solution and Tally ERP customization. The latest version Tally ERP 9 comprises KERNEL which is a major development language as a Tally Definition Language (TDL). 
The TDL customization can help you customize the behavior of your Tally ERP 9. All the windows based applications along with other online integration tools can also be easily supported on Tally on Cloud with the help of SOAP.
Tally customization can be made the perfect use for growing businesses and for businesses who exercise regular changes in their operations.  It can seek easy changes in business process management, operations, functioning, and with new updates. The best tally customization feature is that it also helps you in having a productive financial management.  
Your business operations can run seamless and virtually from different locations with the best technology of tally on cloud services. With tally on cloud, you can perform tally customization from anywhere, at any time using any device. Also, with Tally ERP 9 having GST implementation, you can fulfill all the GST regulations-based reporting conveniently. 
Tally is also known to be very easy to understand and integrate with businesses and their specific requirements. Customize business module with Tallystack's tally on cloud services which will help you ace your Tally customization needs to the next level.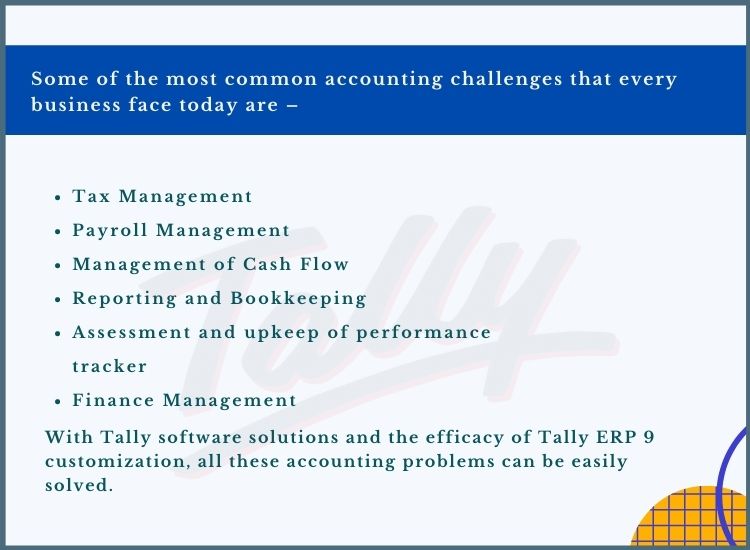 Why use Tally Invoice Customization?
With Tally invoice customization, you can have your own business specific invoice format. With the tally invoice customization tool, you can even generate bills in GST format. You can also create a customized module for digitally signed invoice from tally that can help you perform digital signatures and also have extra additions if needed.
What are the common tally challenges that every business experiences?
Some of the most common accounting challenges that every business face today are –
Tax Management

Payroll Management

Management of Cash Flow

Reporting and Bookkeeping

Assessment and upkeep of performance tracker

Finance Management
With Tally software solutions and the efficacy of Tally ERP 9 customization, all these accounting problems can be easily solved. 
Which tally operations can be customized?
Invoice Customization

Voucher additions and customization

Dashboard customization

Adding of Masters and transactions

Security and Controls

Customization

Customization of Operational, middle, and higher-level management

New functionalities development. 
To learn more about Tally On Cloud, you can check out our videos.