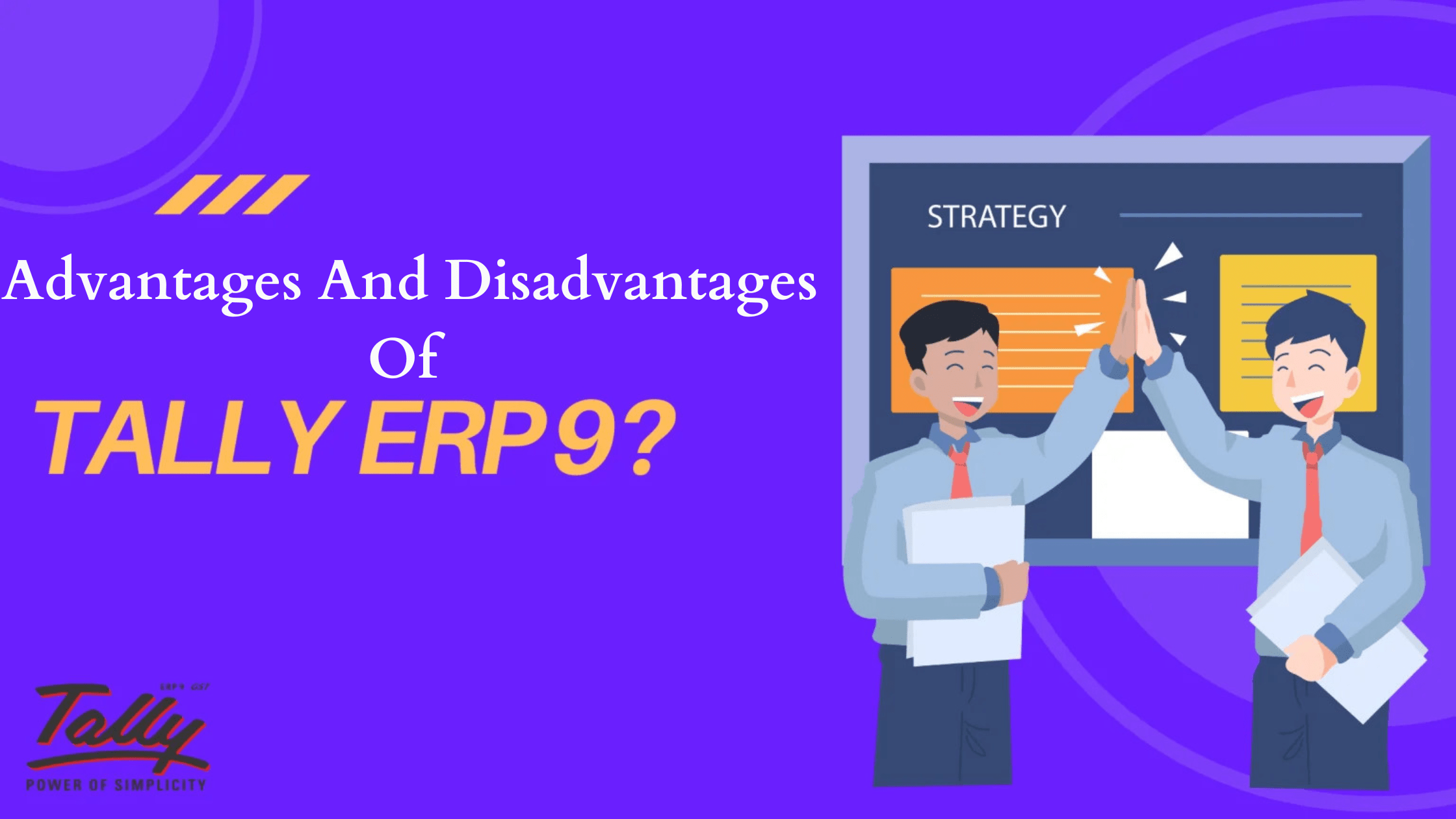 Advantages & Disadvantages of Tally ERP for small & large business?
Tally ERP 9 software offers a comprehensive business management solution that improves financial performance and risk management. It helps businesses to perform effective fixed asset management. With its ability to operate from remote locations, it provides flexibility and convenience for businesses of all sizes. Simplify your accounting processes and streamline your operations with Tally ERP 9.
Why is using Tally essential in Organization?
In today's fast-paced business world, organizations face various operational problems that require quick and efficient solutions. To streamline complex processes and ensure accuracy, companies need enterprise solutions like Tally. Tally offers a user-friendly interface that simplifies accounting, payroll, inventory features and other critical business functions.
Download Free 90+ Tally Shortcut Keys
Tally software can bring positive change to any organization by improving efficiency and productivity. It helps businesses stay on track with their company technology roadmap and ensures that they meet their goals and objectives. With Tally, businesses can stay ahead of the competition and achieve success.
What are the benefits of Tally ERP 9 in large and medium business?
Tally ERP 9 is a popular accounting software that is widely used by large and medium enterprises for its advantages. It has many advantages, which helps in organizing accounting processes in these organizations.
1) Enable multiple management:
This means that it can handle various functions, including inventory management, payroll, and accounting, among others. This allows large and medium enterprises to combine their operations, reducing the need for multiple software systems.
2) Remote access capability:
This feature allows authorized personnel to access the software from anywhere, making it easier to manage operations from different locations. It also enables real-time updates, ensuring that all stakeholders are up to date with the latest information.
3) Cross-functional:
It can integrate with other software systems. This feature is crucial for large and medium enterprises that rely on multiple software systems to manage their operations. Tally ERP's ability to integrate with other systems results in a seamless operation, reducing the risk of errors and improving efficiency.
What are the benefits of Tally ERP in small businesses?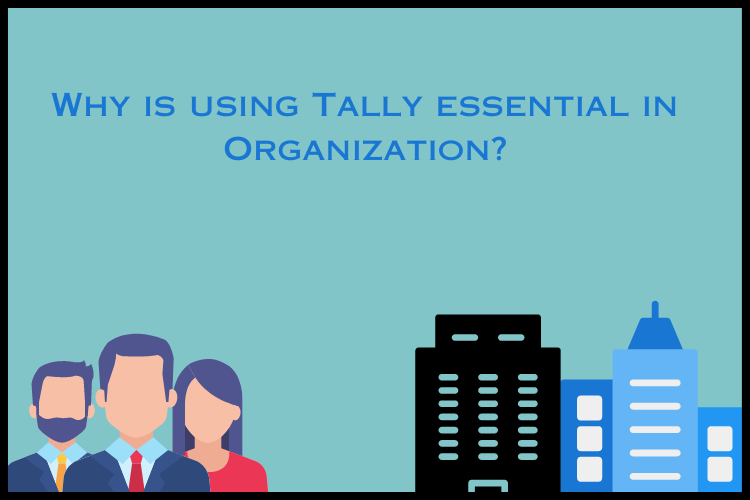 There are various advantages of tally ERP 9 in Small businesses
1) Accounting and Financial Management:
Tally ERP 9 provides many accounting features, including ledger management, invoicing, budgeting, and financial statement generation. It helps small businesses maintain correct financial records, track expenses, and manage cash flow effectively.
2) Inventory Management:
Tally ERP 9 allows businesses to efficiently manage their inventory by tracking stock levels, monitoring goods movement, and generating purchase orders. It helps in reducing stock-outs, optimizing inventory levels, and organizing ordering processes.
3) Data Security and Accuracy:
The software ensures data security and accuracy by implementing user access controls, data backup, and data validation mechanisms. It helps in preventing unauthorized access to sensitive financial information and reduces the risk of data loss.
What are some benefits of Tally ERP 9?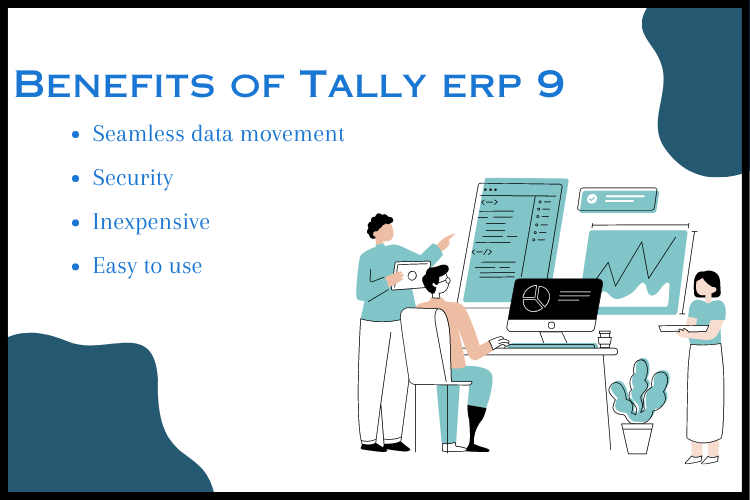 Tally ERP 9 is a powerful software that offers several advantages to businesses. It can be used on different platforms, has a Tally Gateway Server for remote access, and streamlines the data management process, making accounting easier and more efficient. Apart from this, are are various other benefits, they are
1) Seamless data movements:
Tally software offers seamless data movements with its efficient and accurate integration and automation tools. This makes it an ideal solution for businesses looking to improve their overall management. With Tally, you can streamline your operations and focus on growing your business.
2) Easy to use:
Tally software is known for its user-friendly design and easy-to-use features. With Tally, managing your finances has never been simpler. From generating invoices to tracking expenses, Tally makes accounting a breeze. Its intuitive interface and comprehensive reporting tools make it the perfect solution for businesses of all sizes. Give Tally a try and see for yourself how easy it is to use!
3) Inexpensive:
In today's economic climate, it's important to stretch your budget as far as possible. Tally accounting software offers affordable prices for small businesses, allowing you to manage your finances without breaking the bank. Don't sacrifice quality for cost – choose Tally for an inexpensive solution.
4) Security:
Tally is a popular accounting software used by many businesses. However, it is important to ensure the security of your Tally data. Unauthorized access to your Tally account can result in data breaches and financial losses. Implementing strong password policies and limiting access can help prevent unauthorized access.
5) Easy and fast document access:
Tally has revolutionized document access by providing easy and fast access to information in real time. This enables businesses to make quick decisions based on accurate data. Additionally, Tally's software provides customer insights, allowing businesses to better understand their customers and cater to their needs.
What are the technical benefits of Tally ERP 9?
Tally ERP 9 is a business bookkeeping and monetary administration programming that offers numerous innovation benefits. One of the significant technical advantages of Tally ERP 9 is its easy-to-use interface, which makes it simple for entrepreneurs to oversee their accounts. The product likewise offers progressed highlights like money management, inventory management, and taxation compliance.
Tally ERP 9 is additionally versatile, which means it can be utilized on various gadgets, which means you can now access tally from mobile . With its numerous technical advantages, Tally ERP 9 is an absolute necessity for any business that requires powerful accounting and management software. Some additional features are,
1) Information Reliability of Tally:
Tally is an accounting software that has gained immense popularity for its user-friendly interface and comprehensive features. However, when it comes to information reliability, it is important to assess the quality of the data. Tally provides a robust ODBC layer that ensures the accuracy and integrity of the data. With Tally's reliable information, businesses can make informed decisions.
2) Tally Audit:
Tally audit is an essential process that helps businesses identify discrepancies in their financial data. This audit is conducted by a predetermined client or an external auditor. Data encryption is used to secure this sensitive information and protect it from unauthorized access. The Information Encryption Standard is used to ensure that the data is secure and protected during the audit process.
3) Tally Vault:
Tally Vault is a secure and robust solution for storing and managing your sensitive financial data. With its inner reinforcements, it ensures that your data remains confidential and protected from unauthorized access. Its advanced encryption techniques make it virtually impossible for anyone to breach your data, making it a dependable option for businesses and individuals alike.
What are the Disadvantages of Tally ERP 9 Software?
There are various Disadvantages of Tally ERP 9, They are as follows
1) Lack of automated data backup:
Tally ERP 9 does not provide built-in automated backup functionality. This means that users need to manually backup their data, which can be time-consuming and lead to error. In the absence of regular backups, data loss or corruption can occur, leading to major setbacks for businesses.
2) Lack of Accessibilities:
Tally ERP 9 is basically designed as an on-premises software, which limits accessibility for remote or distributed teams. If anyone needs to access Tally from different locations or on different devices, it can be challenging to do so without additional infrastructure. Mobile access to Tally ERP 9 is also limited
3) Lack of Real time centralized data :
Tally ERP 9 operates on a file-based system, where data is stored locally on individual computers or servers. This decentralized approach can result in data inconsistencies and delays in accessing real-time information across multiple users or departments.
What is Tally on Cloud, and why is it better than traditional Tally software?
The above mentioned disadvantages can be easily overcome by using Tally on cloud. The advantages of Tally on Cloud are,
1) Automated Data backup:
Tally on Cloud software offers automated data backup function. This ensures that your data is regularly and securely backed up without requiring manual entry. In the event of data loss or corruption, you can easily restore your data from the backup, reducing the risk of significant setbacks for your business. Thus, problems related to backup can be fixed using Tally on Cloud .
2) Accessibility:
Tally on Cloud software allows users to access the data remotely from any location with an internet connection. This is helpful for businesses with multiple branches, remote workers.
3) Real time data synchronization:
Tally on Cloud software offers real-time centralized data storage and synchronization. This means that all users accessing the software see up-to-date information simultaneously, ensuring data consistency and accuracy across the organization. Many users can work on the same data simultaneously without conflicts.
In conclusion, Tally ERP 9 offers numerous advantages for micro, small and medium businesses. With its ability to streamline corporate activities, it helps businesses to optimize their processes and achieve greater flexibility. At Tallystack.in, we understand the importance of business tips and strive to provide our clients with the best possible solutions. You can get a Free Live Tally on Cloud demo, from Tallystack.in
By purchasing Tally on Cloud through us, you will have access to a powerful tool that can help you streamline numerous processes and take your business to the next level. So, why wait? Contact Tallystack.in today and start reaping the benefits of Cloud-based Tally.
1) What is Tally on cloud?
Tally on cloud is a software that stores accounting data on remote servers. It allows for easy access, scalability, and security.
2) Is Tally ERP 9 suitable for small businesses?
Yes, Tally ERP 9 is highly beneficial for small enterprises. Its user-friendly interface, comprehensive features, and real-time financial reporting capabilities make it an ideal tool for small business owners to manage their finances efficiently.
3) Does Tally ERP 9 offer data backup and recovery options?
Yes, Tally ERP 9 comes with built-in data backup and recovery features, ensuring that business owners never lose their financial data.
4) Can Tally ERP 9 be accessed from anywhere?
No, Tally ERP 9 is designed as an on-premises software, which means it is installed and accessed from a specific location or network. But, with Tally on Cloud, you can access Tally ERP 9 from any location with an internet connection.