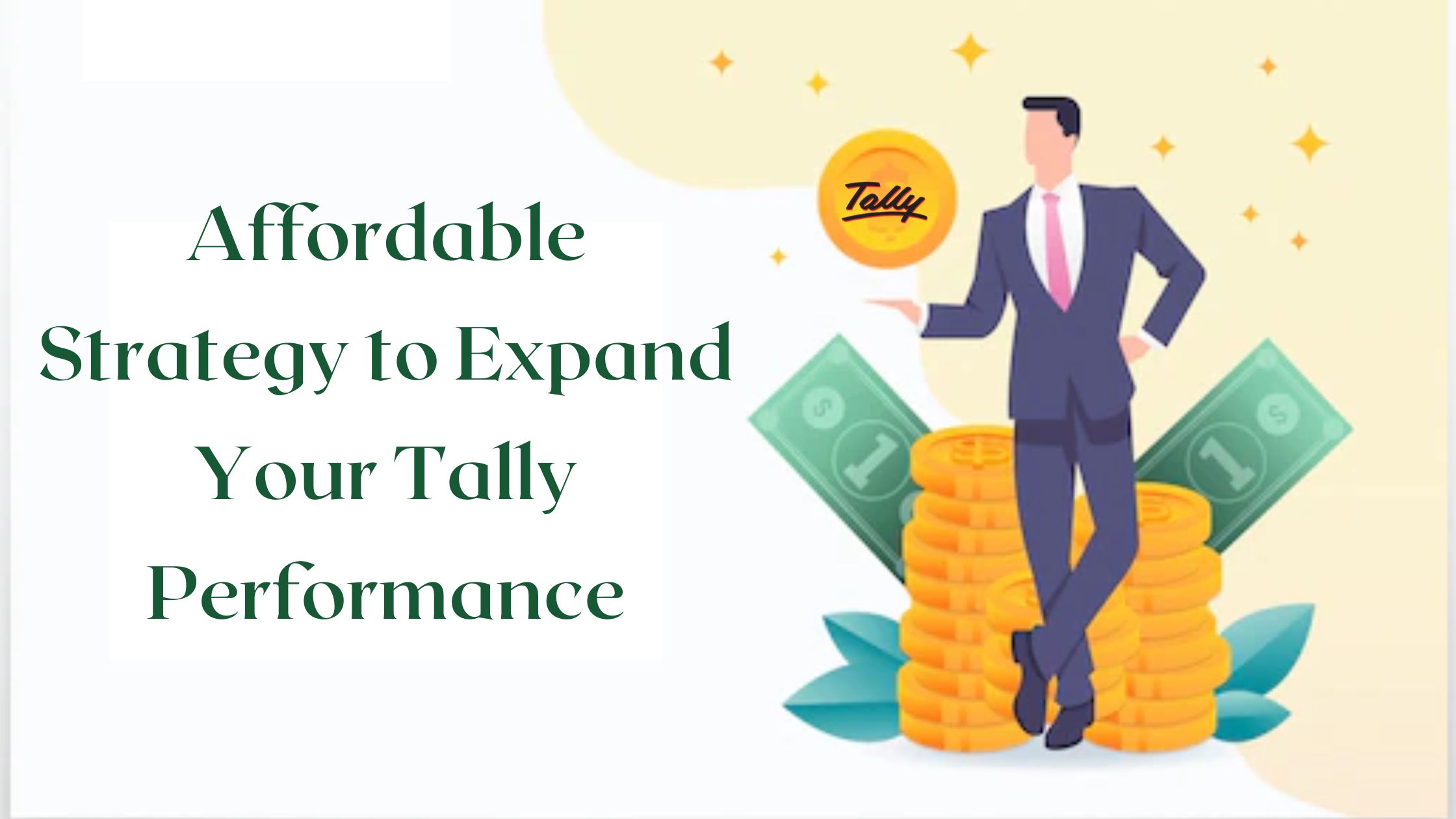 Affordable Strategy to Expand Your Tally Performance
Enhance your Tally ERP performance using affordable strategy
Businesses have been using Tally ERP for years. There can be several reasons why Tally is running inefficiently or slowly. Identifying the cause is the key to troubleshooting. In addition, tally's performance can often be improved simply by upgrading hardware or other solutions. 
A quick consultation with your Tally provider can help you easily determine why your Tally performance is not optimal. And whether you need to upgrade your Tally ERP 9 accounting software or have something you can do externally to improve your Tally performance.
Download Free 90+ Tally Shortcut Keys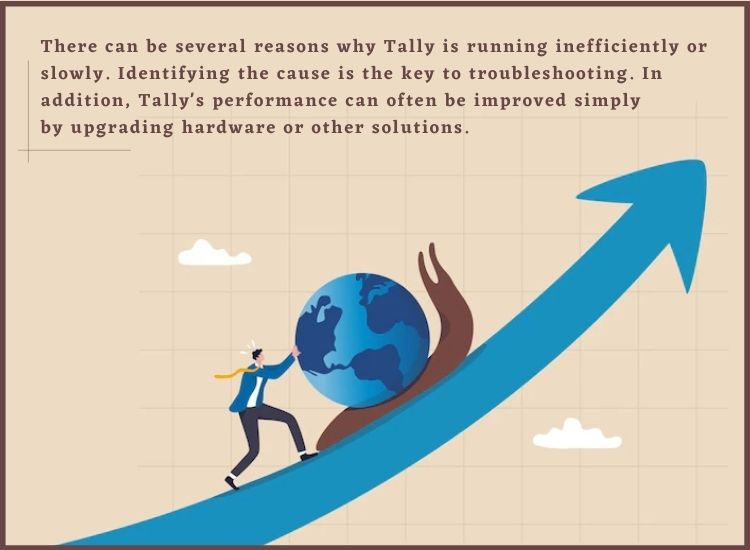 What issue takes place due to slow Tally ERP?
In a multi-user environment, Tally slows down for several reasons. Sometimes the problem is network connection-related, and sometimes it can be caused by Tally itself. Some of the Tally ERP issues are:
Setting the computer's IP address: You can verify that each computer's IP address is configured correctly; there should be a separate IP, and all should be in the same range.

Setting up the Tally.ini file: The Tally.ini file in every 

Tally user

should have the correct IP of the Tally server along with the appropriate port number.

Tally software version: All computers on the network that share the same information should have the same, and 

Tally screen loading

is one of the major issues in slowing down the tally.
How do you enhance Tally's performance?
The number of clients: Know the number of clients connected to Tally ERP 9, as requests sent by one client, must be processed before a response is sent. Other client requests are processed only after the active data server responds to the client. So to solve the issue, you can ensure the number of clients is connected to the Tally.
Network speed or link between client and server system: Make sure the network speed is consistent. Link speed differences affect data transfer between client and server systems. You can also host your Tally version on Cloud for speedy & efficient Tally performance.
Other than enhancing the performance of Tally, Tally on Cloud has some impressive features –
Tally on Cloud can be accessed anywhere, anytime, and on any device. So it's very flexible and efficient to use for small businesses to work faster and more smoothly.
Using Tally on Cloud is economical saves money. Tally cloud service provider is responsible for these costs. Tally allows you to use a computer with a LAN connection and requires users to be at that system to complete tasks if they don't. There was no way for anyone to continue working.
With the help of Tally on Cloud, you can manage your recordings from time to time automatically and can be analyzed. Tally on Cloud Auto-backup is one of the excellent feature.
Data security is the number one concern for every business; whether they are working from home or at the office, Tally on Cloud offers robust security protocols. The second level of security Tally cloud service gives due to entering a username and password while logging into the Tally cloud by the providers.
Every business expands and contracts on demand. In Tally offline, you need the operation and storage needs. Still, with Tally on Cloud, you can create new users, assign permissions, start working right away and remove users are also very easy as well as there is no restricted access.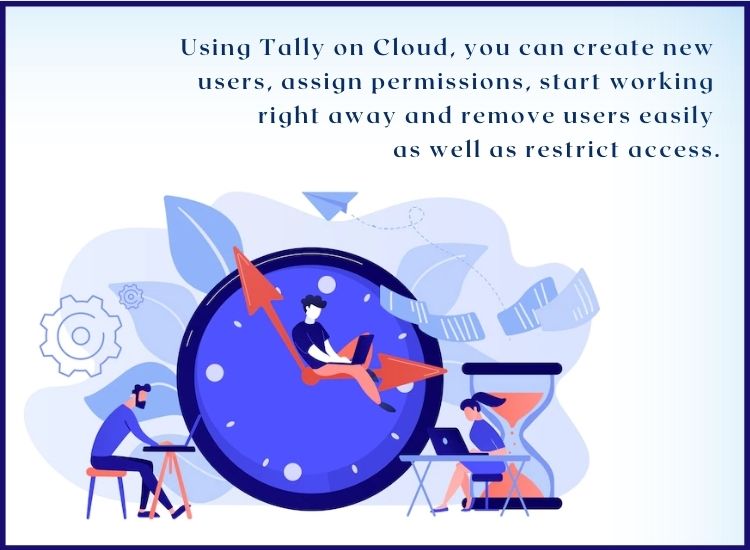 Flexibility & business continuity:
The flexibility at work benefits both employers and employees. Make data accessible even after hours of work with Tally on Cloud. You can access data 24/7, and it helps employees work more efficiently and be more productive. In addition, you can work from any device because the offline or on-premise Tally is used in the organization.
You get maximum freedom to configure and customize your Tally on the cloud. So there is zero downtime. In addition, businesses looking to scale can easily meet their needs by counting on the cloud, which leads to maximum productivity.
Real-time synchronization:
Real-time synced data is essential to enable reporting and timely decision-making. After updating data in Tally on Cloud, it is easily synced across multiple devices as ERP is hosted on the cloud anywhere and anytime. As a result, you can synchronize the real-time data and centralized data easily.
Tally on Cloud is ideal for businesses that work remotely and access Tally data. Tally on Cloud is great for people who work remotely. But it still has great benefits while working from the office, like a flexible work schedule.
Tally is for accounts. Tally ERP 9 is on-premises software. The Tally on cloud service can be accessed from the device where Tally .exe is downloaded. Tally in the cloud has changed the way Tally works, and you can access Tally anywhere and anytime. 
From the above discussion, you will know the affordable way of boosting the Tally and tips to enhance the Tally performance. Instead of Tally offline, access Tally on Cloud at a very low price. So tally on cloud is available at an affordable price. You can access data remotely with the help of tally cloud services. Why are you waiting to upgrade from Tally on-premise to Tally on Cloud? Contact Tallystack and get your Tally on Cloud today.
Why opt for Tally on Cloud instead of Tally Server 9 or Tally Prime Server? 
Tally Server 9 and Tally Prime Server is the costly solution compared to Tally on Cloud so most people opt for Tally on Cloud.
How does Tally on Cloud help with cost savings on manpower?
Tally cloud service providers will help you save money and increase more productivity. The main benefits of using Tally on Cloud is in-house IT staff and decreased labor & maintenance costs.
To learn more about Tally On Cloud, you can check out our videos.