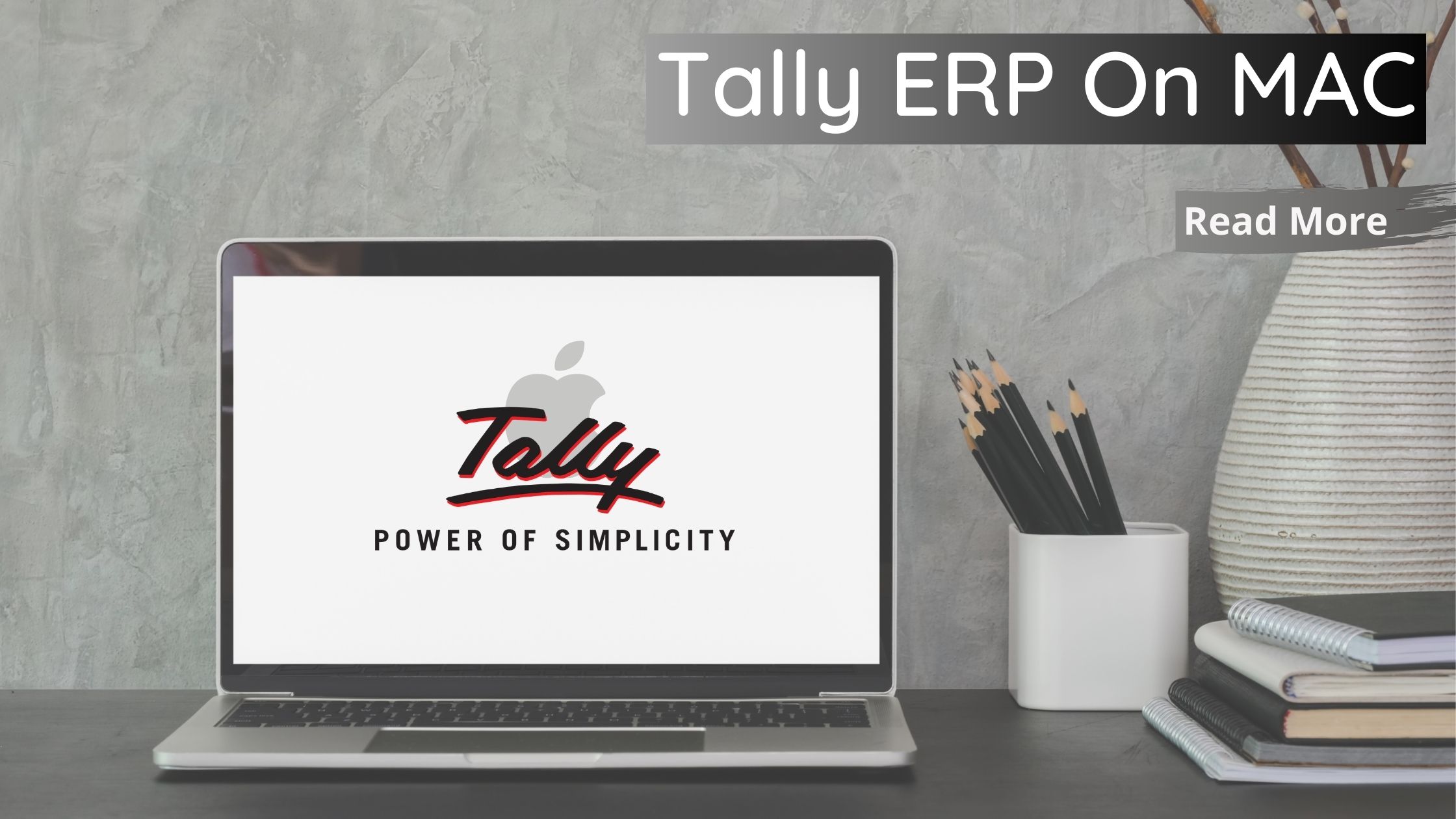 Tally ERP On MAC
Tally for Mac OS? Can I use Tally on Mac or Tally prime for Mac? Yes, Tally for MacBook is possible. Keep reading to know more.
Tally ERP, provided by Tally Solutions, is one of the most popular among accounting software's used worldwide. Tally ERP 9 used for both small and medium enterprises, this software is simple enough yet provides comprehensive business functions such as Accounting, Finance, Inventory, Sales, Purchase, Point of Sales, Manufacturing, Costing, Job Costing, Payroll, and Branch Management accompanied by compliance capabilities for Excise, TDS, TCS. 
Tally ERP software with GST is also now ready to use. Different versions of Tally exist from Tally 3.0, the first version of Tally from 1990, Tally 18 & Tally Prime being the newest and updated version.
A few things you need to know about Tally accounting software for MAC Operating System.
There are a lot of ways to run Tally ERP for Mac. Some of the tested ways are the Dual Boot method, Virtualization, Cross-platform tools, and Tally on Cloud for Mac, with the last being the simplest and most effective method to download Tally or Tally prime version. Tally ERP 9 application for PC is available on many online sites. Continue reading to know more about Tally ERP on Mac.
Is Tally ERP compatible with Mac?
So does Tally work on Mac OS or Tally Prime work on Mac? Unfortunately, the Tally software for MacBook doesn't exist. But there are a few possible ways to run Tally on Mac or Tallyprime on Mac Operating System. So how does tally work? It's simple. 
After signing up an account and linking your credit cards, Tally ERP 9 accounting software monitors your credit card interest rates, due dates, and balances for you. Tally ERP mobile app allows tally software for android, which means you can access your Tally ERP 9 data on your android or IOS mobile. Now let's see how to run or download Tally ERP 9 for Mac or Tally prime for Mac OS.
Looking for reliable way for accessing your Tallyprime or Tally ERP on Mac OS? Let us help you.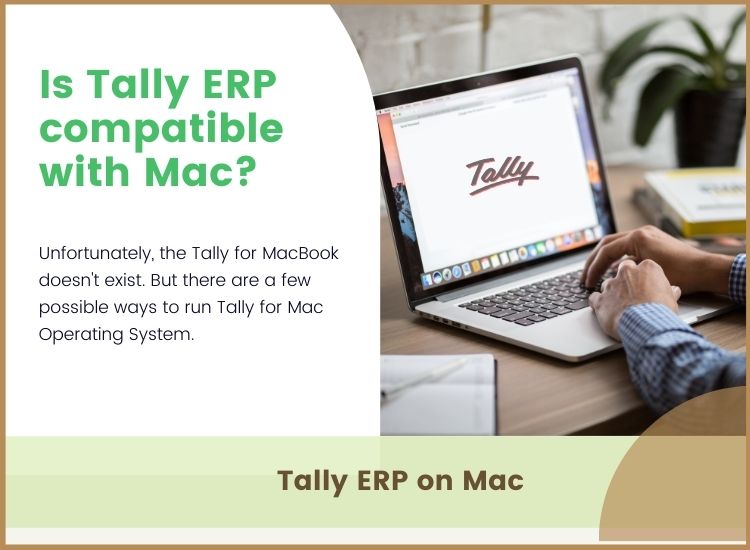 How to Install Tally ERP 9 on MAC?
You can use Tally ERP 9 software for better accounting and auditing. Tally for Mac or Tally prime on Mac is possible & there are a lot of reasons why Tally needs to be used in Mac. 
What are the four ways to Install Tally on MacBook?
Apart from Dual Booting and Tally on cloud, the other two methods to install Tally ERP software for Mac are virtualization and cross-platform tools. With these methods, you can use any version of Tally software on Mac.
Running two operating systems in a single computer is called dual-booting for example, you can run Windows OS and Mac OS on a single PC. Boot loader tools like boot camp can help dual boot your system and install Windows OS on the Mac Tally data files where a partition is created on the Mac hard drive, and Windows operating system is installed. In this guest window, you can download the Tally software. When you open your system to work on the tally, you need to choose the windows operating system.
Steps to Install Tally on Mac using Dual Booting approach:
Follow these steps for a successful installation of Tally for Mac:
Install boot camp assistant under the utility folder

From the official Microsoft site, download Windows 10 ISO disk image.

Click on continue

Pick the desired USB drive and choose the windows ISO image.

A copy of your pen drive needs to be kept in another location because the Mac system will format it.

To accept the partition size, you need to click on install, and you can use the divide equally button to change the partition size.

Download Tally software on Mac

 on a windows partition.

Now you can use Tally ERP 9 on Macbook whenever you want.
What are the advantages & disadvantages of dual Booting?
Though with Dual Booting you can use both operating systems in one PC, there are advantages as well as disadvantages here:
You can use both operating systems but cannot use them simultaneously.

Too much hard disk space is used, but you can use tally whenever you want.

Mac slows down because of the 

installation of the operating system of guest windows.
You can use both operating systems on Mac, but you need the extra cost on MS windows' license. With the help of dual Booting, you can use Tally on Mac.
V Box, Parallels are applications that help you create a virtual machine on the Mac to download Tally ERP. Installation of windows OS inside this virtual machine can help you use Tally, just like dual Booting. 
Steps to Install Tally on Mac using Virtualization approach:
Here are a few steps that can help you download Tally accounting application on Mac operating system
Download tools like – Parallel Box (Paid).
Install the tool on the Mac platform.
After the installation, a window will appear that asks either to install from CD or Pen-drive or directly purchased the Windows license.
After installing the Windows OS, download the Tally accounting application on the Mac platform.
What are the advantages & disadvantages of the Virtualization approach?
There are both advantages and disadvantage of the virtualization approach:
Advantages 
You can use 

windows based tally

 and 

Mac-based software

 simultaneously

It is also flexible to use
Disadvantages
You need to pay for the license of MS windows
It slows down your Mac as it uses a lot of RAM and hard drive space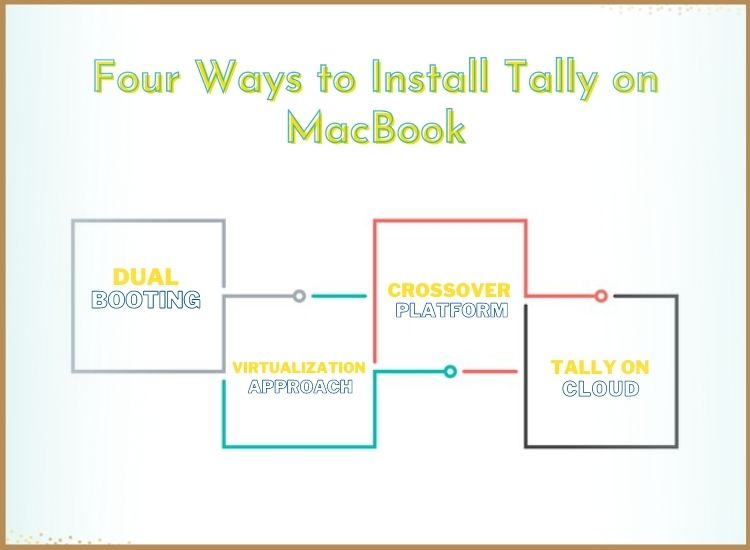 3. Use of Cross Platform-tools
To install and configure both operating systems, tools like crossover or wine bootler are used for windows app programs on Mac OS to smoothly operate between the Mac OS platform and windows and use Tally for Macbook without any difficulty.
What are the advantages & disadvantages of CrossOver or Wine Bootler approach?
Advantages 
No need to 

install an operating system

, and it provides flexibility.

No

windows license

fee.
Disadvantages
Difficult to 

install and configure

The working is not 100%

You will have to perform the installation procedure all over again if a 

newer version of Tally 

comes up
Tally on cloud technology is the easiest and fastest way to work from office or use Tally without being at office work online. Most of the users feel that the best way is Tally on Cloud for Mac OS or Tallyprime on Cloud for Mac OS.
Tally on cloud is a safe a secure way of installing optimized cloud infrastructure. It is also a cost-effective and reliable way of running your Tally prime for MacBook or Tally ERP on Cloud for Mac OS or any device having any OS.
Host Tally cloud dedicated server means that your tally software is already hosted in the cloud dedicated server. To access Tally ERP or Tallyprime for MacBook on cloud, you need to install Remote Desktop Protocol (RDP). Tallystack can offer you their services for Cloud-based Accounting Software at very affordable prices.
Steps to Install Tally on Mac via Cloud Computing
Follow these simple steps for Tally ERP software hosting with the help of cloud computing:
Choose your ERP software with the desired configuration.

Access Tally ERP 9 for Mac platform through Tally hosting.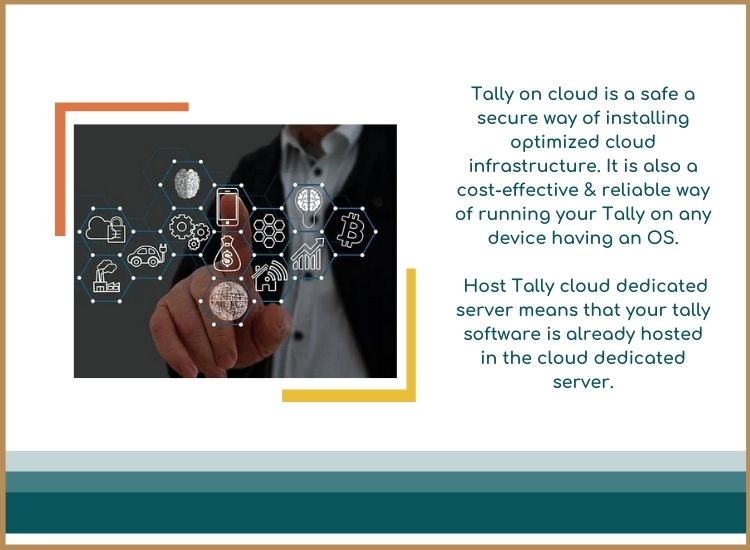 Why Tally on Cloud for Mac is the best?
There are so many reasons for choosing cloud computing for Tally Mac OS; a few of them are given below:
Configuration is very easy. You have to install Remote Desktop Client, then enter the tally credentials, and you are ready to use Tally ERP or Tally prime on any OS like

Windows.

Use Tally ERP or Tally prime Mac.

You can access it from anywhere and anytime from any device. In short, you can 

run Tally from mobile platforms

 too

It also provides you with the best performance, and the 

Tally cloud for Mac

will keep your software running fast without making use of any resources from your Mac.

It also has a 

Tally Cloud data automatic backup facility 

on secure and powerful servers.
 How to run Tally ERP on Mac OS? – Video Tutorial
Here are four ways to download and install Tally on Mac OS:
Tally ERP on Cloud for Mac Strategy

Dual Booting to Run Tally ERP 9 on Mac OS

Operating System Virtualization Technique

Download Tally Using Crossover & Wine Bottler
You can also watch Tally on Mac video tutorial on YouTube. This way, you can understand all Tally MacBook procedures better.
Conclusion:
The above four ways can be used to run Tally On Mac. But the best way we would recommend is the Tally on Cloud where you get the efficient cloud technology to run your tally account from anywhere, anytime, using a computer or any device, having any OS.
Tally on Cloud for Mac saves you a lot of time and ensures minimal performance lags with less consumption of bandwidth. Customize Tally Cloud as per your business requirement. Tally in MacBook using this can be considered as an efficient way to operate your Tally ERP 9 account on Mac. For the best Tally on Cloud services, contact Tallystack to get the best of features and prices.
Can I install any version of Tally ERP on Mac?
Yes! Any version of Tally accounting software can be used on the Mac platform. Host any Tally on Cloud for Mac OS.
Can Tally be downloaded for free?
There is an educational version of Tally that is free of cost, and you can download it from any site on the internet.
To learn more about Tally On Cloud, you can check out our videos.