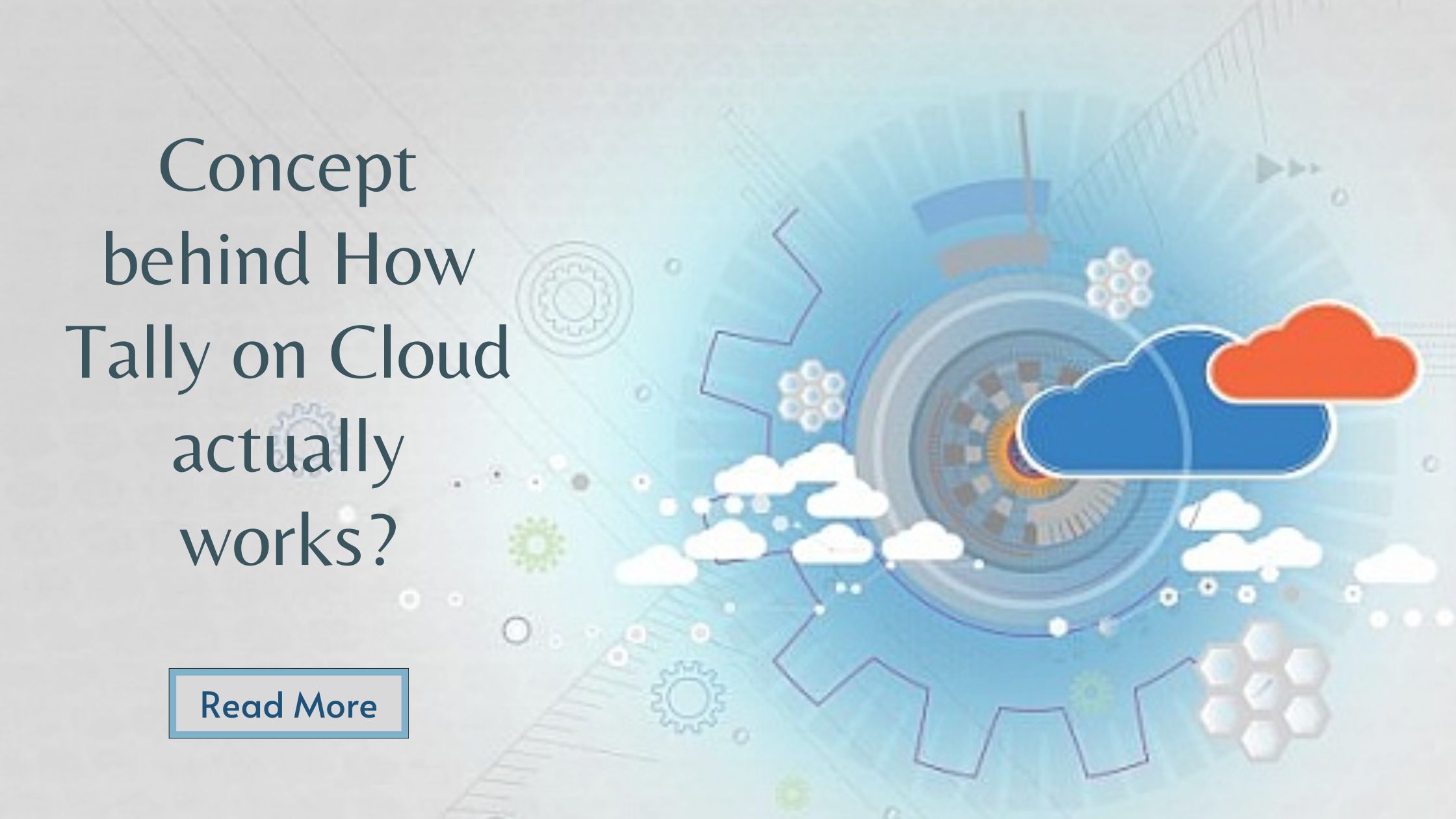 Concept behind How Tally on Cloud actually works?
How does Tally on Cloud work?
Tally on Cloud? Tally ERP is one of the Windows-based enterprise resource planning software developed to manage the operations related to business. They include managing the operations like accounting, order management, payroll, banking, inventory management, and other business operations.
Traditional Tally ERP 9 also needs a new technology in it for some updation. Can Tally ERP be hosted on Cloud? Users now use the Tally accounting software through the RDP protocol. It is practical and users can easily access any version of Tally ERP using this new technology known as the Tally on Cloud.
Download Free 90+ Tally Shortcut Keys
What are cloud technology and its uses?
Cloud technology is nothing but the virtual storage space on the internet, and it allows people to use digital resources that are stored in virtual space. If you use Cloud computing it can also provide you with a lot of benefits. 
This modern solution for Tally accounting software is cloud technology. Cloud computing, fairly known for its ability to enable people to access different locations and save their data securely, has made this accounting software more supreme.
Now with the collaboration of cloud technology, people can use online Tally remote access from anywhere and at any time. Also, with cloud technology, all the hardware and software on-premise requirements get minimalized as your Tally account can be run on Cloud.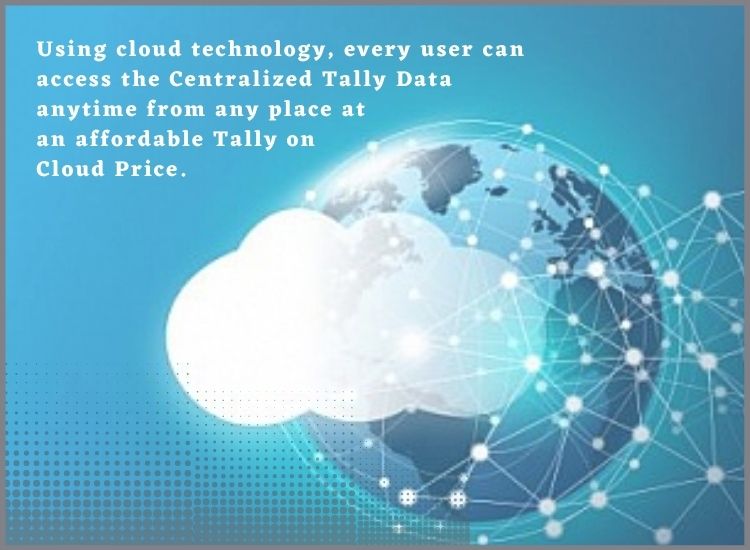 How does Tally ERP software on Cloud work? 
Why businesses should host Tally on Cloud? Tally cloud software is useful for all businesses because Cloud technology is a unique & helpful innovation. Tally ERP Cloud is one system that operates on a cloud platform instead of an on-premise network.
Tally ERP on Cloud is built on the Remote Desktop Protocol (RDP). A user can access the web application over RDP by entering a valid login and password. Only users with a specified set of permissions have access to editing Tally reports.
Tally on Cloud allowing organizations to access the software through the internet. When you operate Tally on Web by using professional Tally on Cloud services then you can gain more security. 
Tally ERP also works with less operating costs to access the real-time data, which is a powerful encryption for the users. Cloud-based Tally is the best tool for every business for storing their Tally on Cloud for data privacy and data synced work.
How can we use Tally online? 
Tally on Cloud is facilitated with one important feature of cloud technology i.e. PAAS (Product as a service). This feature of Tally Cloud technology facilitates software to be used effectively and remotely on Cloud itself.
Tally on Cloud uses PAAS technology to make people access from different locations using different devices access the same Tally account and its Tally data. Tally is basically hosted on Cloud, where one server resting at a data center manages different applications and functions on different platforms.
That one server can host multiple Tally accounts from multiple locations without even moving a bit itself. This makes Tally portable and accessible from anywhere, anytime using any device.
Why choose Tally on Cloud service? 
Many businesses use Tally on Cloud for numerous reasons. All the foundations are excellent and effective. They use Tally on Cloud because it is portable and accessible to execute any task. You can access Tally online without any problem. Automatic backups of Tally data, data centralization, and secured Tally software.
How does Tally on Cloud eliminate business extra costs? 
Tally on Cloud comes with ultimate flexibility to use a Tally ERP or Tallyprime account from home or your office, or your vacation hotel and also can be used by multiple users present at different locations.
Tally on Cloud also becomes a huge cost-saver as it facilitates multiple users on one license, which ultimately eliminates all the costs of separate tally licenses.
It also reduces costs of installation and management as everything is taken care of by the cloud hosting manager. Tally on Cloud even does not compromise with any other feature Tally on-premise would provide.
With extra flexibility, Tally on Cloud also offers premium security and automated backups of your data. Tally on Cloud is also compatible with all Tally versions and can be used by almost all devices like PC, laptops, iPad, mobiles, etc.
What are the features of Tally on Cloud?
You have to know the features of Tally on Cloud, which include the best access, remote printing, auto backup, and reliable security for your data. 
Access Tally software on Cloud technology on any device you have. You can access it on Windows or Mac OS and in the secured RDP protocol. Tally can be accessed on Whatsapp or on Mobile via Cloud technology. 
Automatic Backup ensures uninterrupted working. An automated backup system in Tally Cloud ensures that it takes tally data as a backup per the scheduled time without disturbing your work. It is essential for local backup in this cloud technology. 
The data are super secure with zero virus and ransomware threats when you use cloud technology. Hackers can't have access to your data and your Tally data secure via this compelling secured technology.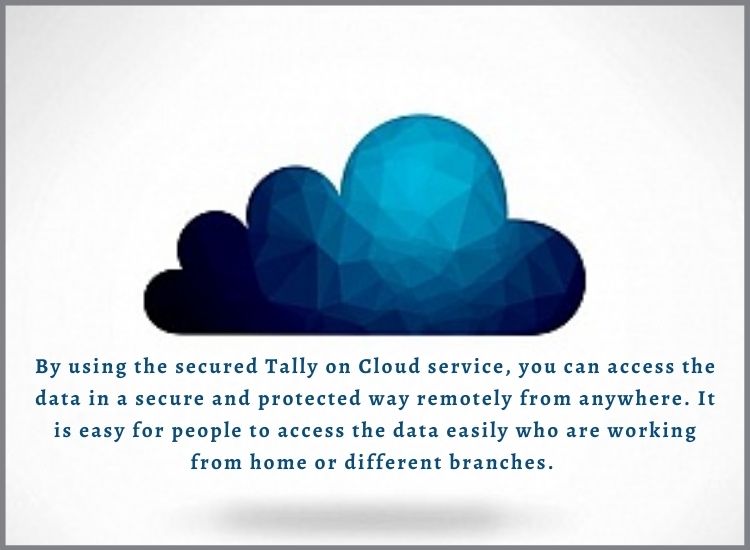 By using the secured Tally on Cloud service, you can access the data in a secure and protected way remotely from anywhere. It is easy for people to access the data easily who are working from home or different branches. 
Pleasantly User-Friendly:
Tally software on Cloud is beneficial and user-friendly for Remote Desktop Clients who want to access their data remotely without any speed issues. 
This cloud technology is helpful to support Local printers. No extra settings are needed. Centralized printers provide remote printing of data. 
It also has scalable options that can be useful for performing business operations. It can be helpful in the process of automated performance mapping for the customer. 
Surprisingly Lightweight:
Tally on Cloud is highly optimized for remote performance with the lowest internet bandwidth needs.
Tally on Cloud offers real-time database opportunities. Cloud technology also helps in accessing data from any remote location.
When a business needs Tally on Cloud customization, they can approach the experts like Tallystack to get customized needs at an affordable price. You can use TDL to get the best Tally Customization support.
What is needed to work on Tally based on Cloud? 
A Tally account, a cloud server hosting your Tally account, a valid Tally license, an active internet connection even a 3G connection will do, and a device to run your Tally account is all you need.
No extra hardware, no software no extra applications, nothing would be required to be installed as it would've been for Tally on-premise. Tally on Cloud even performs faster than it would perform on-premise.
To carry out all Tally work from home, you would need to have the technology. Tally on Cloud comes with ultimate flexibility to use a Tally account from your office, or your home and can be used by multiple users present at different locations.
Cloud-based Tally can be accessed remotely from any device, regardless of its geographical location. The traditional and most widely used accounting software is transformed into a SaaS software model.
This allow you to use or access Tally ERP over the internet from any device. It also reduces costs of installation and management as everything is taken care of by the Tally cloud service provider.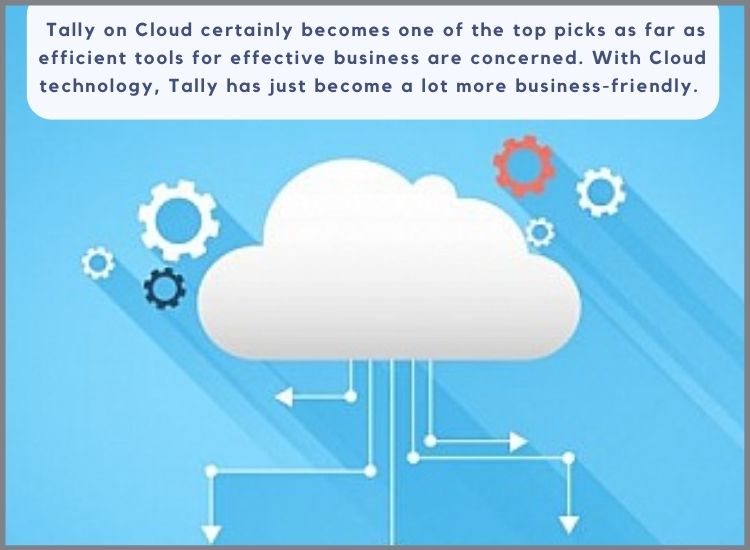 With the ultimate features it offers, Tally on Cloud costs feel more than reasonable. It certainly becomes one of the top picks as far as efficient tools for effective business are concerned.
With the support of Cloud technology, Tally accounting software has just become a lot more business-friendly. For any detail about Tally on cloud services or for free live Tally on Cloud demo visit Tallystack.in.
How could I get access to Tally on Cloud?
Most people have this doubt about How to get access to Tally on Cloud? You must contact Tallystack's Tally Cloud experts if you want to access Tally on Cloud. Our experts can help you access your version of Tally on Cloud in an effective manner at an affordable price. 
Can I access Tally on Cloud from Browser?
According to the Tally on Cloud development team, browser accessibility leads to HTTP, which is less secure than RDP connectivity. Therefore, any device that supports RDP must be used to access Tally on Cloud.
Can I store other files on Tally on Cloud server?
To learn more about Tally On Cloud, you can check out our videos.