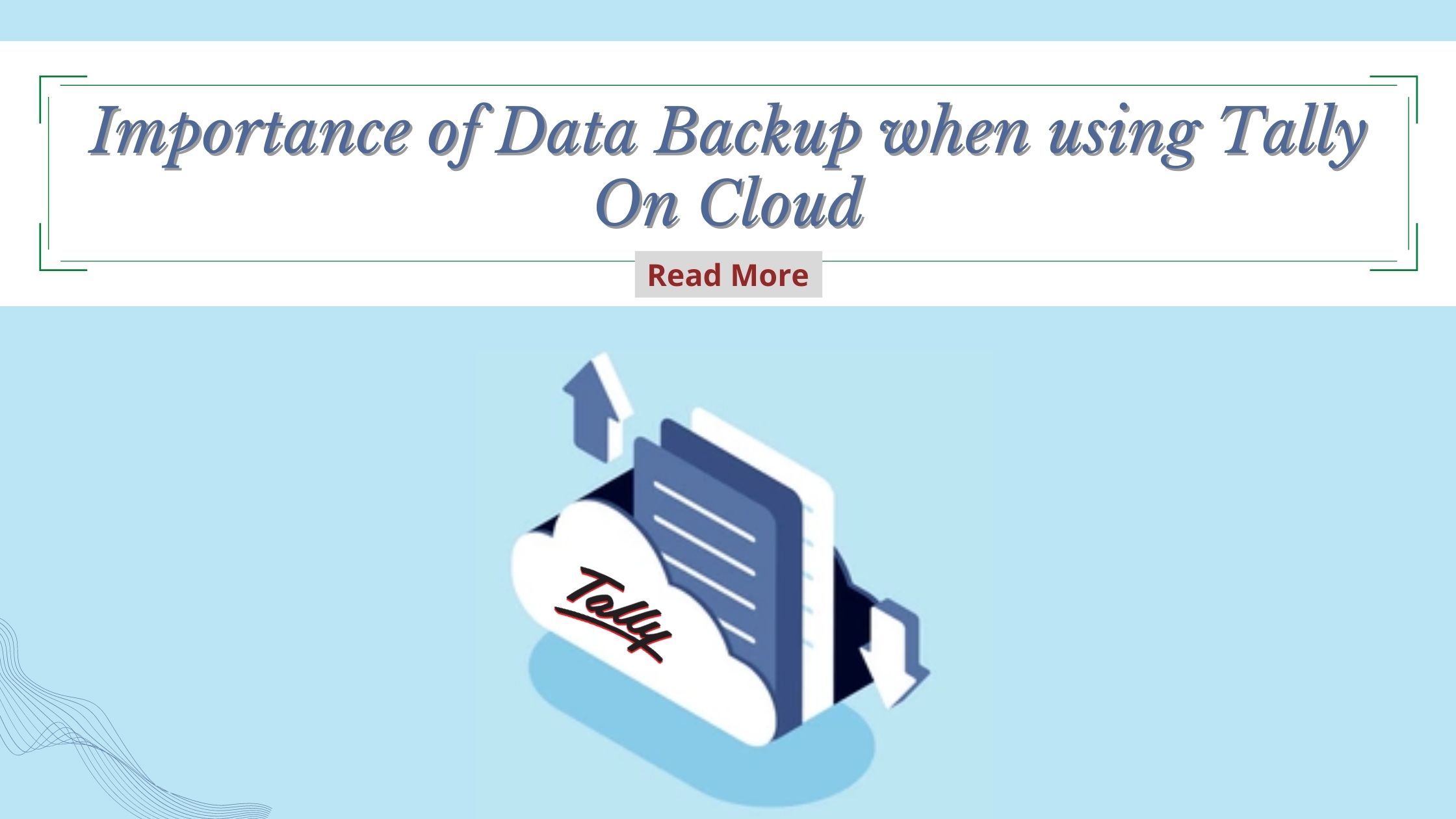 Importance of Data Backup when using Tally On Cloud
Tally Data Backup on Cloud Computing
Right from the launch of the Cloud, individuals have gone on to gain their interest in collecting data on the Cloud infrastructure virtually. This technology could utilize the Tally as most of Tally's accounting and essential data could be saved virtually. Tally ERP on Cloud has been viewed as a useful option that eliminates the difficulties and gives portability to utilize Tally from nearly anywhere, at any given time on any device or a computer.
Although with the advantages that Tally on the Cloud provides, there may also be a few malicious practices produced by the hackers to go on to delete stored data. 
Download Free 90+ Tally Shortcut Keys
Cloud computing gave great comfort to the individuals using Tally over the Cloud. This provided users with the functionality, including all the high-end blueprints at a minor price when contrasted to that of on-premise computing, where one needs to purchase expensive supplies to run only a single application.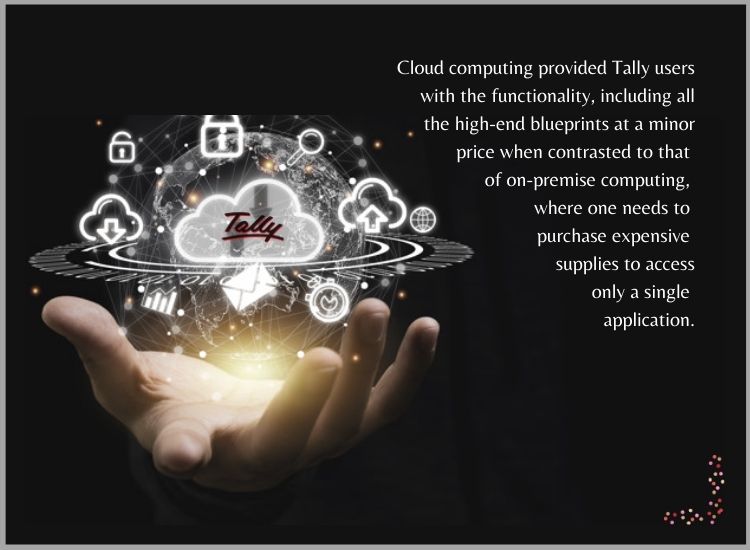 Why Tally data backup is needed?
The tally solution is amongst the most regularly utilized accounting software. Tally ERP 9 accounting software is generally utilized for auditing, billing, and managing the ledgers. There are several advantages of Tally data on Cloud, amongst which the pricing and its adaptability with the GST are the finest.
Tally data backup solution gives insights regarding the financial achievement and financial position of the specific business via the recording of nearly all the outgoings and incomings of capital, bank, & cash, which is even required to determine a business's credibility. Tally on the Cloud covers all those advantages, including the fact they are GST compatible. However, the position and performance of the business can be leaked or breached via cyber attacks.  
Thus, data protection & recovery should well be the utmost concern. Thus, Data backup can be an excellent option to keep the copy of data and files, which could be maintained as the recovery even when lost. 
What are the options available for data backup from Tally ERP?
Some of the Tally data backup option available are as follows-
• Select the Platform of Data Storage of Your Selection One may utilize the services available over the web to store the Tally backup.
• Still, wondering about how to backup tally data? Well, some of the famous platforms to store data online are drive and Dropbox.
Save your File
The aforementioned online services go on to automatically syncs all your data from the computer. Thus, once you're done selecting the backup, the data will ultimately be saved online automatically.
However, please think of how it'd be when all the Tally data is backed up automatically on Cloud. Yes…..you've heard that right, and for that, you require to begin working with the Tally Cloud platform.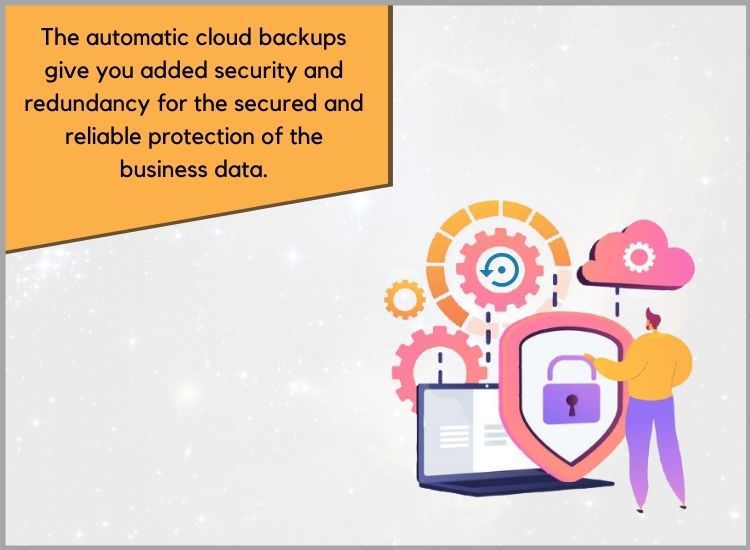 Why use cloud backup over traditional Tally backup?
Using Cloud backups can also be an efficient solution as they go on to give the saved offsite copy of files and data stored on the remote servers. The automatic cloud backups give you added security and redundancy for the secured and reliable protection of the business data. Although one should not get distracted by cloud backups and online file storage, they're very diverse in security measures.
With the tally auto backup software and cloud infrastructure, there is not much to bother. However, you'd be familiar with cyber attacks and go on to take specific measures to guard the financial data.
Go for it-
Installing and configuring Tally ERP 9 on cloud computing

for data backup is easy and simple for you to use.

This provides greater protection and is also pretty reliable.
It assists in safeguarding the firm's data by making sure it's backed up daily.
It could well be synchronized with a free Cloud storage platform with Google Drive, Dropbox, OneDrive.
Why you should consider Tallystack for Tally on Cloud?
Tally ERP alongside data is hosted in Superfast Virtual Machines in their Tier 3 Data Centers. 
It's very helpful for Small businesses as they do not need to maintain or stress the server. Businesses that have several branches and need to Centralized Tally; thus, it becomes simple and easy to reach from Anywhere, it's the finest choice.
Their Product happens to come with a flexible plan (monthly) that suits the budget and the user size, even reducing infrastructure cost.
This comes with the Tally Multiuser access. Currently, 80 concurrent users may utilize Tally ERP on it. This even provides much-needed multi-layer security.
Their Tally ERP Data 9 is Extremely Secured on it. This comes with the new and latest Antivirus security that prevents any Virus.
How Tallystack's cloud backup will help you to work seamlessly?
Well, here is presenting the five biggest benefits of cloud backup:
1. Affordable-
Some of the small businesses have got no unlimited IT budgets. It is essential to use the Cloud backup solution to make sense and not need the customer to incur the capital expenditure. Because they come at an affordable price for nearly as low as some hundred dollars every year, the customers may have all their data backed up to the Cloud.
2. Anywhere, Anytime Access-
When you have data in the Cloud, it allows the customers to have entrance to the data anywhere and anytime as long as there's complete access to the Internet.
3. Off-Site-
It is essential to keep the copy of the files offsite. Even when business files and documents are backed up on the file server, a flood, hurricane, theft, or fire could destroy computers and backups. Keeping backed-up files and doc in the Cloud makes sure data is safe regardless of what's going on at the office.
4. Simple-
The Cloud backup solution has made continuous management and data restoration easy and simple. With only some clicks on the mouse, backed-up files and doc can easily be found and restored.
5. Automatic-
Cloud backup does not need an added time commitment for one of their customer. Computer docs and files are generally backed up continuously on the Cloud whenever connected to the net.
Tallystack realizes this important motive and provides you Tally on Cloud with various protection tools and regular backups at minimal costs in order to promote the utmost safety to your crucial end-year financial data. So, take the accounting solutions at an affordable price to the Cloud and try out the Tally Cloud Solutions.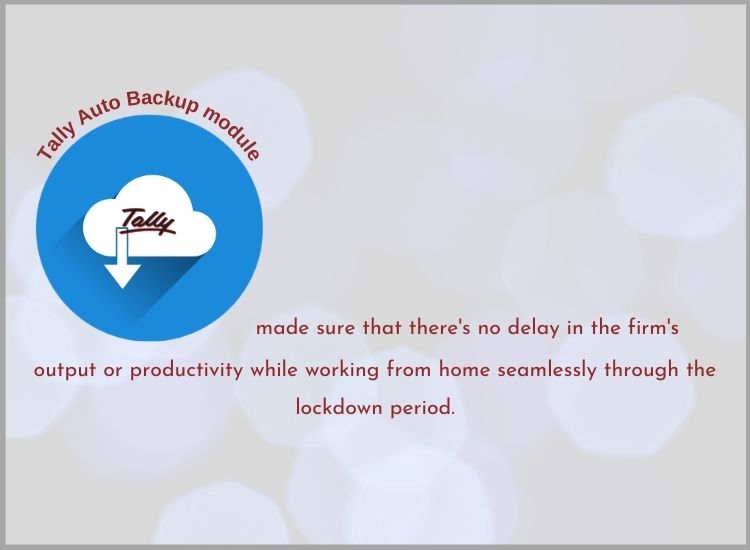 What is Tally on Cloud Solutions?
Tally Accounting Software is amongst the most advanced solution as it gives several features, including GST too. The real perk that you'd consider for making use of Tally over the Cloud is for its features and storing the collection of data virtually.
Also, Tally could be hosted on the Cloud and could be utilized on any Operating Service, whether it's Tally on Mac or Windows. Also, you may go on to run Tally on Mobile environment with a lot of ease. So yeah, that is very much all about it.
How Tally auto-backup make it easy to work from home?
The Tally Auto Backup module even went on to make it easier for firms to work from home seamlessly through the lockdown period. They had already been getting access to data online without being at office, which made sure that there's no delay in the firm's output or productivity.
To learn more about Tally On Cloud, you can check out our videos.