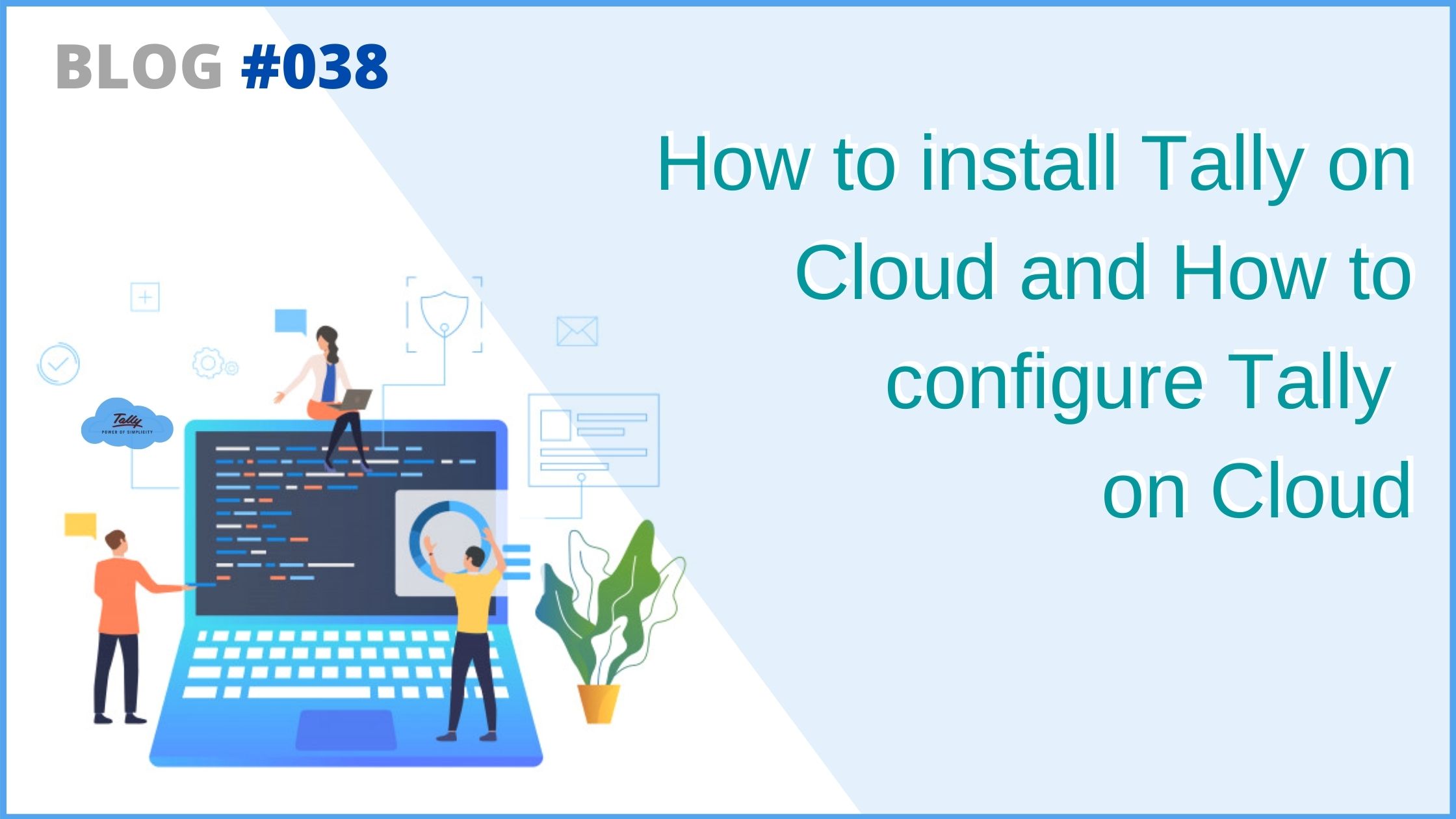 How to install Tally on Cloud and How to configure Tally on Cloud?
How can Tally on cloud be configured?
How to install & manage Tally on Cloud?
Tally on Cloud? Why? A huge number of users desire to setup Tally Accounting Software on Cloud but generally, the above and a few more questions arise in their mind.
These tasks can be done with ease by taking the help of third-party services. Below we will discuss Tally or Tally prime on Cloud queries in detail so let's get started.
How cloud technology helps in boosting Tally ERP software efficiency?
Earlier, people having Tally accounting software on-premise had to employ certain IT personnel and management teams to manage and configure Tally application to manage the ERP resources and to maintain the functioning of their accounting software.
Now with the collaboration of Cloud web tally, everything has just got easier.
With Cloud Technology, Tally accounting software on the cloud comes with relief for many businesses who had to manage their Tally ERP account regularly.
Tally on Cloud price is highly affordable and offers ultimate flexibility, adaptability, security, and management.
Therefore, tally on cloud features are considered as an effective and efficient technology.
Schedule a Live Demo to experience Tally on cloud and understand how it will boost your business performance.
What is the need to configure Tally on cloud?
Hosting Tally on Cloud is a functionality provided by the cloud computing SAAS feature that allows the Tally account to operate on the cloud.
Tally ERP 9 running on the Cloud allows to access online Tally account from various locations.
Cloud computing offers Tally multi-users access at any time from different locations simultaneously and also access Tally on mac or window device.
This offers a tremendous amount of flexibility as the companies do not have to add extra IT or specialized teams to handle their Tally cloud version.
Also, it offers flexibility to the user to access their Tally data on Cloud from anywhere or offer Tally remote access to the same account by multiple users at different locations.
Download Free 90+ Tally Shortcut Keys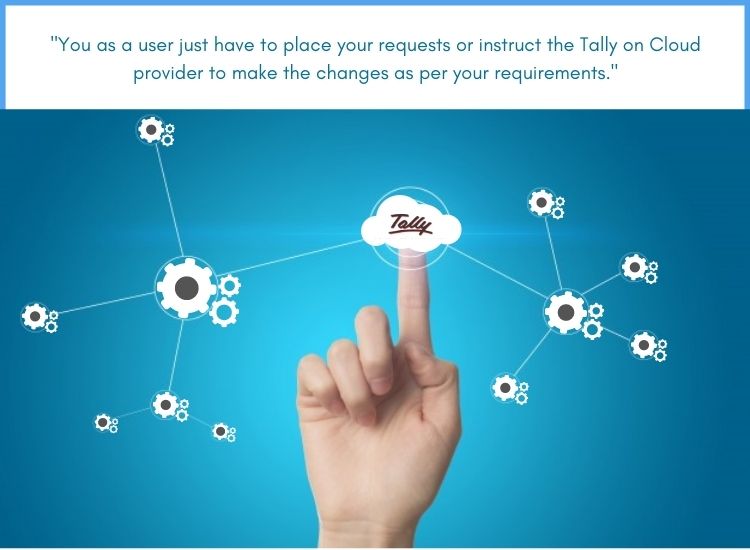 How to configure Tally on Cloud?
Yes, all your Tally ERP 9 setup or tally prime configuration and management needs are taken care of by your Tally on Cloud provider on a regular basis.
You as a user must choose the reliable cloud service provider for your needs and just have to place your requests or instruct the Tally on Cloud service provider to make the changes as per your requirements.
All your tally cloud setup & ERP resources are managed effectively without any leakages and are supported by the wide experience of cloud providers.
Tally cloud computing provide utmost care is taken as far as the security of your data and account is concerned.
Automated tally cloud backups and data recoveries are performed by the Tally software on Cloud provider at regular intervals.
How to install and set up Tally on Cloud?
It is also pretty easy to set up and installing Tally on Cloud or Tally prime on Cloud.
Connect with Tallystack's Tally on Cloud experts, they can offer the best solution for your needs.
Register for Free Tally on Cloud demo or Tally or Tallyprime installation or upgrade the Tally ERP version to your choice in the future.
Once installed, all you would need to have is a probable device like a PC, Laptop, tablet would do along with an internet connection. Tally on Mobile is also possible.
Is Tally license still needed?
Yes, you need to have your own a Tally license to access your Tally account.
It is with this Tally license that you can also access from different locations and different devices without having a separate Tally license.
This means you save healthy costs on having multiple Tally licenses for different users to use Tally from different locations.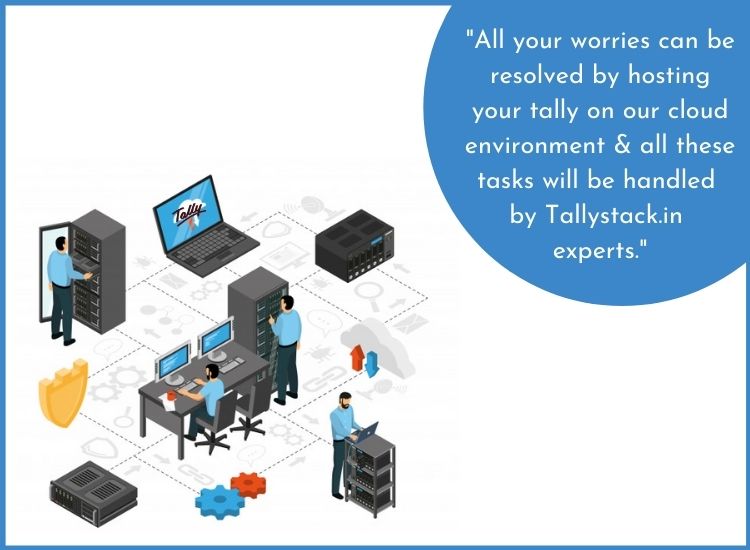 Tally on Cloud server is soon going to be the transitional change for the way people use their accounting software. Cloud based Tally remote access, security, and adaptability ability makes it more feasible and harder to avoid. But the extreme pain for any organization is to deal with the installation & configuration of Tally prime Cloud or Tally on cloud solution. All your worries can be resolved by hosting your Tally ERP on our cloud environment & all these tasks will be handled by Tallystack.in experts. Don't miss your chance avail the best Tally cloud price or register for free Tally Cloud demo today! Get the best Tally ERP Cloud plans from Tallystack.in today.
Schedule a Live Demo to experience Tally on cloud and understand how it will boost your business performance.
1. What benefits tally on cloud offer to businesses?
Some of the benefits of Tally hosting on Cloud platform:
Installing the application on every user desktop is not required as it is accessible on the server.
Tally on cloud can be directly accessed from anywhere you have an active internet connection.
You can cut costs of server maintenance, backup service, data encryption, hiring professionals, and many more.
You can increase resources by raising the server load or data usage with a Tally Cloud server.
It enhances security & business continuity by providing Multi-Tier Security Infrastructure.
2. How can Tally accounting software on cloud be managed?
The user just has to place your instruction or request to the Tally on Cloud service provider as per business requirements. And the service provider will take care of all such issues like configuration, installation, or managing as all such actions are hosted by default with Tally online cloud.
To learn more about Tally On Cloud, you can check out our videos.