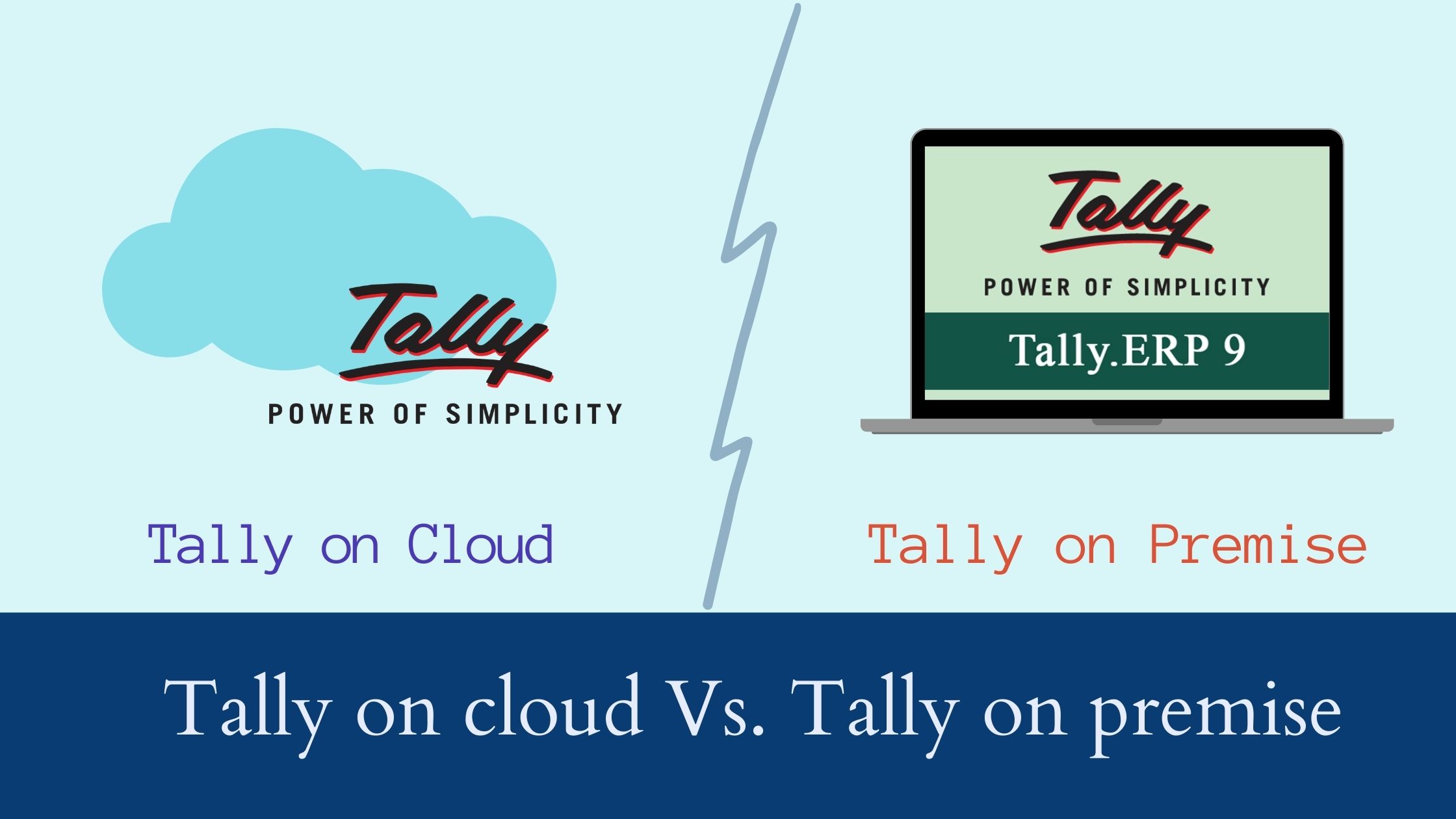 Tally on cloud Vs. Tally on premise
Tally on Premise VS Tally on Cloud-Which one is better?
There has always been an important concern for most of the entities regarding their accounting, auditing, and representation needs. For this, they have been searching for the most optimum software that can fulfill all their requirements solely. Their quests end to Tally as Tally ERP software possesses all those power of accounting, auditing, reporting, representing, operation management, and a lot more.
Since its existence, people have considered it to be reducing all their burdens and extra efforts as Tally has given them an easy way to use and automated functions which allows them to focus more on the core operations. Tally can be installed in two ways: on-premise by installing all the hardware and connecting it with the respective system or on the cloud by connecting to a particular VPS server. The question arises, what should be considered? Tally on cloud or Tally on-premise? Which alternative can be more cost-effective?
Download Free 90+ Tally Shortcut Keys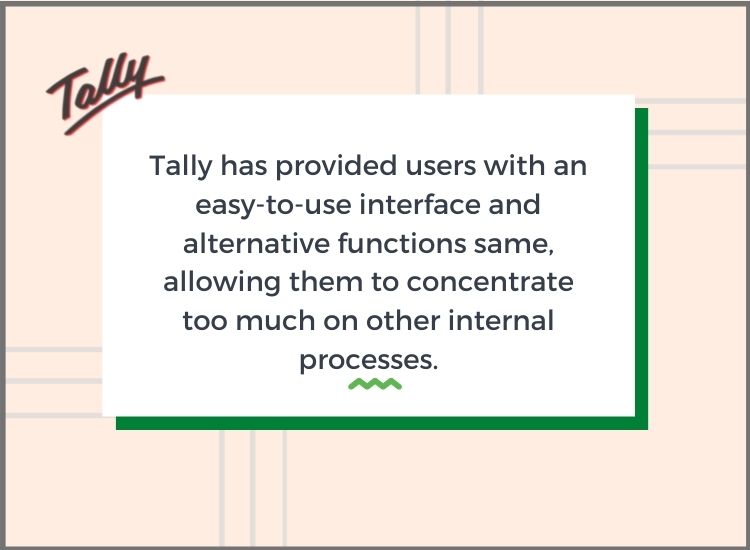 What is Tally ERP accounting software?
Tally ERP 9 is indeed an impact on revenue, being used to keep track of a number of commercial entities. Strategic planning, reporting, compensation schedules, various brainer governance, expense management, and other functions are included since it's a multi-functional program.
This system gives the best Tally accounting solutions. Approximately 90% of large corporations using it all across the globe. This information can be used to determine how often Tally software is already in production.
Why is the Tally ERP application used?
Balance, deposit, refute, reverse document, transactions, inventory, production, acquisition, and briefings are aspects that organizations use in Tally's accounting function.
These features of Tally software assist the consumer in analyzing the benefit of a specific company and deciding on the next steps. More importantly, new and latest Tally versions are also used to ease GST and billing of the companies.
Tally hosted on Cloud is a program that allows you to upload the Tally files from your computer to the database. With Tally online cloud users will have exposure to the Tally information from any place, at anytime, and on every computer you want.
Tally on cloud multiuser is a great software to use. Cloud-based Tally on Mac allows you to view your count from anywhere that would otherwise be impossible. Tally on Cloud has more pros than cons. One new dimension is that you can host Tally ERP 9 or Tally prime on cloud.
The above cloud computing would allow users to access the information from anything at any moment, allowing Cloud Tally to take the company to new heights of efficiency due to not being able to operate at residence due to protests, environmental catastrophes, or even other unexpected circumstances.
What is the difference between Tally on-Premise and Tally on Cloud?
You'll need a sizable expenditure to purchase on-premise Tally software and ensure its constant costs.

In addition, when you use a cloud-based Tally system, you give exposure to most of the device's applications as well as other tools, making the implementation of programs on individual servers obsolete.

Affordable Tally on Cloud price provide easy data backup on Cloud, which is a bit complicated in an on-premise system.

You get security patches by using Tally accounting software on cloud solutions that help protect your information stable, rise, and pathogen-free.

Its UPS services are also more expensive because it consists of only one server operating, necessitating the use of batteries and UPS to reduce the potential for disaster in the middle of the night. 

On-premise also necessitates a great deal of managerial support in order to keep Tally running smoothly.

Hence, these are some of the basic differences between on-premise Tally accounting software and Tally cloud accounting software.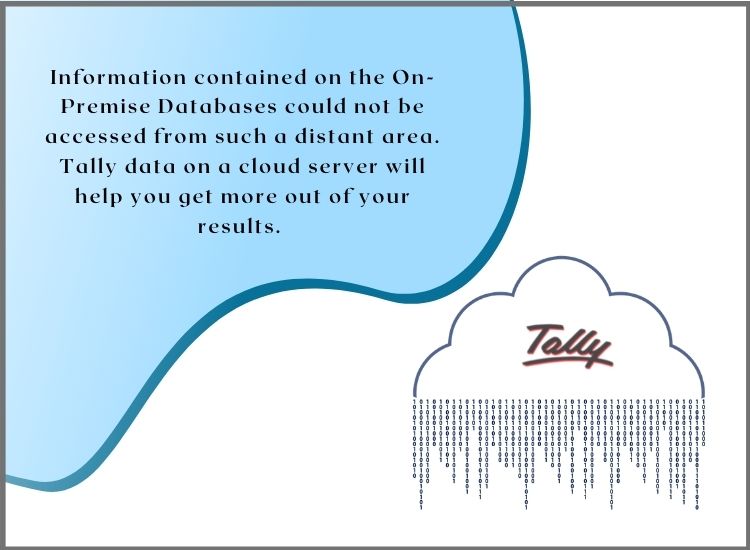 Advantage of Tally online over Tally on-premise:
Install & configure Tally on Cloud or Tally prime cloud servers rather than on-premise servers seems to be the right alternative for such applications.
Information contained on the On-Premise Databases could not be accessed from such a distant area.
Tally data on a cloud server will help you get more out of your results.
Tally software provides greater control over all business transactions, whether you have a big, tiny, or moderate company.
You can also install Tally Cloud version on a Windows or Mac for more accountability.
What are the highlighted features of hosting Tally on Cloud?
Some of the Tally on cloud features are listed below:
Tally Data can be accessed remotely from any location using the Login portal.

Tally on Cloud pricing plans are reasonable & makes it possible so that you can work remotely against difficulty. In addition, it is easy for configuration to remote access.

Accessible from Mac, Android, plus Windows-based computers, and Tally can be accessible on Mobile, notebooks, and tablets.

Tally ERP 9 on the Web, the most current Tally payroll system, can be hosted and run on the cloud.

Also, there are protection and recovery services available; you need to find the appropriate supplier and schedule.

There is no interruption, and publishing on regional machines is assisted.
What are the benefits of Tally on Cloud?
Some of the Tally on cloud benefits are listed below:
Tally Software on Cloud servers keeps the data in a notch network infrastructure with eight levels of defense. Interlopers will have a difficult time accessing your info.

Tally on the cloud provides a centralized server backup system for hosting data from various departments on a common network.

Cloud Tally ERP 9, your data will be synchronized in real-time with no issues or problems.
Comparison of Tally on-premise and Tally on Cloud:
Tally On-Premise Software and Tally on Cloud, therefore, has a comparison between them. Tally Cloud-based have unlimited advantages. Cloud-based Tally outperforms Tally On-Premise in every way. Data stored could be viewed almost everywhere all the time. There are plenty of perks with using Tally Online Service. Check out the table below:
| | | |
| --- | --- | --- |
| | | |
| | | |
| | | Can't be accessed anytime |
| | | |
| | | |
| | | |
| | | |
| | | |
Tally on cloud comprises of lesser initial costs like that of tally on-premises and promises efficient features and management at the same time. Therefore, choosing tally on cloud for your ERP solution can be a beneficial solution for your lifetime. Tally on-premise can offer you customization and control but can be more expensive upfront. On the other end Tally on cloud price can offer you effective functioning without being expensive.
Tallystack being a global leader in providing affordable Tally cloud accounting software price with quality Tally on cloud services, giving you a more efficient plan to run your tally account.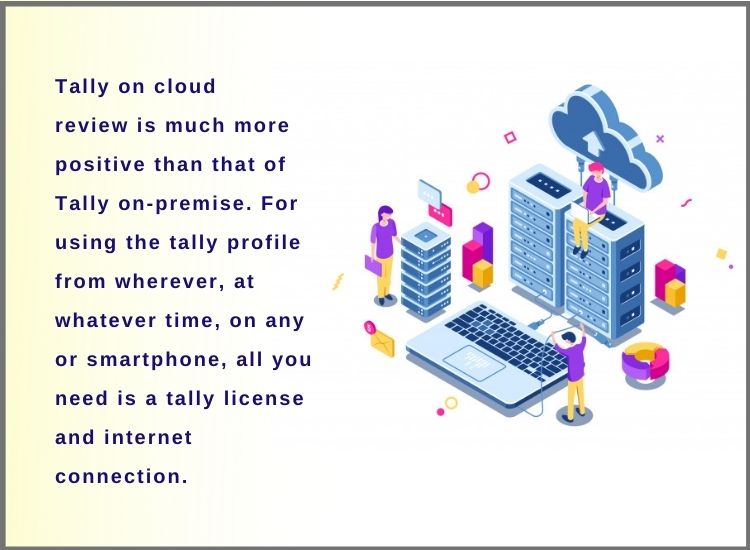 Where do you need to put in extra effort if you host Tally on-premise service?
The UPS systems are also more expensive because there is only a single database operating, necessitating the use of utilities and UPS to reduce the likelihood of death in the middle of the night. On-premise also necessitates a great deal of strategy implementation in order to keep Tally service on-premise running smoothly.
How configuring Tally on Cloud can be beneficial?
Installing Tally software can have many benefits such as Filing tax returns is easy, Data can be accessed remotely, Tool for ensuring compliance, multiple languages are supported. There are many Tally cloud hosting solutions other than these, which have been already explained above. Has to configure Tally on Cloud now have become very much help to the users.
To learn more about Tally On Cloud, you can check out our videos.