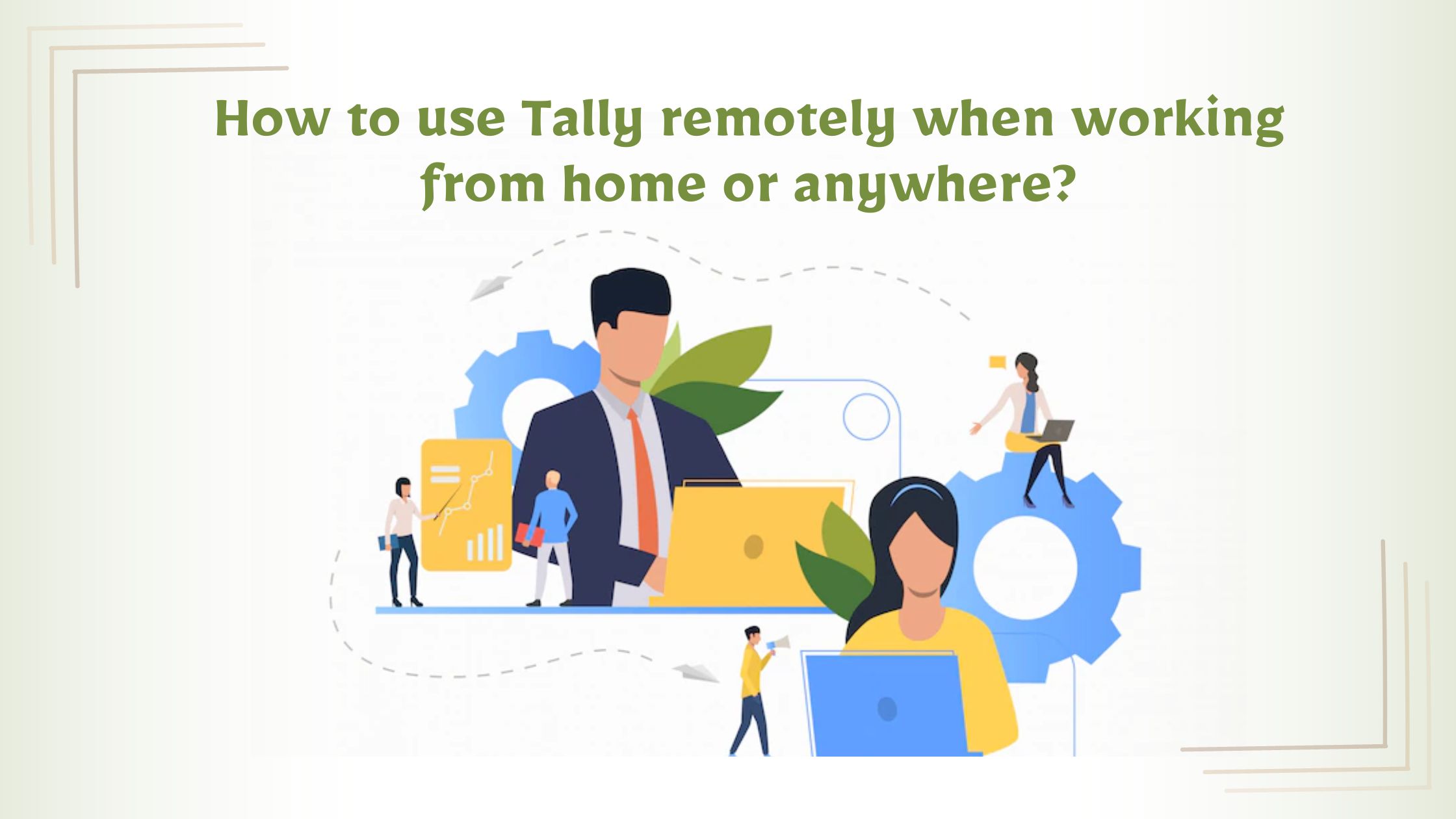 How to access Tally remotely when working from home or anywhere?
Tally Remote Access? Which Is The Best Way To Access Tally Online Remotely?
Remote working with Tally has become more accessible than ever. The best way to access Tally online remotely involves leveraging cloud-based solutions like TallyAnywhere.
These innovative approaches to remote accounting software ensure that accessing Tally from home or any location is not only feasible but also efficient. Embracing TallyAnywhere provides a seamless bridge between your accounting needs and the flexibility of remote work, making it a game-changer for modern professionals.
Download Free 90+ Tally Shortcut Keys
Different Ways To Access Tally Remotely
In today's remote work landscape, accessing Tally from home or anywhere is essential. Let's explore various methods to ensure uninterrupted Tally access, empowering professionals to manage accounts efficiently no matter where they work.
Tallystack offers the solution of Tally online access by hosting Tally software on cloud computing.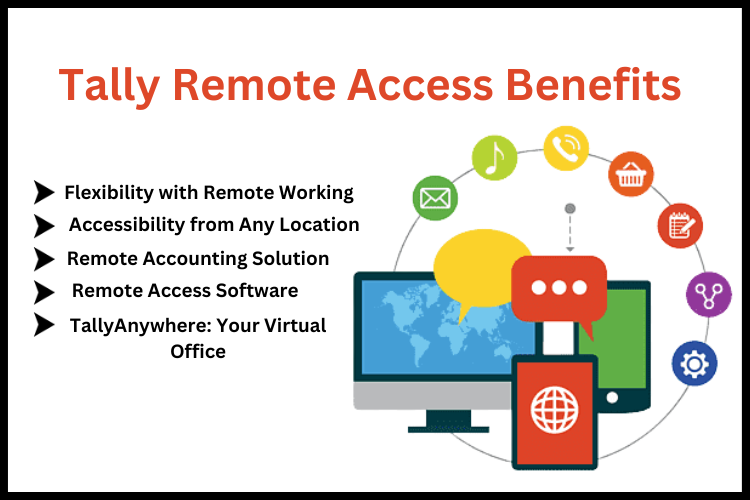 1. Tally Remote Access:
Leveraging remote access software, like TeamViewer or AnyDesk, allows 'Remote working with Tally.' Connect to your office computer from home anywhere, ensuring 'Accessing Tally from home' is a breeze.
2. Cloud-Based Solutions (TallyAnywhere):
Embrace 'online remote access' by hosting Tally on the cloud with services like TallyAnywhere. This 'Remote accounting software' tally solution ensures you can work seamlessly from 'home anywhere.'
3. VPN for Secure Connectivity: 
Prioritize security using a VPN for 'remote access.' This encrypted connection safeguards sensitive data, enabling 'Accessing Tally from home' securely, and contributing to effective 'remote working with Tally.'
Tally is versatile, functioning on both stand-alone and LAN connections. However, the traditional setup posed challenges for remote work. Tally's evolution, including Tally on Cloud and Tally Prime on Cloud, now facilitates Tally remote access, enabling work from home or any location.
To embark on this remote working journey, a silver or gold Tally ERP license, and a reliable internet connection are prerequisites. Hosting Tally online through cloud accounting software allows seamless access from anywhere, utilizing methods like RDP, Cloud, Citrix, etc. Embrace TallyAnywhere for enhanced flexibility in remote working scenarios.
Benefits Of Using Tallyprime On Cloud Or Any Tally On Cloud While Working From The Office
1. Enhanced Accessibility:
Utilizing TallyPrime on the Cloud facilitates seamless access to your accounting data from the office. This flexibility aligns perfectly with the growing trend of remote working, allowing users to connect to Tally from anywhere with an internet connection.
2. Real-Time Collaboration:
Tally on Cloud enables real-time collaboration among team members, fostering enhanced communication and data sharing. This is particularly beneficial for businesses with tally multiple users requiring simultaneous access to Tally, promoting efficiency and collaboration.
3. Data Security and Backups:
Cloud-based solutions for Tally come with robust security measures, ensuring the safety of your financial data. Additionally, regular backups provided by these solutions mitigate the risk of data loss, offering peace of mind to businesses concerned about the security of their financial information.
4. Scalability and Cost Efficiency:
TallyPrime on Cloud provides scalability, allowing businesses to adjust resources based on their evolving needs. This flexibility not only enhances efficiency but also contributes to cost savings, as businesses only pay for the resources they require.
5. Seamless Integration with Other Cloud Services:
Tally on Cloud often integrates seamlessly with other cloud-based services, offering a holistic solution for businesses. This integration streamlines workflows and enhances overall productivity, making it an ideal choice for those looking for comprehensive remote accounting software.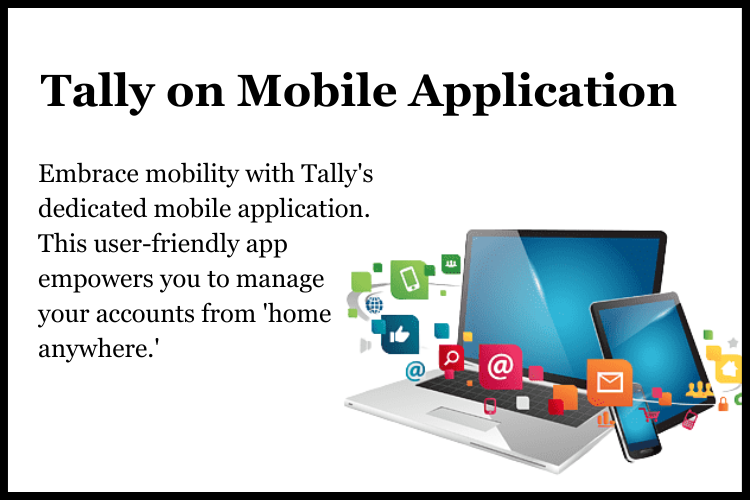 Tally On Mobile Application
Embrace mobility with Tally's mobile application. This user-friendly app empowers you to manage your accounts from 'home anywhere.' Experience the convenience of 'online remote access' at your fingertips, ensuring that crucial financial data is within reach, regardless of your physical location.
Tally ERP 9 Built-in Remote Access
Tally ERP 9 simplifies 'Remote accounting software' with its built-in remote access feature. Effortlessly connect to your office system from anywhere using Tally's innate 'remote access' capabilities. This ensures a seamless transition between workstations, promoting productivity and flexibility.
Tally Remote Access Benefits
1. Flexibility with Remote Working:
Tally remote access empowers professionals with the flexibility to seamlessly work from anywhere, fostering a productive environment for 'Remote working with Tally.'
2. Accessibility from Any Location:
Whether you're at home or 'anywhere' across the globe, accessing Tally becomes a hassle-free task. This 'Accessing Tally from home' or 'Home anywhere' flexibility ensures that business operations are not confined to a specific physical location.
3. Adaptability as a Remote Accounting Solution:
Tally, as a 'Remote accounting software,' facilitates the management of financial tasks efficiently. Its remote access capabilities make it a reliable choice for businesses embracing the evolving landscape of remote work.
4. Secure Connection through Remote Access Software:
With the right 'Remote access software,' Tally remote access ensures a secure connection. This additional layer of security is essential for safeguarding sensitive financial data in the digital realm.
5. TallyAnywhere: Your Virtual Office:
'TallyAnywhere' encapsulates the idea that your Tally workspace is not bound by physical constraints. It transforms Tally into an 'Online remote access' tool, allowing users to operate it as if they were present in the office, irrespective of their actual location.
Experience the convenience of accessing Tally through web browsers. This method, known as Tally on Browsers, allows for seamless Tally remote access. Enjoy the flexibility of managing your accounts from home, anywhere, making it an ideal solution for remote accounting software.
In the ever-evolving landscape of remote working, mastering Tally remote access is pivotal. Whether through Remote Desktop Access, cloud-based solutions, or VPNs, professionals can seamlessly manage their accounts from home or anywhere.
This adaptability is crucial for businesses aiming to stay competitive in the realm of remote accounting software and ensure efficient operations with reliable remote access software.
Frequently Asked Questions
Q1. Can I securely access Tally from home?
Absolutely, leverage VPNs or cloud-based solutions for secure Tally remote access, protecting your financial data.
Q2. What are the prerequisites for Tally remote access?
A stable internet connection and compatible remote access tools are essential. Verify technical requirements with your chosen service provider for optimal performance.
Q3. Can multiple users access Tally simultaneously through remote access?
Yes, depending on the method. Cloud-based solutions often support simultaneous users, ensuring collaborative efficiency in remote accounting software.
To learn more about Tally On Cloud, you can check out our videos.