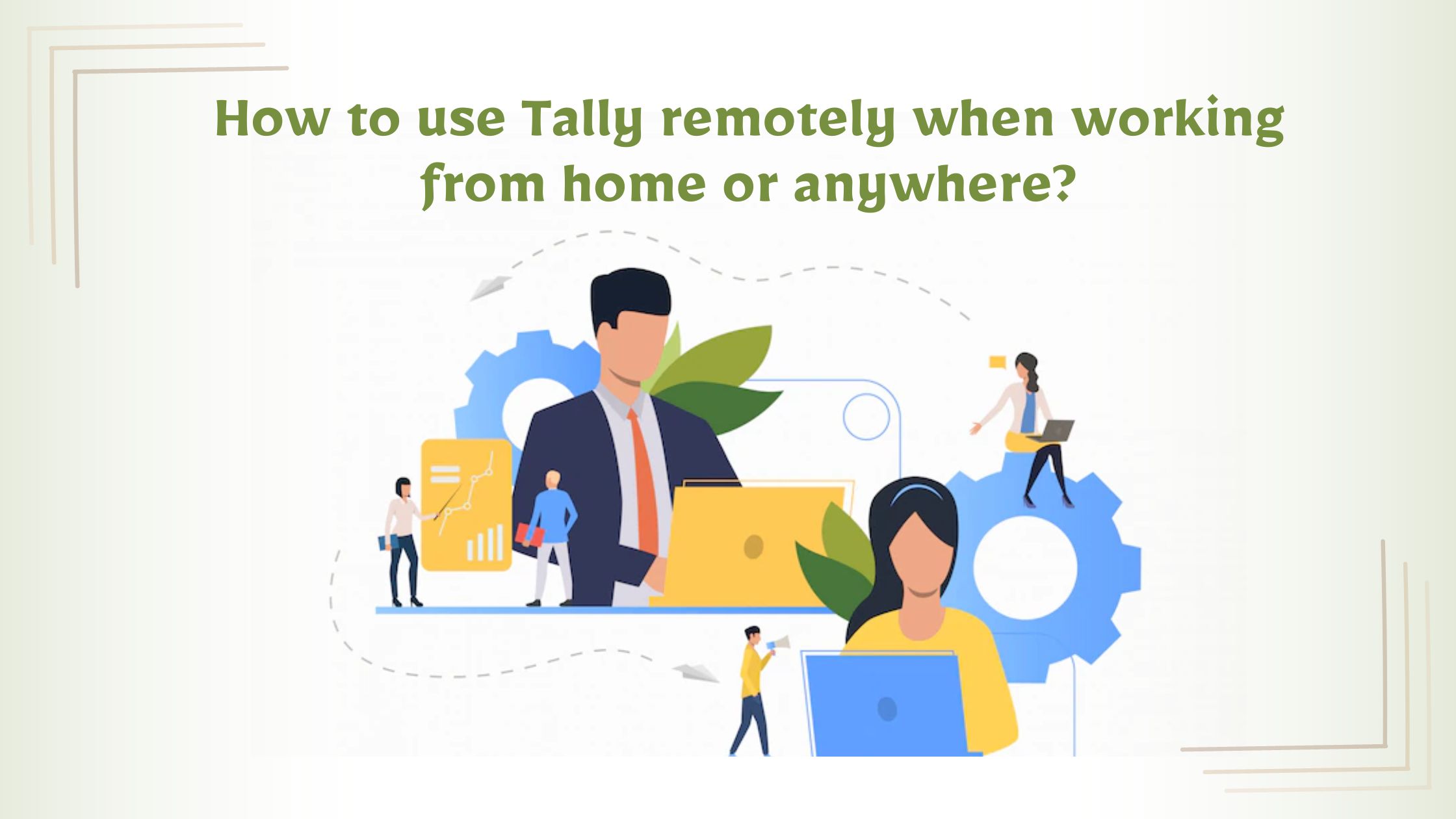 How to access Tally remotely when working from home or anywhere?
Tally remote access? Which is the best way to access Tally online remotely?
In the digital environment, organizations may have special situations that require people to work from home. With technical software, you can get online from anywhere and at any time.
Not all apps can be used from afar. Not all software works this way. One of them is the trusted ERP solution like Tally accounting software, what's the use if one cannot work on Tally or Tally prime remotely?
Download Free 90+ Tally Shortcut Keys
This article shows you how to use your Tally ERP 9 or any Tally on a laptop, PC, or Android. Is Tally on Mac possible? Tally work from home? or how to access Tally prime working form home? Tally or Tally prime remote access is possible from your couch or bed after reading this. 
Different Ways to Access Tally Remotely 
Pandemics lead to work-from-home policy and hence increased the need for remote access to business data from anywhere. Accounting is mostly handled by Tally software. This demands access to Tally data remotely from anywhere.
Employees should be able to do their jobs from home or anywhere. Tallystack offers the solution of Tally online access by hosting Tally software on cloud computing. You need a valid Tally license for unlocking the features to access Tally remotely and many others.
Mentioned are the different ways to remotely access Tally ERP.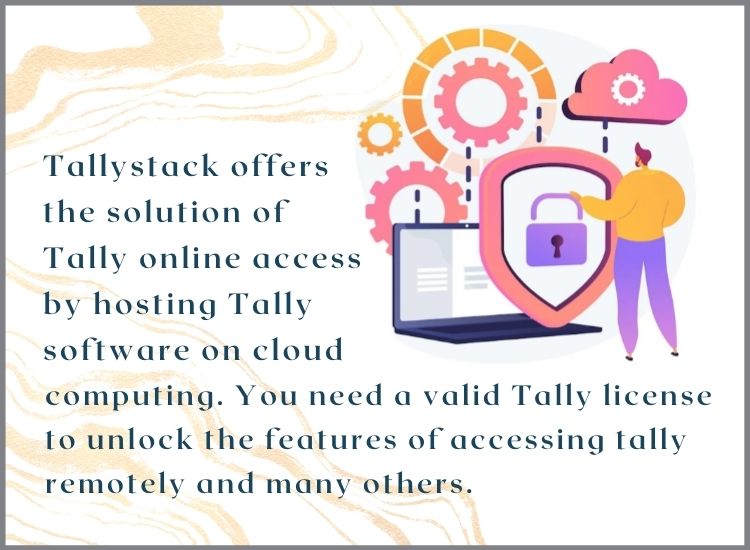 Tally could run on both stand-alone and LAN connections. Traditional Tally made it harder for the company to get work done remotely. It makes virtualization possible. Installing or configuring Tally on Cloud or Tally prime on Cloud work from home or anywhere else.
To work from home or in multiple places, you need a silver or gold Tally ERP license and a reliable internet connection. By hosting Tally online, cloud accounting software can be used from anywhere. RDP, Cloud, Citrix, etc. assistance.
Benefits of using Tallyprime on Cloud or any Tally on Cloud while working from the office:
People often think that only people who work from home can benefit but business can also benefit from Tally ERP 9 on Cloud. It's great for working from home, but you can also use it at the office.
Tally on Cloud is helpful for working from home or Office in several ways:
With Tally ERP 9 on Cloud, you can access Tally data from anywhere. A worker who knows a lot of people can easily get information. Employees can give correct statistics and find out the latest update 24*7*365 days.
Savings on Hardware: With cloud computing, the hardware requirements are handled by the Tally on Cloud service provider, eliminating the need for costly in-house equipment.
Savings on Manpower: As a consequence of not owning the hardware, there is less need for in-house IT personnel, which reduces labour and maintenance expenditures. If servers or other hardware need maintenance or updates, the tally cloud service provider is responsible and your business incurs no costs.
Saving on overhead costs: There are additional expenditures associated with managing your in-house infrastructure, such as: 1) Electricity – to keep your servers up and operational. 2) Air cooling – to cool the hardware and other components. Through hosting Tally on Cloud, these expenses may be eliminated.
Every business expands and contracts to meet its needs. Buying and installing Tally on Cloud lets you quickly change how much you do and how much you store without expensive upgrades. Create new users, give them access, and then you can start using Tally on Cloud. It's easy to restrict users.
Flexibility & Business continuity:
Companies and workers both benefit from Workplace flexibility. With Tally on Cloud, you can access any business data from home. The office is open or not, workers might be more productive. You can use any PC, not just your company PC, with an offline or on-premise Tally.
Tally on Cloud makes it easier to work together. With real-time data, you can look at synced data & reports to make changes without having to wait for the data to be uploaded. Tally on Cloud also makes it easier for people in different locations to work together by letting everyone use the same license with centralized data.
Data Security & Recovery:
Data security is a top priority for all businesses, no matter whether they work from home or office. Antivirus, firewall, disaster management, encryption from end to end, and more are all built in. For second-level security, Tally on Cloud requires users to log in with usernames and passwords.
Print Reports and Vouchers:
Tally ERP on Cloud benefits you with remote printing of invoices, reports, bills, and vouchers from anywhere.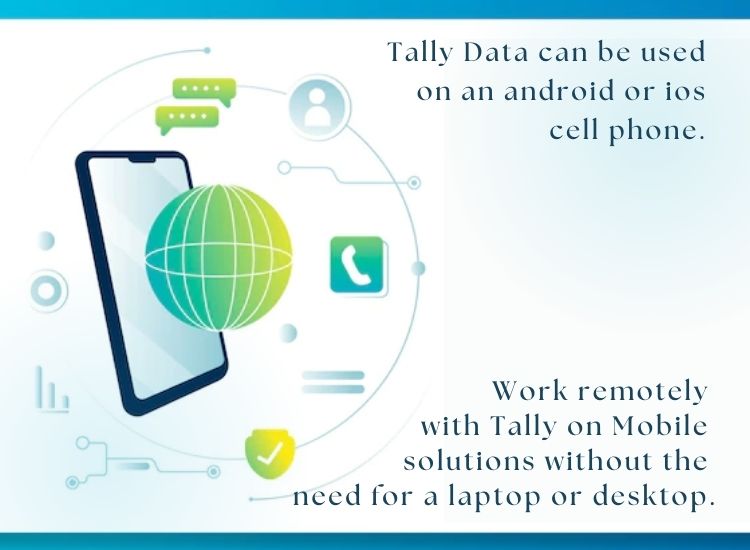 Tally on Mobile Application:
• Tally Data can be used on an Android or IOS cell phone.
• It has attractive report styles, dashboards, and a user interface.
• To provide users with real-time data, all of the mobile data must be synchronized with the Tally data.
• Work remotely with Tally on Mobile solutions without the need for a laptop or desktop.
Tally ERP 9 Built-in Remote Access:
With a fast internet connection and a valid Tally license, this can be done with Tally ERP software installed on the company server. This lets users with valid credentials check in. Another setup for a virtual Tally environment.
Tally Remote Access Benefits:
Firm data is completely safe with Tally remote access. RDP (remote desktop protocol) is used to control user access in Tally ERP 9. This lets you keep an eye on what users are doing, give them access, and change their privileges. Tally data remote access keeps business information safe from ransomware attacks or other threats.
Cloud servers store your business data. Users can access Tally data anytime quickly on the cloud and from anywhere.
Auditing can now be done easily and remotely. Having remote auditor access makes auditing easier without physical presence restrictions.
With Tally on Web, you can check business reports at any time. When Tally multi-users use browsers to look at reports or access work from home or elsewhere, Tally Cloud puts centralized Tally data in one place. Accessing Cloud-based Tally gives you a Virtual Desktop Interface, no matter what hardware or operating system you use.
Access Tally on Mac, an iPad, a mobile device, or a web browser. Without configuring or updating Tally software on laptops, use any web browser so that data can be accessed from anywhere.
Tally on Remote Access Software:
Tally can be used remotely via different remote access software. With this desktop control application, you can completely access the remote Tally ERP software. Only one person can use this application at a time is the drawback of using Tally software.
For remotely accessing Tally ERP software Team viewer, Anydesk, Ammyyadmin can be used.
VPN (Virtual Private Network):
• VPN can also be used to host Tally online & is cost-effective.
• Software VPNs can be set up or hardware firewall networks can be extended for using VPNs.
• A VPN lets you connect LAN directly to the remote desktop, you can use other apps as well.
• Ask your provider to configure the remote users within the office subnet so that data and the Tally license can be accessed.
Tally for cloud services is great for employees who work from home, but it is also useful in the office. With Tally work from home, you can access Tally remotely any data when you're at office or anywhere. IT costs and responsibilities go down when hardware doesn't need to be maintained. 
Therefore, selecting the best one to guarantee the security of your data and high speed is extremely important. Get  Tallystack's Tally on Cloud service as it offers cloud computing capabilities that make it easy to access Tally remotely.
Switching from Tally on-premise to Tally on Cloud has become necessary. For any Tally on Cloud service query connect with our experts as we offer plans for all sizes of businesses.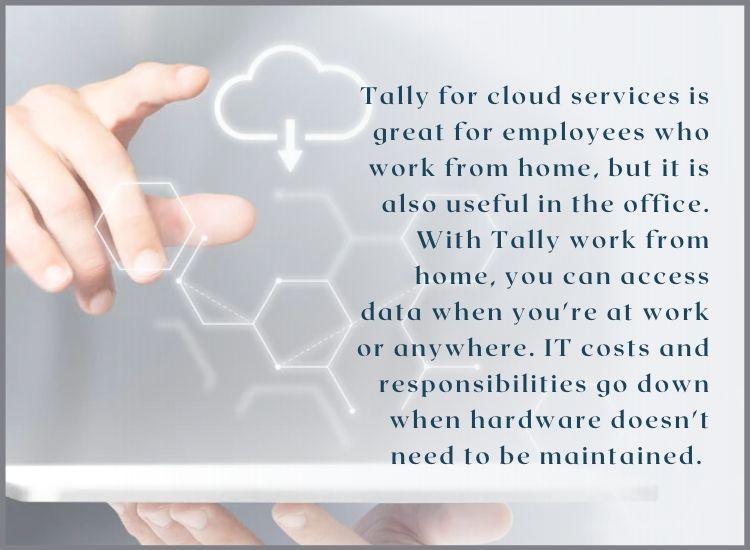 How to get started with Remote Access?
• Enable remote access to your company by connecting tally remotely Tally.NET
• You have full control over Tally ERP when you use Tally.NET
• You decide when to enable or disable remote access so that employees can access company data.
• Security controls that can be visible and accessible in the company so that employees can't sneak in.
Do you still need a Tally license?
A Tally license provides access not only to your account but also allows Tally multiple users on Cloud to access the same Tally Account from different places or devices. Having multiple Tally licenses for various locations, users, and devices results in significant cost savings.
To learn more about Tally On Cloud, you can check out our videos.