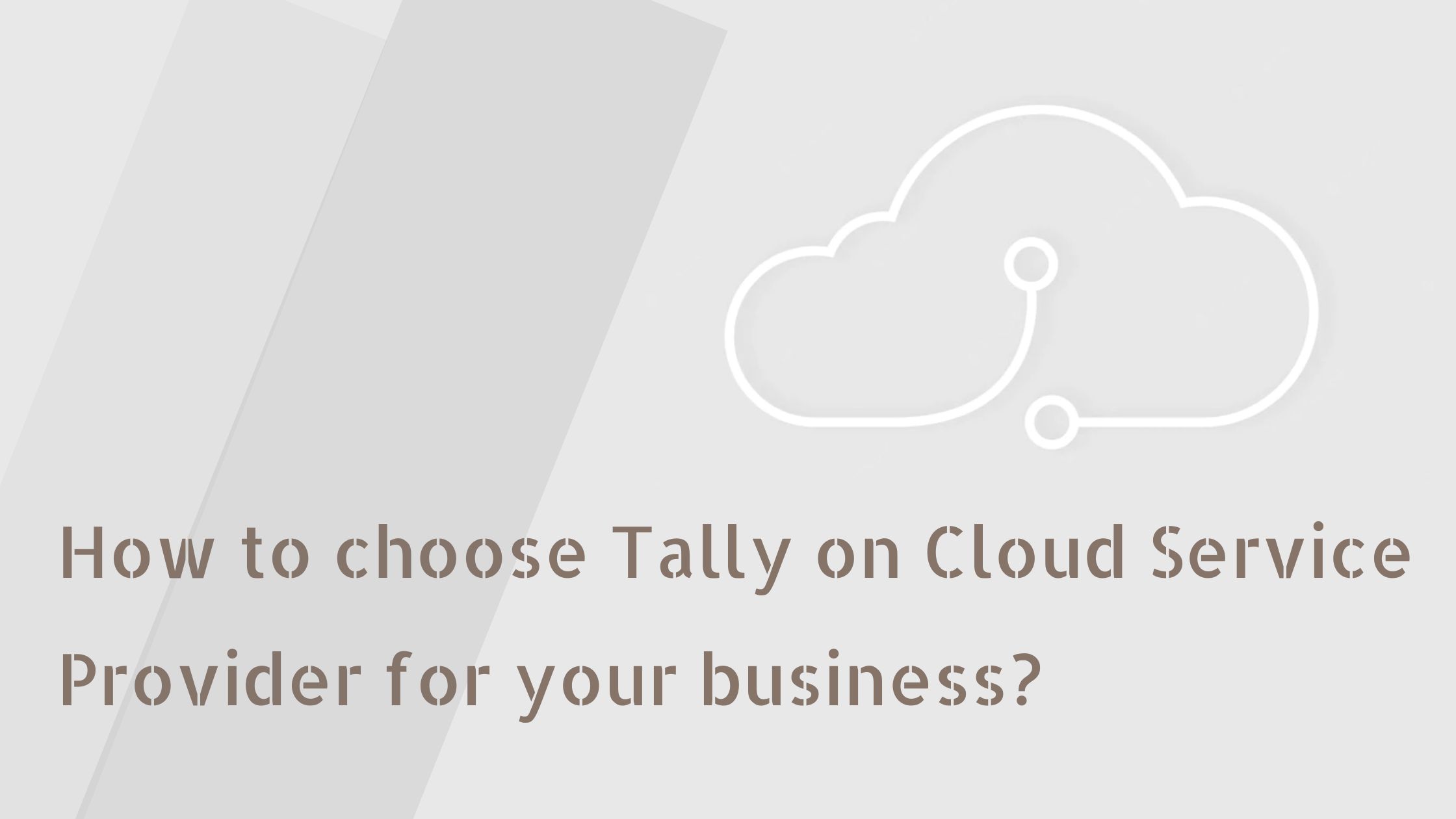 How to choose Tally on Cloud Service Provider for your business?
The advantages of cloud services which has been a catalyst for organizations to optimize their IT spending for business needs rather than the associated infrastructure costs. Is the reasons why cloud database technology cannot be ignored.
Choose the most suitable Tally on Cloud Service Provider:
Modern business is a highly competitive field, and using the latest technology for your business requirements will hold you at the forefront of the competition. Traditional Tally has been restrained to the same office space. With the benefits of Tally on cloud computing businesses can now effectively access Tally globally.
Download Free 90+ Tally Shortcut Keys
Tally on Cloud feature gives you the added advantage of having all your framework data accessible from the browser. Tally on Cloud computing also eliminates the uncertainty of working from home or remotely once it is a host on the Cloud.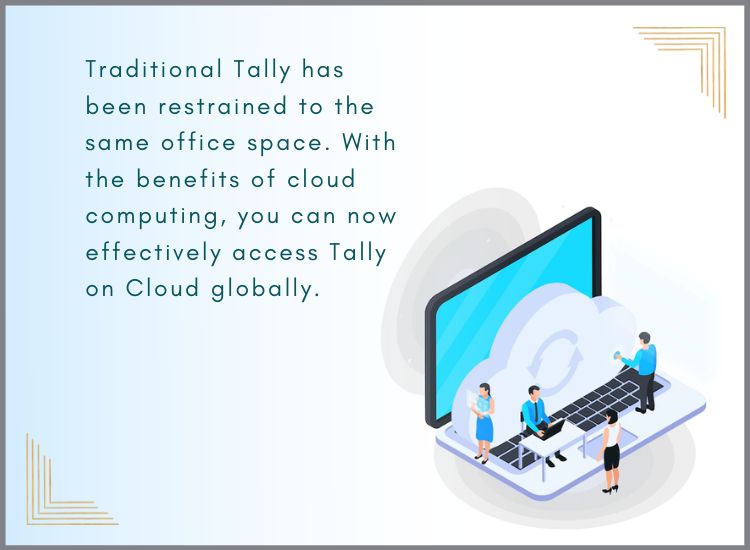 Cloud computing offers computing services including servers, storage, databases, networking, software, analytics, and intelligence over the Internet to deliver fast operations. One benefit of using cloud infrastructure is that companies can avoid the upfront costs and complexity of owning and maintaining their own IT infrastructure. Tally cloud service providers can benefit from economies of scale by offering the same services to multiple customers. It also acts as a virtual server.
Why are Cloud services the trend worldwide?
Cloud computing is popular because cloud storage is more secure than on-premises servers, even if the device is stolen or the physical building is damaged. Some digital innovations technologies such as big data, AI, and machine learning (ML) are gaining attention. This has led to the growth of the global cloud computing market. The cloud technology can be used with Tally, so it is more popular.
Which Cloud service is the most useful for your business?
IaaS: 

Infrastructure as a service (IaaS) 

means that the cloud provider manages the infrastructure for you, such as servers, networks, virtualization, and data storage via internet connection.

PaaS: 

Platform as a service (PaaS) 

means that the hardware and application software platform are acquired and managed by 

public cloud service providers.

SaaS: 

Software as a service (SaaS) 

is a service that provides users with software applications managed by 

Tally on Cloud service provider.
Which factors a business must consider when selecting a Tally cloud service provider?
Before choosing the best Tally cloud service provider, you need to consider some cloud computing services factors. They are:
Total cost of ownership (TCO):
Estimating the total cost of owning hardware and software is a tedious task. If you choose to fully utilize Tally on Cloud solution provider, each provider offers diverse Tally cloud pricing plans or discounting strategies. Your association with the service provider will enhance the costs of ownership.
Integrations & Partnerships:
Services such as system integrators, support services, and marketplace vendors are part of an ecosystem that helps cloud service providers run Tally on cloud computing efficiently.
It is one factor to consider while choosing the Tally on Cloud. The uptime or operational resiliency will help you save big bucks.
Tally on Cloud solution provider's support process is of utmost importance. The providers must innovate and respond to recommend solutions and provide end-to-end support in all areas.
Cost savings & IT productivity:
The infrastructure costs saving are one of the essential factors. So you can choose the strategic Tally cloud provider. Measuring business infrastructure costs is needed in deciding the cloud solution as per business needs like server, storage, networking, and facilities.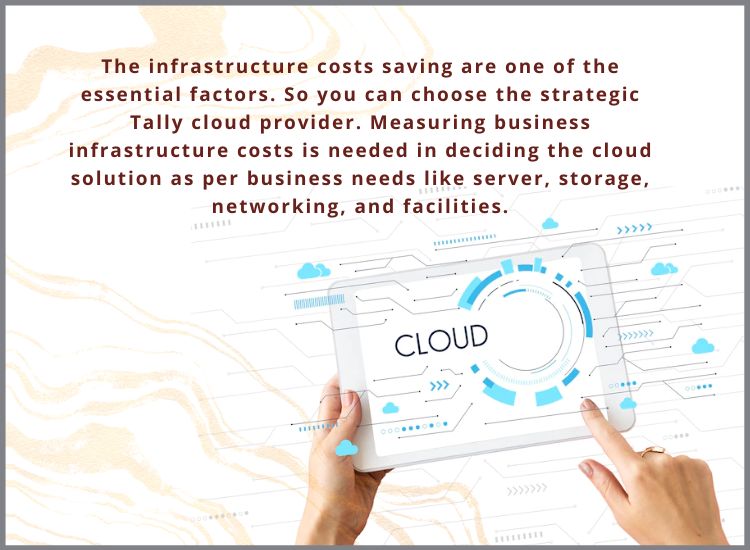 Which benefits do cloud services offer which cannot be ignored?
Cloud computing delivers computing power and on-demand database storage for anything related to hosting over the Internet. There are three types of cloud service providers. They are IaaS, PaaS, and SaaS. Tally Cloud computing is more cost-effective than traditional on-premises computing systems. But opting for Tally Cloud service user must ask these 5 important questions to Tally Cloud Provider. Tally on Cloud has been used by many businesses for a lot of reasons. 
How does Tally on Cloud contribute to your business growth?
The contribution of Tally on Cloud to your business growth is given by:
Affordable for any business:
Tally on Cloud is economical for businesses because it offers affordable pricing plans. You can also use Tally online as well as you can access tally securely from anywhere. It is very helpful for businesses with Tally multi-users.
Appropriate for Small and medium-size businesses:
How to choose the best Cloud service for your Tally version?
Tally on Cloud solution provider should guarantee Tally consistent operation for remote printing/monitoring, integration with other software & others. Remote printing and invoicing are required to keep the business running smoothly. Run Tally remotely and access data more conveniently.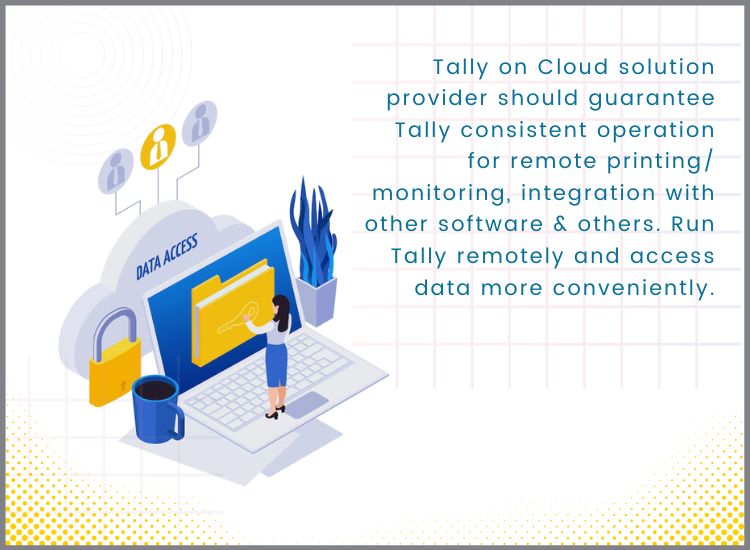 Why is Cloud computing preferred over Traditional on-premises solutions?
Cloud computing is better than traditional on-premises because of its flexibility, reliability, and safety. The cloud eliminates the hassle of system maintenance and updates. It allows you to invest your time, money, and resources in achieving your core business strategy. Cloud computing is one of the secure and efficient platforms.
How to use cloud computing?
Cloud computing can support all business organizations for storage, backup, and recovery of data without any difficulties. It can help develop apps and other services. You can effortlessly host websites and blogs. Stream video and audio without any problem. It authorizes you to make predictions.
To learn more about Tally On Cloud, you can check out our videos.