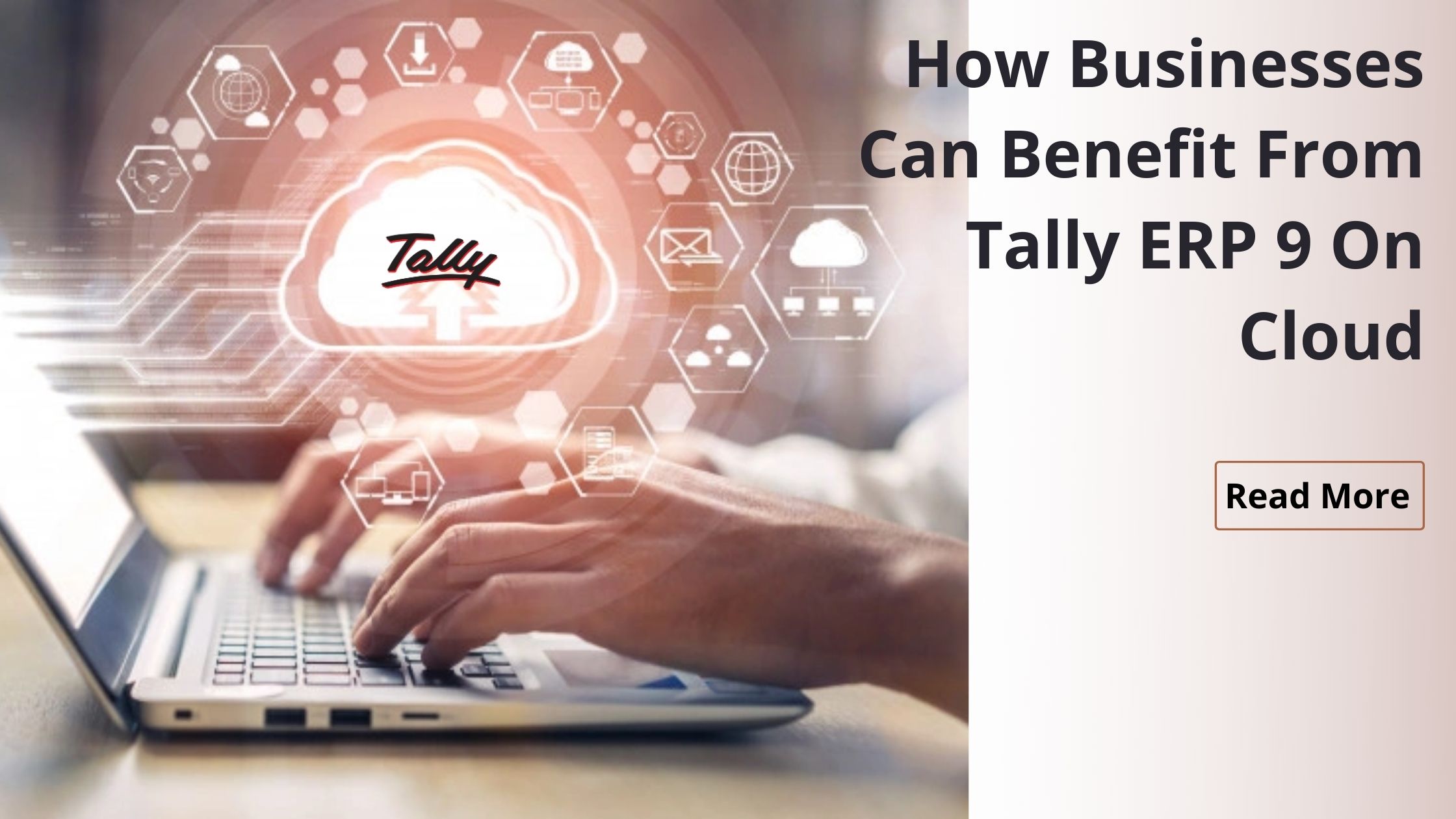 How Businesses Can Benefit From Tally ERP 9 On Cloud
Tally ERP on Cloud for Business
If you are looking for the best business and accounting management software, Tally ERP 9 is your option. Tally business software is used all over the world. There are plenty of benefits that businesses can enjoy with the help of a Tally program.
The entire working scenario changes for any business when this software is in use. The Tally cloud-based program is in demand, especially during this pandemic. Tally software uses real-time data to improve the efficiency of any business. Overall, the tally ERP 9 cloud is quite useful software for businesses.
Download Free 90+ Tally Shortcut Keys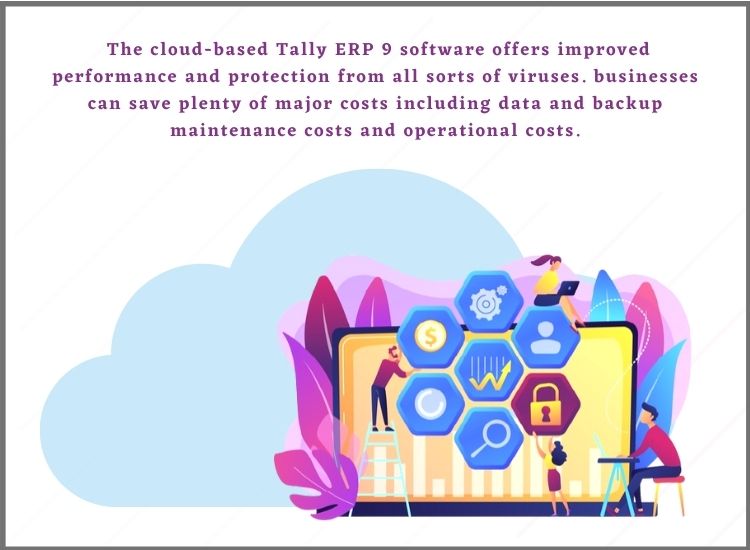 Tally on cloud advantages is what helps businesses grow and succeed better. Tally ERP is used mainly for accounting purposes. This Tally Cloud version lets businesses access their data from anywhere at any time. Any device can be used for accessing these stored data.
The Tally Cloud version is an economical ways of maintaining Tally. As per the tally cloud review, businesses can save plenty of major costs including data and backup maintenance costs and operational costs. The cloud-based Tally ERP 9 software offers improved performance and protection from all sorts of viruses. The productivity for Tally on Cloud for Multi-user businesses, thus, increases more.
Business Benefits From Tally on Cloud:
There are plenty of benefits of Tally on Cloud for businesses. These benefits are far more and better than the traditional or On-premise Tally ERP 9. The cloud version has a high-security system that can keep all the data safely.
This version includes many backup options along with Antivirus. Other Tally cloud benefits include cost-efficient measures. It can reduce a lot of maintenance costs in terms of Data security and hardware. The service provider takes care of all these costs.
Cloud for Tally ERP 9 offers high-level security of data. To run a successful business, they need to secure their data and keep them protected. The security system needs to be quite high so that nothing is leaked. One of the important tasks that Tally ERP for the cloud does is that it can auto backup every essential business data.
Cloud has the latest antivirus feature that is included in the high-security system of Tally ERP for Cloud. Through its ODBC layer, Tally cloud's data can get its access. The unique and high-security system of Tally ERP prevents any attack or hack on any vital data.
Without a doubt, Tally cloud is a properly developed software. It ensures a safe and secure backup of all types of data on the cloud for any business. Even after the system restarts or shuts down, data reliability can be completely ensured.
The Tally database and software also runs data integrity of top quality at random intervals. This data is generally not affected by any system failure. This can further ensure completely reliable data.
Scalability of Tally on Cloud:
There are plenty of such situations where different enterprises or businesses need to serve a lot of customers. For catering to such situations, Tally application on cloud needs to ensure scalability of Tally on Cloud.
So, more users can get permit access with the help of complete scalability. Tally on Cloud is often expanded by businesses to meet the growing business requirements and needs. However, it can also be contracted when business is shrinking. Admins can easily provide or withdraw access to users according to the requirements of the company.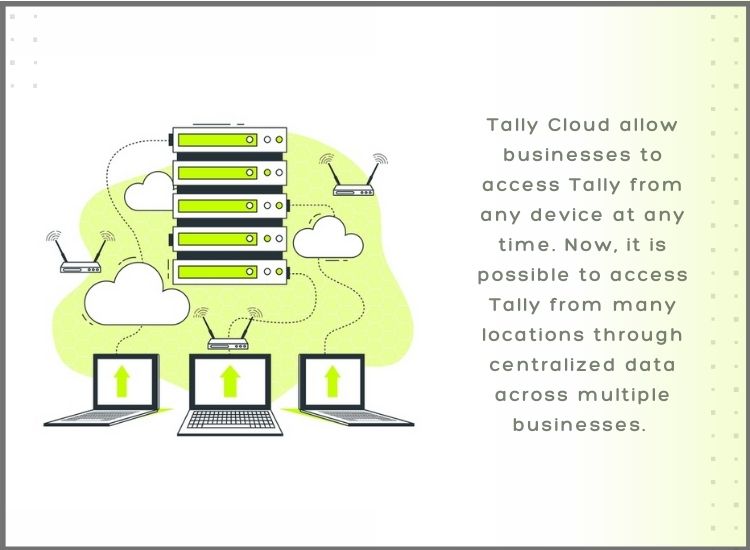 Tally ERP 9 on Cloud can be used for both business management and accounting. In Tally's absence, businesses and enterprises tend to become standstill and non-functional. Tally ERP 9 is generally a traditional or on-premise software. This software can only be accessed from that device where you can find Tally .exe downloaded.
The functioning of Tally changes entirely with Tally ERP 9 on the cloud. To publish the Tally application, you can also use the RDP protocol. It can allow businesses to access Tally from any device at any time. Now, it is possible to access Tally from many locations through centralized data across multiple businesses.
Real-time Data Centralization:
Real-time data is usually synced data that is centralized on the Tally cloud. This data enhances the productivity of many enterprises. A business with many branches finds Tally on Cloud very useful for keeping the branches connected with the help of financial reports and data.
Head offices get a bird's eye view of the entire work being done. Also, when the data is synced, businesses can take on-time decisions. The tally cloud usually reduces the businesses' waiting time for decision-making. It further improves the overall function and efficiency of the enterprise.
Tally ERP 9 on Cloud can manage expenditures fairly well. It is also available at the most reasonable and affordable price. It suits all enterprises for envisioning growth. With increasing data, the expense will also increase. The users do not feel the necessity to spend much on operating or maintenance costs and on infrastructure. Businesses need a tally license and a good internet connection to enroll in the best cloud service provider.
With the very effective and well-developed Tally on cloud software, businesses can give you complete freedom for making configurations & customizations to the tally on cloud plan. So, Tally on cloud customization and scaling both can be done quite efficiently and effectively.
The tally on cloud software helps businesses to effectively manage and analyze the data and records later. Businesses can consider analyzing them later in the future whenever required. With the help of this, businesses can very effectively take very important steps and make necessary plans. With this software, business planning only becomes more efficient, simple, and faster.
Can we use Tally ERP on Mac?
With the rise of MacBook users, Tally on Mac OS equally increased. The technique that is used quite commonly is the Mac OS booting. So, you can have two OS systems running simultaneously. It can be quite an effective method for using Tally on Cloud for Mac.
It is a reliable way to access Tally on Mac with the help of its prominent features. Any Mac user can connect Tally on Cloud either using Remote Desktop Protocol (RDP) or any browser. Through this, customers can get guaranteed satisfaction and efficiency using Tally ERP on Mac.
There are plenty of benefits and features of tally on cloud software. The main and the most basic advantage of it is the fact that any enterprise or business can be able to use it. It does not matter whether it is a small and big scale company, anybody can benefit from them. This is mainly because this software is highly secure and cost-effective. Tally on cloud price can be managed pretty well, thus saving a lot of money. Cloud technology can be used from any part of the world. Businesses can buy Tally Cloud solutions from a reliable service provider like Tallystack.in.
Can I use Tally on any device if I take a user based plan?
Yes, you can use tally on any device despite the plan you have chosen.
Where is my Tally data stored?
Tally data can be securely stored on the cloud without leaking them.
Can I add more users if my team size increases?
Yes, you can upgrade or downgrade your plan at any time according to your preference.
To learn more about Tally On Cloud, you can check out our videos.