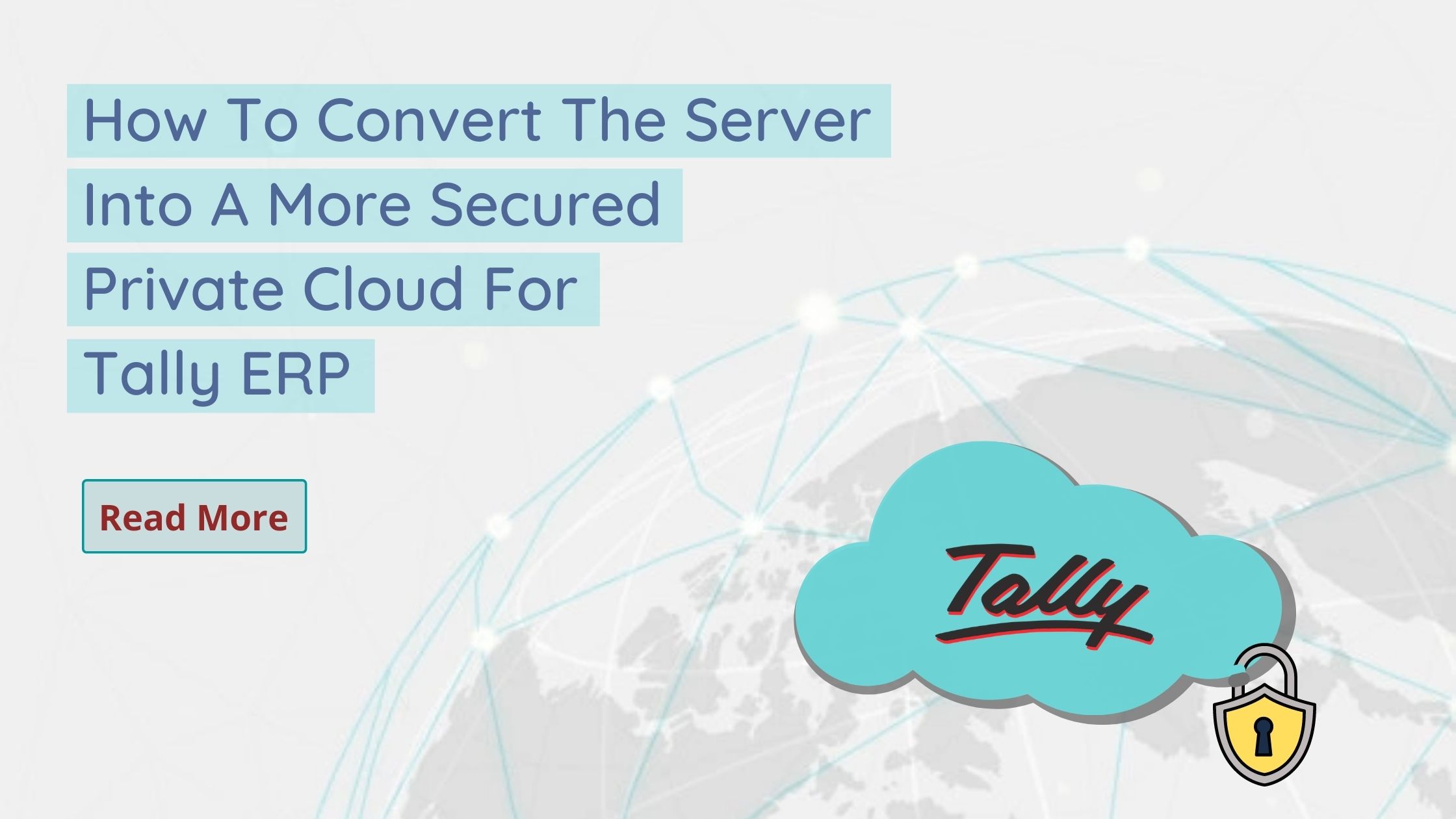 How to convert the server into a more secured Private Cloud for Tally ERP
Tally ERP on Private Cloud
Managing is the most essential step no matter what you tend to do. It does not matter if you are a small organization or a large organization or private company or a single person business you always need correct management to ensure that your business is leading in the right direction. Management is a dynamic and pervasive process, that is, it is ever-changing and can be applied in any part of life.
An organization uses Tally ERP for accounting purposes and in completing the business management therefore the confidential information and data of Tally need to be kept safe at all times. So, wouldn't it be great if Tally software is hosted on a secured Private Cloud?
Download Free 90+ Tally Shortcut Keys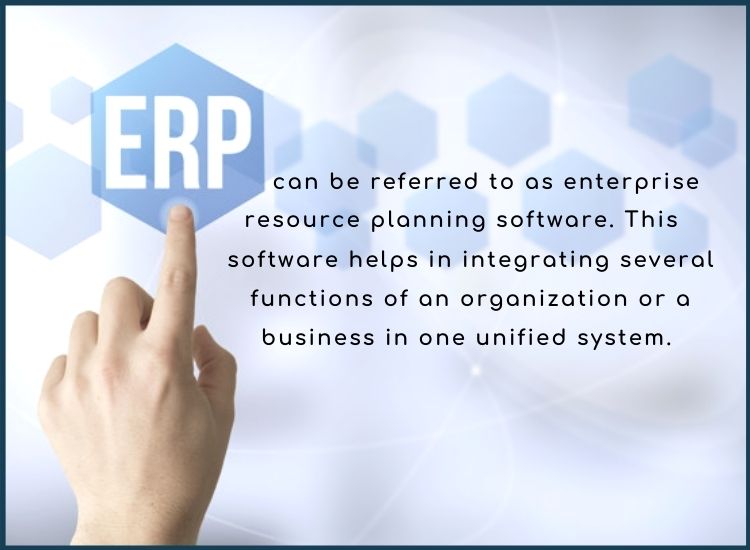 Why do businesses prefer Tally ERP accounting software?
ERP can be referred to as enterprise resource planning software. This software helps in integrating several functions of an organization or a business in one unified system. 
Many businesses use Tally ERP accounting software for the integration of the accounting functions within an organization. No matter its size, a business has many functions such as sales and marketing management, purchase management, accounts management, payroll, and much more.
Whether one has a small or large organization, they can benefit a lot from Tally ERP software hosted on Cloud. One can create invoices, ledgers, and account books in Tally ERP that runs on the Cloud. It can work on the Windows server.
Why Tally ERP is more reliable for businesses with multiple branches?
Suppose a business has multiple branches and several team members are constantly accessing tally ERP 9. In that case, it should not be put on the Windows server because it can be very risky and extremely costly. This is why businesses should think about switching to something more secure and affordable all at once. 
The organization can have complete control over the purchases and sales, and office inventory through proper access to all the corporate office information. One can work on the Tally and something similar to accounting software. 
Tally ERP 9 Accounting Software hosted on Cloud solution will make sure that the business can economically run Tally in a secured and efficient way.
Why do you need a secured Private Cloud for Tally ERP?
With a secured Private Cloud for Tally ERP, one will get a chance to access it on Mac or Windows OS from any part of the world at any time. All the branch offices and warehouses via the internet can access data of Tally on Mobile or PC. Many services host the existing accounting software, such as Tally and many more on the Cloud. It will offer a secure private cloud, and all the while, the users can get to their work as if they are working on their local system.
All the users will have access to the business and organization information at their fingertips. Even when they are traveling or not in the office access Tally ERP online for work from home as it will offer them centralized accounting, office inventory, consolidated and final reports with real-time sync.
Why choose a Private Cloud for Tally ERP?
It is natural to judge and evaluate all the factors before getting a product. As such we are here to state some benefits that will persuade you into getting this product. Some of these include:
Private Cloud for Tally ERP 9 is designed with extremely high security.

You do not need a license for OS, CAL, RDS CAL, and neither do you need a Windows license for server or CAL.

You get an enhanced RDP protocol for cloud access.

You get various features and web management tools for user admin and all settings.

There are other features like automated data backup with multi-version support.

You get support printing and bar code scanners.

There is high availability that you can install on two servers.

You can use this program on any device or OS or

Tally on Mac

.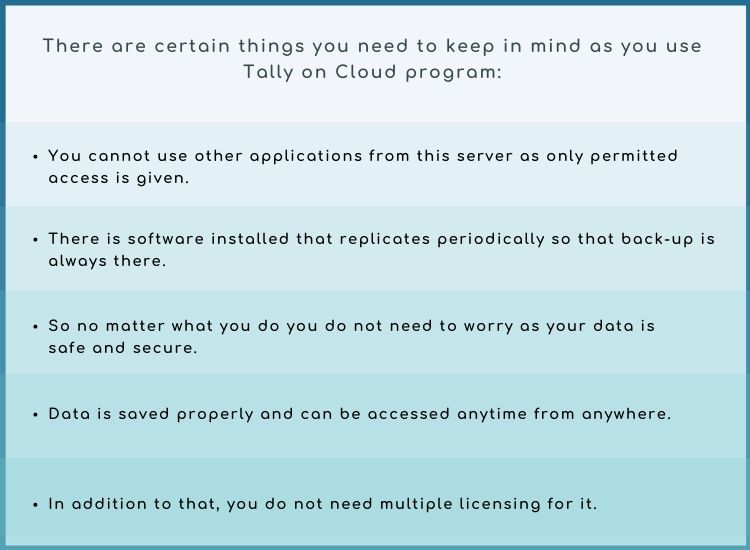 What are certain things you need to keep in mind?
Though the program is easy to use and of great help, there are certain things you need to keep in mind as you use this program. This includes the fact that you cannot use other applications from this server because this is an extremely secure server and only permitted access is given.
For Tally on Cloud you get due services, that is, there is software installed that replicates periodically so that back-up is always there. So no matter what you do you do not need to worry as your data is safe and secure and saved properly and can be accessed anytime from anywhere. In addition to that, you do not need multiple licensing for it.
Benefits of Private Cloud & Hosting on Cloud
Private Cloud and hosting on Cloud can be h

ighly secure.

It offers the businesses a platform to store all the information digitally and access that information at any possible time.

Tally on Cloud server offers

Centralized accounting.

This will result in quick delivery of work and increase the efficiency and productivity in an organization.

All that is needed is 

access via the internet on any device

. It is money-saving and offers a networking environment.
Why Choose Tallystack's Private Cloud service for Tally ERP?
Tally ERP combines with Cloud will offer plenty of added benefits. Tally On Cloud can be the perfect solution for people who wish to use Tally any time. Tally is considered to be the best ERP-based software for accounting. 
Tally On Remote Desktop can be used for recording daily business data of an organization securely. The software users will be able to print all the information on the local printer that would connect to the computers at the workplace. There shall be no need for printer drivers as the software will support all the printers.
With Centralized Tally, the organization can import, export, and backup the Tally ERP data on the local disk safely and economically. Tally Multiuser access is also possible with the Cloud.
So if you are an organization looking for the best possible solution to manage your accounts and other sources that help in running a business then we hope we were helpful and giving you the best of the best answer. One also doesn't have to worry because add-ons can make the cloud experience effective. Get the best Tally on Cloud solution from Tallystack today.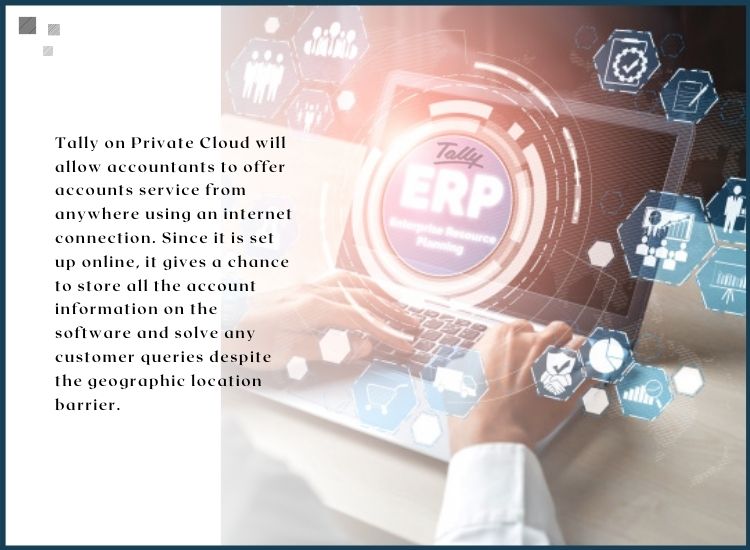 How can Tally on Private Cloud be useful for an accountant?
Tally on Private Cloud will allow accountants to offer accounts service from anywhere using an internet connection. Since it is set up online, it gives a chance to store and access Tally software remotely with all the account information and solve any customer queries despite the geographic location barrier. 
How can businesses with multi-branches benefit from Tally on Private Cloud?
Tally Windows-based accounting software will allow the organization to access information about all the office branches, warehouses, and workshops. They will be able to manage the locations centrally from the corporate office. Tally on Cloud offers real-time and Centralized information.
To learn more about Tally On Cloud, you can check out our videos.