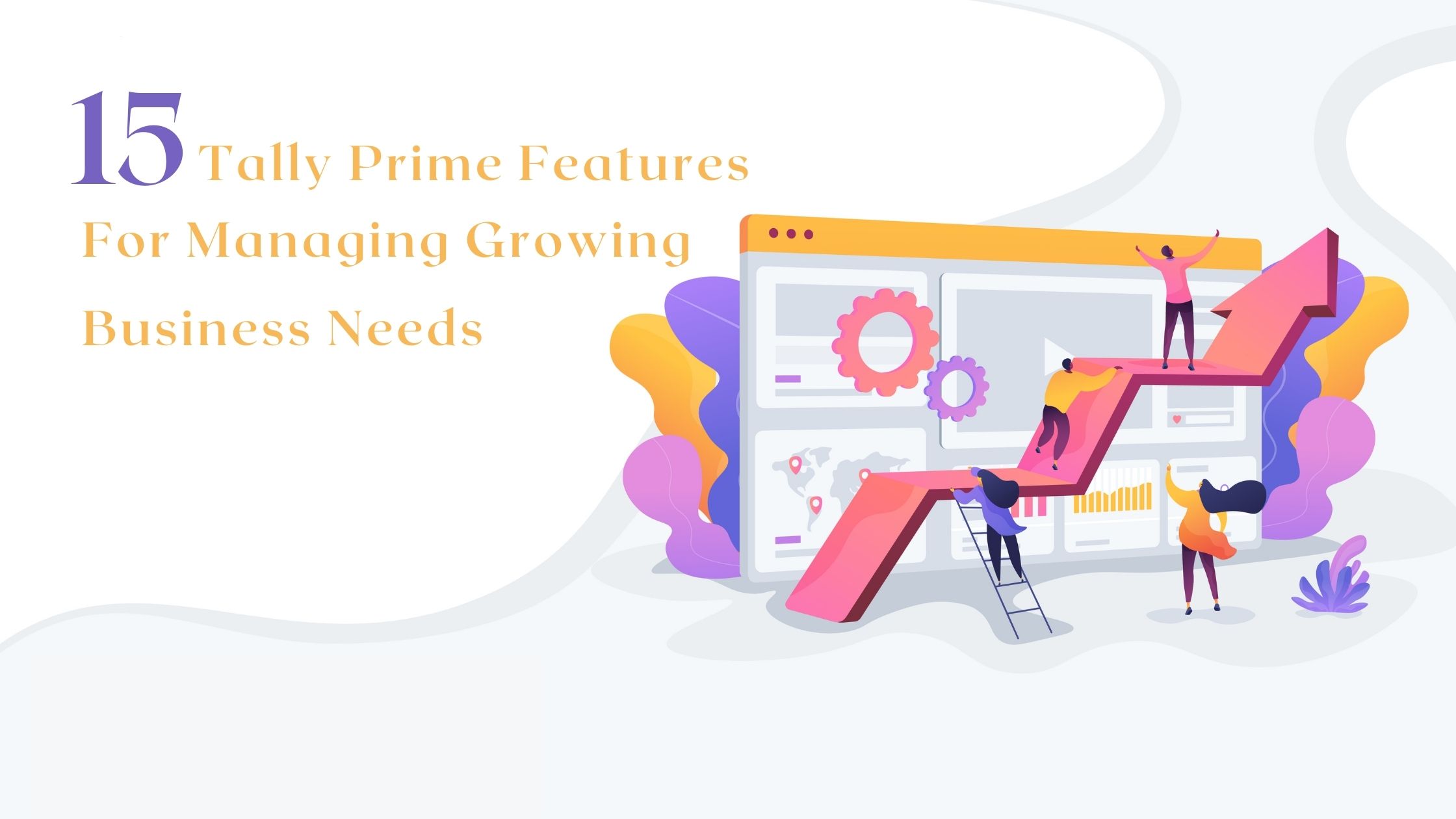 15 TallyPrime Features For Managing Growing Business Needs
All Latest Tally Prime Features
What is Tally Prime? about Tally prime: Tally ERP 9 has been upgraded to new TallyPrime features, which is used by businesses all around the world. The launch date of this premier business management software solution was on 9th November 2020 which aids in the management with features of Tally software including inventory, accounting, payroll, bank transactions, statutory compliance, and other functions.
Financial reports, cash-flow reports, cost center reports, inventory reports, accounting reports, and many other detailed reports and other accounting features in Tally prime can be accessed remotely when hosted on Cloud. Tally Prime on Cloud benefits aids in the smooth operation of the firm and provides influential input into decision-making.
Download Free 90+ Tally Shortcut Keys
How Tally Prime features helps businesses with effortless performance?
Advance features of Tally Prime adds value by giving advanced specification at no additional cost, simpler and easier-to-use functionalities, enhanced speed and power to the process, reliable and efficient performance, and offers many add-on features for business operation. Finally, using new features of Tally Prime on Cloud over Tally ERP paves the way for a more flexible and future-equipped solution. This article will discuss the advance Tally Prime new features: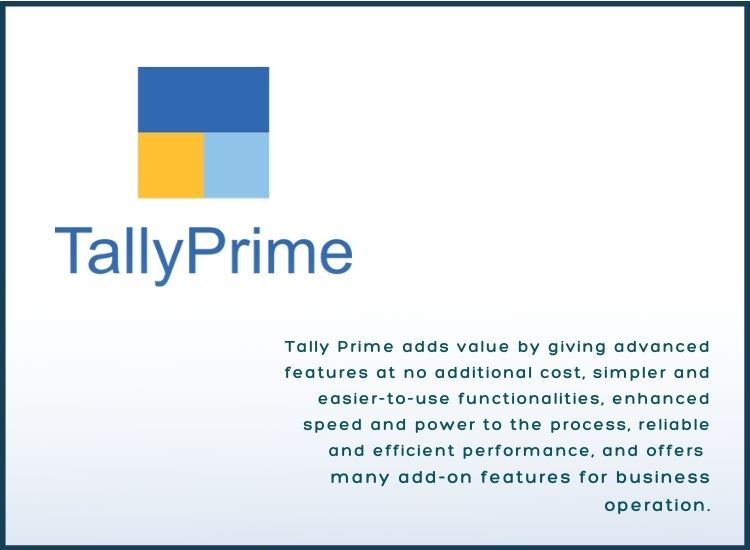 Here are the all new Tally prime key features list that can enhance business performance:
Tally Prime new features make it one of the most adaptable inventory management systems. TallyPrime Inventory management feature like godown management, multiple stock valuation, manufacturing, batch, and expiry dates, job costing, and inventory reports makes it efficient for business.
2. Invoicing & Accounting:
Features of Tally Prime makes creating and recording invoices a simple task. Tally Prime adapts to your organization with optimized invoice components, customizations host, and numerous billing modes, and other features. TallyPrime benefits with a simple and effective accounting system because of its extensive feature set.
3. Insightful Business Reports:
Uses of TallyPrime offers 400+ business reports that are easily accessible and provide powerful insights to businesses for making more effective decisions. Tally Prime's incredible flexibility allows you to segment and dice your reports as you want and study them in the way that best suits your organization.
In seconds with Tally Prime information, you can create GST-compliant invoices such as tax invoices and bill of supply, etc. and always file accurate GST returns. Plus, there's more. You can generate e-invoices in Tally prime and print with IRN and QR codes in a matter of seconds automatically. You can also handle TDS, TCS, and payroll statutory items like PF, ESI, and employee income tax with features of Tally Prime.
5. Credit-and-cash-flow-management:
TallyPrime helps you optimize cash flows by enhancing efficiencies in accounts receivable, accounts payable, inventories, and various other aspects of a business. Tally Prime's in-depth reports assist you to be on top of your cash flow.
6. Multi-task Capabilities:
Tally prime features and advantages allows you to multitask and help in managing interruptions on a day-to-day basis. You can handle many of these situations with Tally Prime without the trouble of switching between numerous instances of Tally or the risk of losing your work.
Discovering insights has never been easier than with TallyPrime. This is made available by the new and robust "Go To" search bar of TallyPrime. You can use Tallyprime Go To to find things you didn't realize Tally could accomplish for you and gain fresh insights to operate your business more effectively.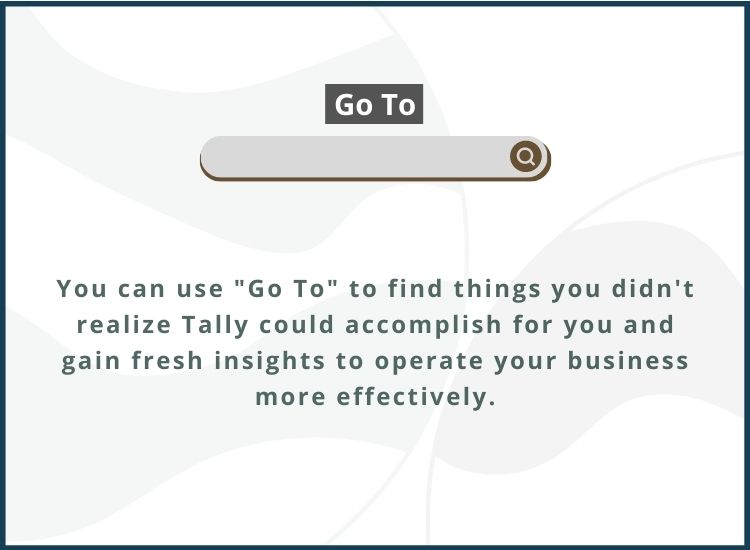 Importance of Tally Prime functions for banking features/ utilities make it simple to manage all of your banking needs. Banking becomes effortless when you use banking features in Tally Prime such as auto bank reconciliation, pre-defined cheque format, management of cheque, and e-payments, etc.
9. Access Online Business Data:
TallyPrime allows you to access online business reports from the convenience of your web browser, no matter where you are, with the assurance that your data will always endure with you.
We recognize the importance of your business data and guarantee that you will always have custody of it. Accessibility to your data is restricted based on your preferences with Tally multi-user access control and based on feature security levels.
11. Installation Process is easy:
When a new folder needs to be created or updated, the system will automatically search for and update an existing file if one exists. This saves the creator time when it comes to entering configuration, defining the path, TDLs and its components, and so on every time.
It's one of the Tally Prime features that help the software maintain its status go-to-go one for accounting. It is designed in such a way that it can assist the accountant, the business owner, and others in using and understanding the features. With Tally Prime add on features user can covers a wide range of business operations. Tally Prime uses allows you to systematically handle sales, purchases, receivables, payables, order processing, inventory tracking, and more.
The two most crucial aspects of detailed reports and details are accuracy and speed. Objectives of Tally Prime establishes a new standard in this area.
This update  includes plenty of Tally Shortcuts and knowing a few of the most critical ones are usually required for smooth operation. Even the shortcuts key like ALT + C, which is needed to create a new ledger, have been added to the screen with the upgrade.
Change Mode provides these three vouchers options. 'Item invoice,' 'Accounting invoice,' and 'As invoice' are the three options. The Change Mode option allows you to quickly access any of these.
Tally Prime's usability has been boosted with the major release. Tally Prime enables you to mark a few fields as "Permanent" so you won't have to click through unnecessary fields repeatedly. Your time is saved by marking details as permanent. Moreover, all of the Tally Prime upcoming features included in the software are aimed at making it easier to be able to use for accountants, business owners, or any other Tally ERP user. For Tally prime demo on Cloud or hosting your Tally Prime on Cloud visit Tallystack.in.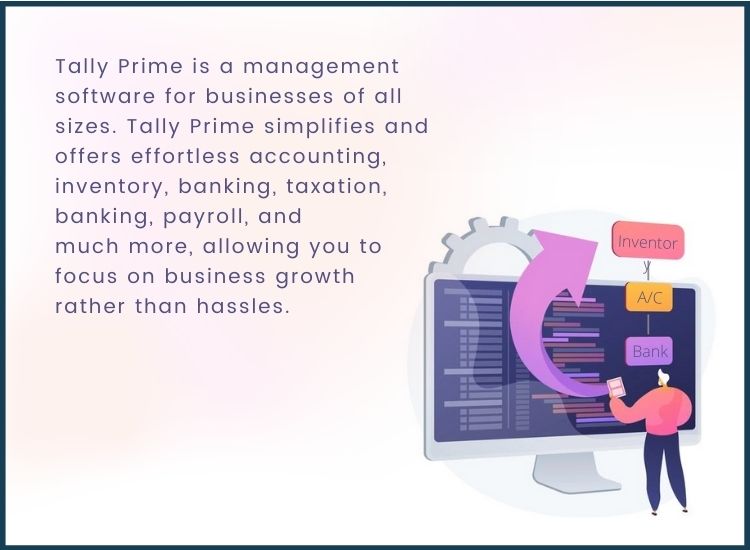 What is TallyPrime Accounting Solution?
Tally Prime is a management software for businesses of all sizes. TallyPrime simplifies and offers effortless accounting, inventory, banking, taxation, banking, payroll, and much more, allowing you to focus on business growth rather than hassles. From the Help Menu, you may quickly access the error messages and other information. Now, your screen is clutter-free.
How to get a free demo of TallyPrime on Cloud?
To assist you to experience the Tally Prime Software Cloud service, we offer 1 to 1 Live Free Demo with our Tally On Cloud Expert so that you could understand and be feasible with functioning.
To learn more about Tally On Cloud, you can check out our videos.