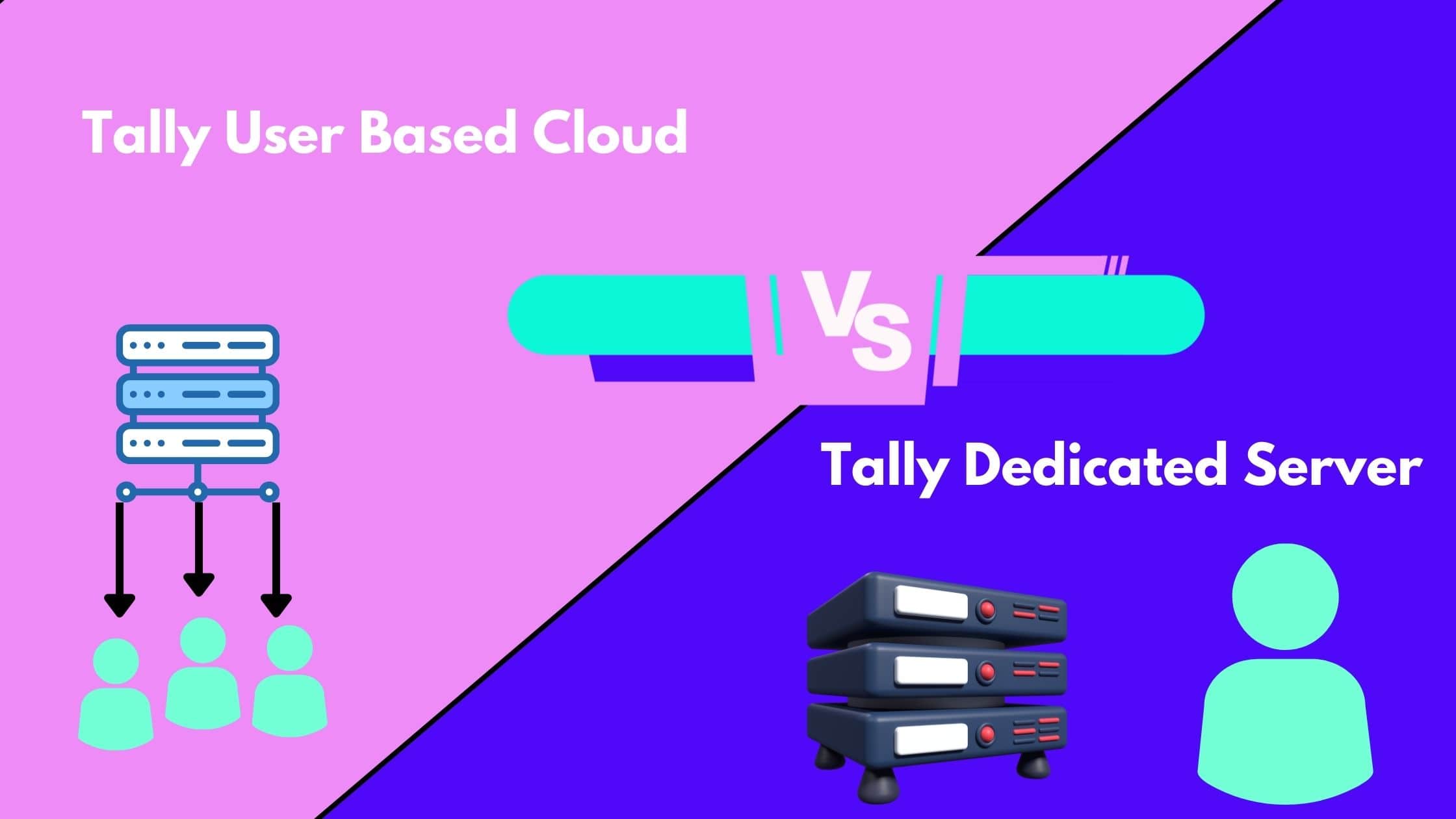 Tally User Based Cloud VS Tally Dedicated Server
Tally on cloud has revolutionized the way businesses manage their accounting and financial operations. With the introduction of Tally user-based cloud and Tally dedicated server, companies now have two effective options to choose from.
Both options have their own advantages and disadvantages ultimately depending on the size and needs of the business. Whether it is a Tally user-based cloud or a Tally dedicated server, businesses can now leverage technology to streamline their accounting processes and drive growth. Let's understand the difference between Tally User-Based Cloud and Tally Dedicated Server.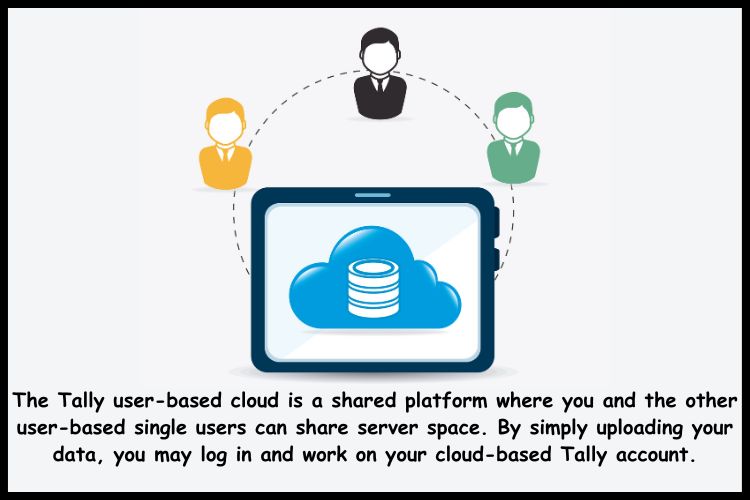 What is Tally User-Based Cloud?
The Tally user-based cloud is a shared platform where you and the other user-based single users can share server space. By simply uploading your data, you may log in and work on your cloud-based Tally account.
Download Free 90+ Tally Shortcut Keys
What are the Advantages of Tally User-Based Cloud?
Tally User-Based Cloud is a cost-effective solution for businesses, eliminating the need for substantial initial investment. It offers essential Tally services at an affordable rate, making it an economical choice for businesses of all sizes.
As your business grows, so do your requirements. With Tally User-Based Cloud, scaling up is simple. You can easily adjust your resources based on your current needs without investing in additional hardware.
One of the key advantages of any cloud-based solution is its accessibility. With Tally on a User-Based Cloud, you can access your financial data from anywhere, anytime, as long as you have an internet connection.
Stay always updated. With cloud solutions, software updates are often automatic, ensuring you always have the latest features and security patches without the manual hassle.
What are the Disadvantages of Tally User-Based Cloud?
The foremost requirement for cloud-based solutions is a stable internet connection. If your connection is unstable or slow, you might experience delays or difficulties accessing your Tally data.
While many cloud providers invest heavily in security, there's always a risk when data is stored off-premises. Concerns arise from potential data breaches or unauthorized access.
Cloud solutions might not offer the same level of customization or flexibility as Tally Dedicated Servers solutions, depending on the provider.
Depending on the physical location of the cloud servers and the user, there can be latency issues that can slightly slow down data retrieval and processing times.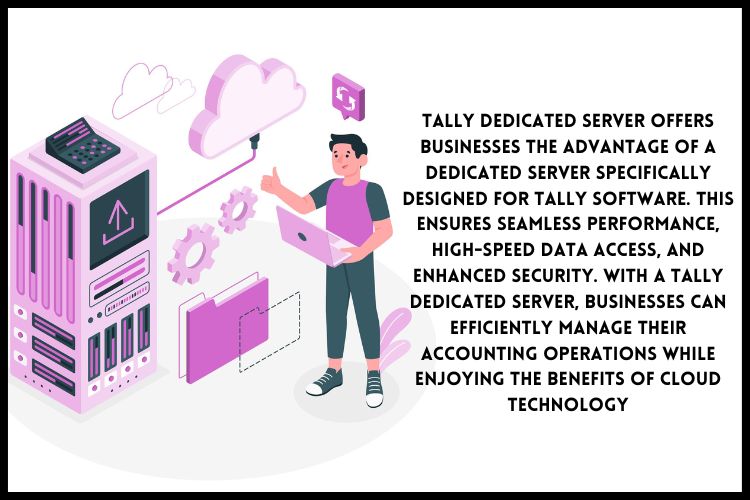 What is a Tally Dedicated Server?
What are the Advantages of Tally Dedicated Server?
A dedicated server ensures that all the server's resources are solely allocated to running your Tally software. This means faster report generation, swift transaction processing, and no delays even during peak business hours.
Shared hosting can often lead to unpredictable performance, especially if one of the entities experiences a surge in traffic or consumes excessive resources. With a dedicated server, such concerns are moot. Every byte of RAM and every CPU cycle is exclusively yours.
With a Tally Dedicated Server, your business data remains isolated from other entities. This minimizes the chances of cross-site attacks or data breaches. Furthermore, you have the autonomy to install advanced firewalls and security patches and set up strict access controls tailored to your organizational needs.
Perhaps you use third-party tools for analytics, forecasting, or inventory management. With a dedicated server, integrating these tools with Tally becomes a streamlined process, devoid of the limitations that shared environments might impose.
Every minute of downtime can equate to lost revenue and customer trust. Dedicated servers often come with high availability and redundancy features, ensuring that your Tally remains online and accessible, even during maintenance windows.
What are the Disadvantages of Tally Dedicated Server?
Compared to shared or user-based cloud tally, dedicated servers typically come with a higher upfront investment. This can be a significant factor for startups or small businesses operating on tight budgets.
2. Maintenance Responsibilities
With a dedicated server, the owners of server management and maintenance might fall on you. This means ensuring software updates, handling security patches, and troubleshooting technical glitches unless you opt for managed server solutions.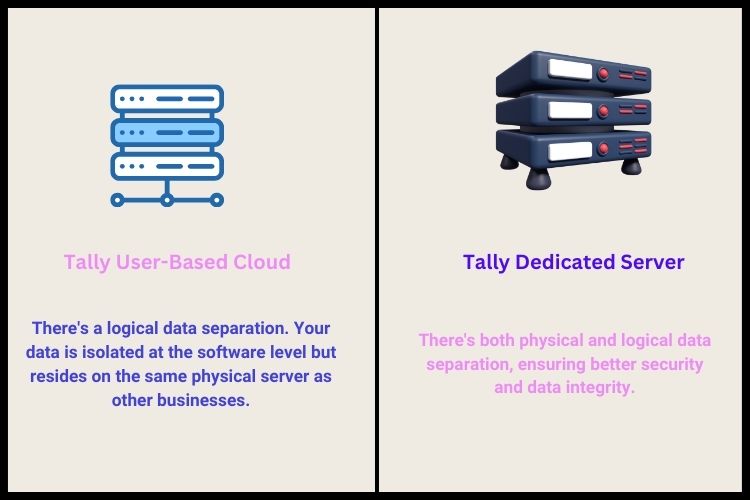 What are the differences between Tally User-Based Cloud And Tally Dedicated Server?
| | | |
| --- | --- | --- |
| | | |
| | This offers a shared cloud environment. Your Tally services reside on a shared server where multiple tenants might be accessing the same resources. | In this setup, you receive an individual, private cloud environment. Only your business accesses the server's resources, ensuring optimal performance. |
| | There is a fixed number of users allowed per subscription. It's best suited for businesses with a defined number of Tally users. | It can handle a larger number of users based on the server capacity, offering scalability as your business grows. |
| | There's a logical data separation. Your data is isolated at the software level but resides on the same physical server as other businesses. | There's both physical and logical data separation, ensuring better security and data integrity. |
| Customization Flexibility | Customizations might be restricted due to the shared environment. You might not be able to tweak the system exactly to your liking. | You have full flexibility. Since it's a dedicated environment, you can make any system-level changes you need. |
| | Generally, you pay as you go, based on the number of users or the subscription model. | Though there might be a fixed monthly or annual cost, you often get value-added services and the possibility of custom service packages. |
In today's tech-savvy business landscape, Tally offers two potent cloud solutions: The User-Based Cloud and The Dedicated Server. The User-Based Cloud caters to businesses looking for cost-effective, shared solutions, while the Dedicated Server offers exclusive resources tailored for enterprises prioritizing performance and customization. Your choice will hinge on your business's scale, requirements, and growth trajectory. At Tallystack we're poised to navigate you through these options, ensuring your accounting needs are met seamlessly. Join us in redefining cloud accounting for the modern era.
Frequently Asked Questions
Q1. Is Tally User-Based Cloud suitable for startups or small businesses?
Yes, Tally User-Based Cloud is often a preferred choice for startups and small businesses due to its cost-effectiveness and scalability options.
Q2. What if my business outgrows the Tally User-Based Cloud?
If your business expands beyond the User-Based Cloud's capacity, you can consider migrating to a Dedicated Server or upgrading your package, depending on the service provider's offerings.
Q3. How often are software updates released for Tally on Cloud, and how are they implemented?
Software updates are typically frequent to ensure users have access to the latest features and security patches. On the User-Based Cloud, updates are often automatic, while on Dedicated Servers, there might be scheduled maintenance windows.