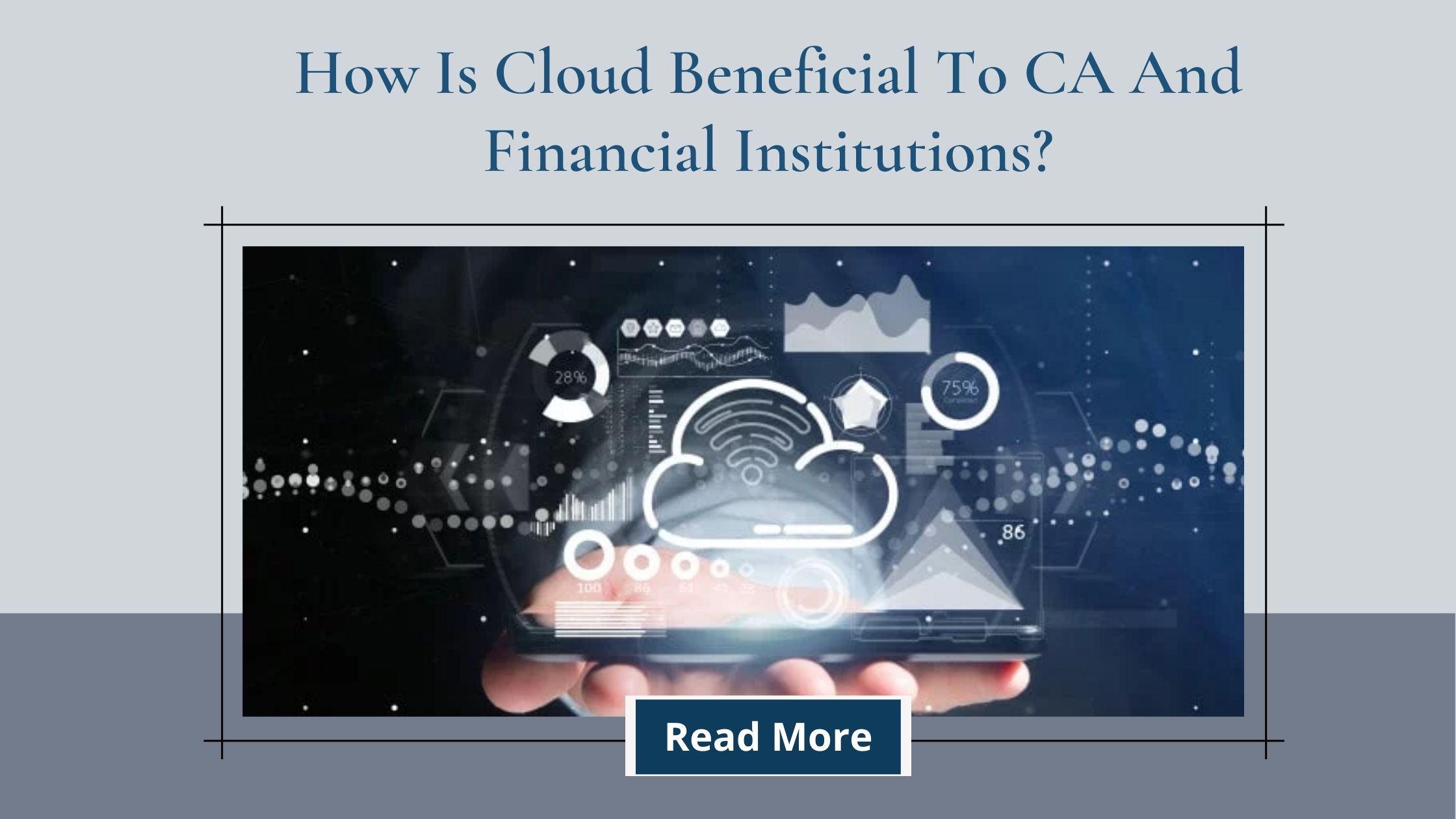 How Is Cloud Beneficial To CA And Financial Institutions?
Everyone knows the importance of the cloud in everyday lives. With the advent of the rise in digital technologies, data is rising, and so is the need for cloud computing. Every company from every sector or industry demands clouds to store their data and keep it safe and protected.
Cloud Computing for CA and Financial Institutions
The best fact is that every industry is learning the best uses of Cloud Computing. However, industries like bank firms and other financial service firms did not grasp the cloud services yet. However, the cloud benefits Banks, firms, and the fintech domain to use Tally online. One could also check out the domain cloud accounting software to learn and help their institutions more on benefits and features of Tally on cloud.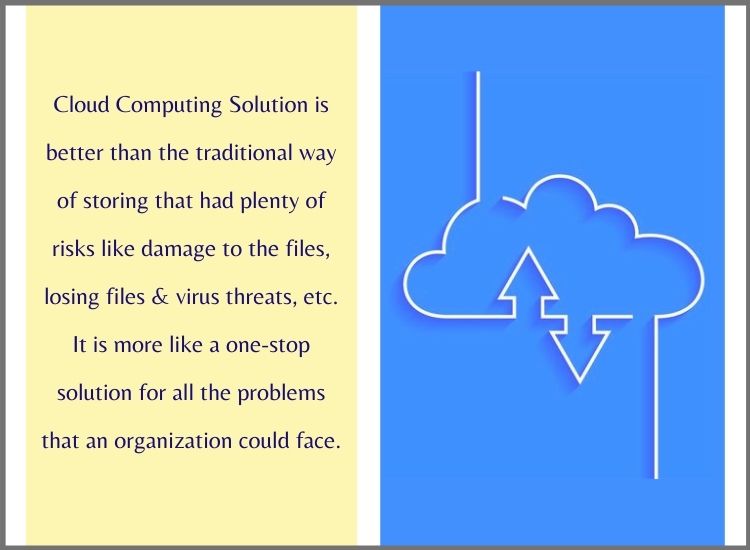 Cloud computing 

are services where data management and other functions like analyzing, storing and computing solution could be accessed online on pay-as-you-go pricing function.
The IT resources could be provided as and when a company needs them. In cases like data disaster, data backups, software development, and emails are the most common reasons why industries of every type invest in it.

The system is better than the 

traditional way of storing 

that had plenty of risks like damage to the files, losing files and virus threats, etc.


You need to understand that 

cloud storage service is one of the cloud computing models that store all the database or data through the internet, which is managed by cloud computing data storage services.


 It's more like a 

one-stop solution 

for all the problems that an organization could face. The 

objective and scope of cloud computing are immense, and every organization has started to prioritize this service.

The fact is that when the data of the company gets stored in the cloud, it becomes easier to navigate, access, and even search and analyze the data. The service barely has any limitations except for the connection speed, as a slow connection might make the process buggy.
There are three main types of Cloud computing. Yes, you read that right. Could you guess any? Well, the types are:
Download Free 90+ Tally Shortcut Keys
IaaS or the Infrastructure as a Service 

PaaS or the Platform as a Service 

SaaS or the Software as a Service 
SaaS or software as a service is the end-user applications that the service providers run. This could be any software application that runs on subscription to provide you with the platform you need. Think about it. You could get examples of many such platforms just by looking at your Mobile.
However, with IaaS, you could get services similar but for different purposes like networks, maintaining servers and operating systems, and so much more. The best example of Infrastructure as a Service could be a Virtual machine or a desktop.
You could check out the enterprise resource planning with the platform as a service. Organizations mostly use the PaaS services to deal with such needs required by the companies or MNCs or any organization. PAAS technology offers multiple Pros and Cons for accounting and financial businesses. There are various advantages of cloud accounting that would be disclosed later in this article. 
Here are 3 ways that the cloud can benefit companies within the financial services industry:
There are various benefits that companies within the financial services industry could make use of the clouds. The article has chosen the three most beneficial services that it could provide to such companies or firms. Keep reading to learn more.
Highly Cost-Effective: Think about it. The banking or financial firms rely and spend a lot on their hardware and software applications for storage and other functions done by single cloud storage. However, with cloud computing services, Tally hosted on cloud is economical and cuts down the expense rapidly, and all the functions could be done in one place. 
High-Security and Feasibility: Cloud storage is highly secured, especially the hybrid platforms. Moreover, Tally on cloud storages provides auto backup options to safely back up your data and never have the risk of losing it. Moreover, it comes with high-end security and encryptions that would help your data remain away from threats. 
Increased Productivity: All the tasks of software and hardware would be taken care of by the clouds, and hence the firms would get more productive as they would be able to concentrate on their work and bother less about the storing of Tally data. The best part about this is that cloud computing is easy to use, and anyone can understand the format and the interface. These are easy to comprehend, ensuring the time is not wasted. 
The cost storage is quite rational 
Are you still not convinced? No worries! The cloud storages are better at storing financial and tax information as it makes the task to find and search for data way easier. The scalability that it offers is amazing compared to physical devices.
It is quite essential for financial institutions to have a hold on the data volumes.
While every individual is required to hold his or her financial information and tax for about seven years while an audit is conducted, the financial institutions are required to follow the regulations of industry dictating the data types of such institutions for holding on.
 Storing important financial information for years might require an internal server's large space.
If an institution is running with a low space on a server, then they are needed to spend money in order to get extra units for storage and they also have to wait for new equipment to arrive and then an IT guy will install it. The tedious task isn't it?
On the other hand, Tally cloud offers secure data storage and that could be decreased as well as increased within a few minutes with the help of its dashboard.
Along with the scalability it offers, there are several providers that also give solutions for storage.
The IAAS greats help with cost reduction that ultimately help the user with smooth operations and even perform all operations within minutes that would take an hour at the most previously. You can now imagine how powerful it can be with AWS.
IAAS is a special thing that is offered by the cloud, it helps in the reduction of costs on testing, running and deploying applications for resources that are in-house. Along with providing a platform to perform tests on new projects and applications it also provides a very higher level of processing and computing capabilities to the business.
For instance, there are a number of financial institutions that use AWS for running simulations of credit risk. It is due to Tally hosted on cloud that the process that used to take hours to get done could be performed now within few minutes. Tally On Cloud has been a useful IAAS solution for CA and institutions that simply means it strengthens the decision-making powers and smooth operations.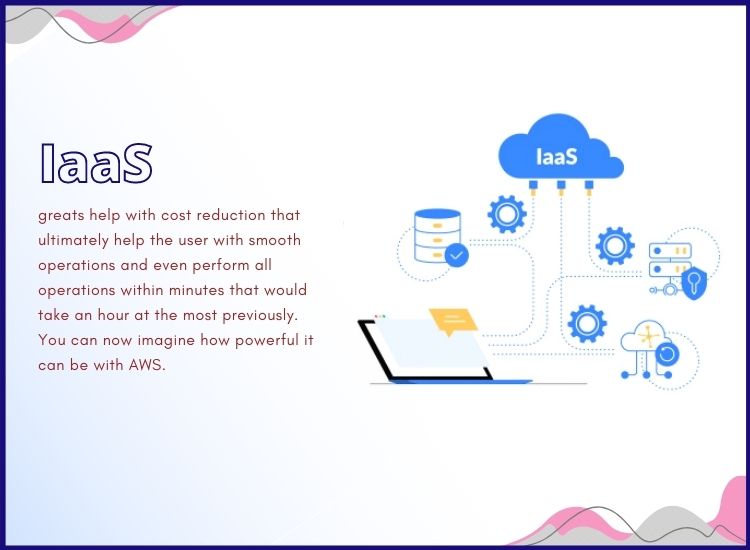 Databases are always changing, thanks to scalable computing
The financial institution no matter whether they are at a local level, state level, or country-level they hold more than a million contacts. The list of people in such a contact list might include investors, customers, clients, and even vendors.
It is quite essential for a financial institution to keep these databases organized in a proper way. The companies that are already using Tally on cloud are functioning more conveniently as when compared to the firms that don't use it.
No matter if the financial sector was quite slow in getting along with the cloud, now many institutions are utilizing it with full efficiency.
How Tally On Cloud Service can be useful for CA or Financial Institutions? 
Tally ERP 9 hosted on Cloud has been famous already, but tallying with the cloud is more beneficial as you could get both the platforms' benefits, and Cloud computing becomes more convenient. The platform provides cost-effective cloud solutions that run with a customer-centric model. 
This would have explained what Tally on the cloud means and why Tally on cloud is on the limelight?. It means to operate and generate information, analyze, organize, communicate and even store the data on the cloud. 
The fundamental reason it can help such firms is by understanding that these platforms make it easier to communicate with the customers. To date, the firms were slow in establishing themselves with cloud because of the reliability, regulatory, and security risks. Offers the feature to access Tally remotely and greatly increases the profitability.
Which facilities CAs And Financial Institutions can get from Tally on Cloud?
Data centers suffer from hacks and threats from outside, which could be resolved using the same service. The Enterprise Resource Planning (ERP)and the Customer Relationship (CRM)are the best models and software that help the firm with workers and customers. The CA and Financial institutions hence can make the most out of it as Tally ERP software on Cloud can be run on Mac or Windows devices from anywhere around the globe. Professionals can access data of Tally on Mobile anytime.
Tally on Cloud computing thus has a great many advantages that you now know about it. It saves on cost, and the benefits of cloud accounting are plenty. Reliable cloud service provider like Tallystack are here to help you anytime. Cloud accounting is the ultimate future of accounting firms, and the benefits of cloud accounting to clients are more than you can think about. To avail Live Free Demo contact today.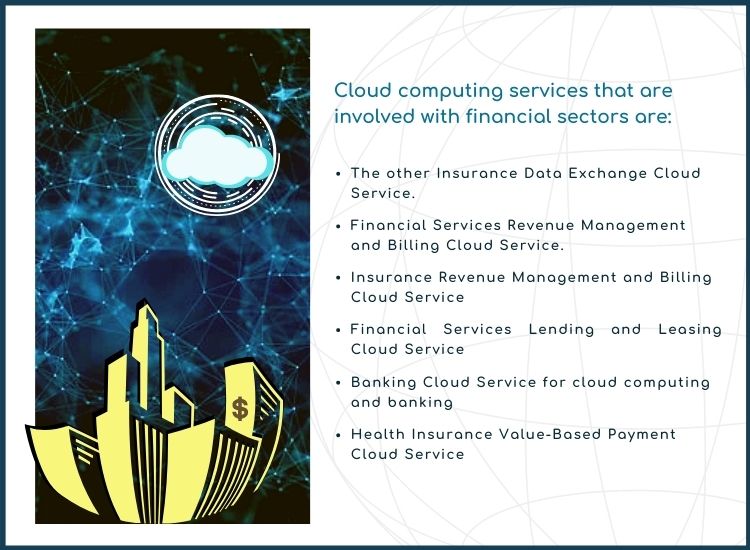 What are few other cloud computing services in the financial sectors?
The other cloud computing services that you need to know that are involved with financial sectors are: 
Insurance Data Exchange Cloud Service

Financial Services Revenue Management and Billing Cloud Service

Insurance Revenue Management and Billing Cloud Service

Financial Services Lending and Leasing Cloud Service

Banking Cloud Service for 

cloud computing and banking

Health Insurance Value-Based Payment Cloud Service
What could be a drawback of cloud computing?
There are few cloud computing limitations like one must always take upon the Security precautions. Even though these come with securities, but it is advisable to install other precautions. Hence, the only issue with cloud servers is suffering from security threats.
What are some of the advantages of Cloud computing in regulatory and compliance?
There are a lot of advantages with Cloud computing in regulatory. The owner can decide the access granted to the cloud storage. They can either give partial or full access. Hence, banking firms can easily digitize through cloud computing.
To learn more about Tally On Cloud, you can check out our videos.