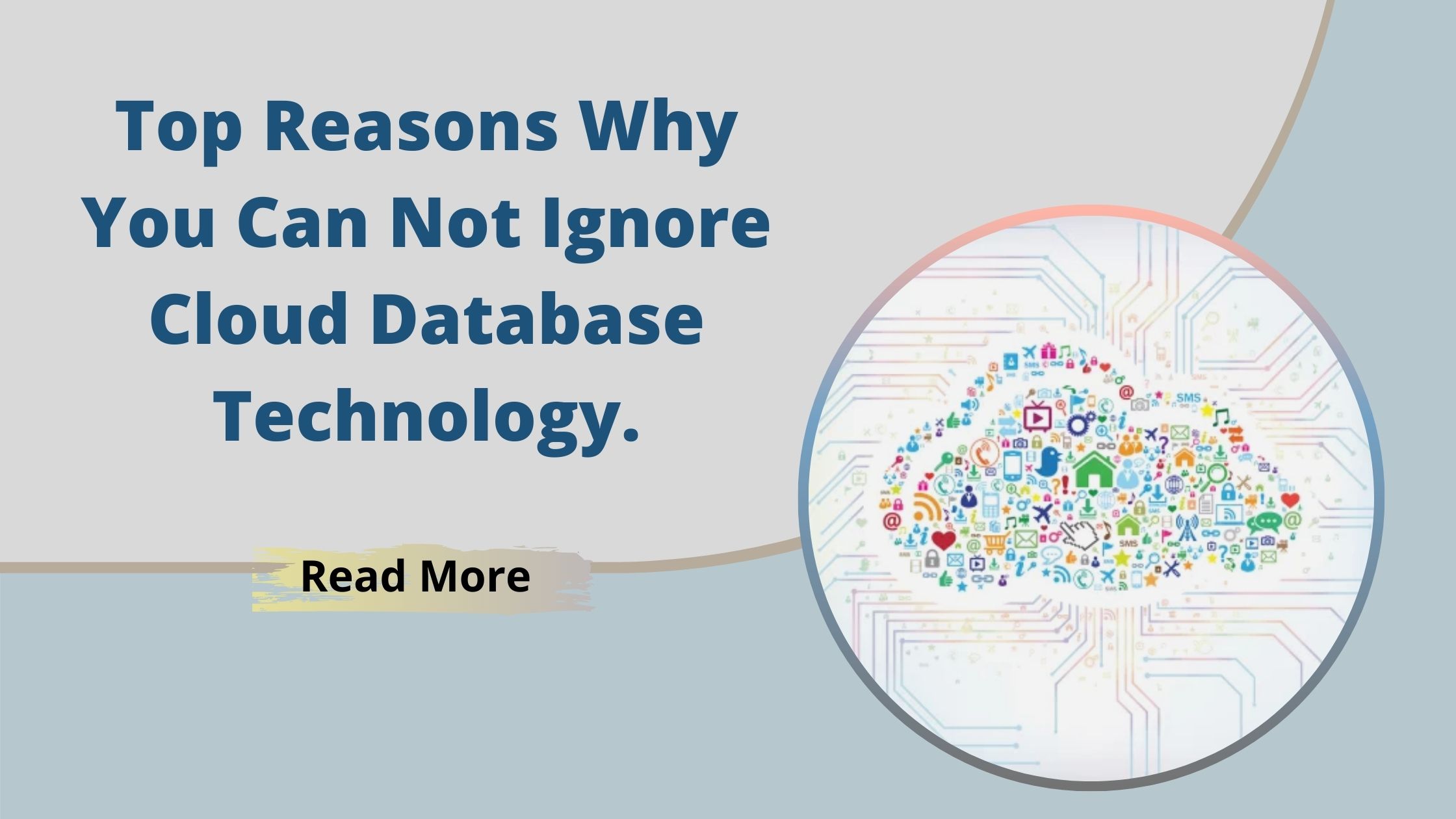 Top Reasons Why You Can Not Ignore Cloud Database Technology.
Cloud-based technology – Future Trend
Cloud-based technology has been making a lot of buzzes lately. The revolution of cloud on the internet platforms has made businesses more efficient, effective, and productive. Cloud-based technology is basically virtual software that gives people the assistance of storing resources, applications, and programs all virtually on the cloud platforms. 
It makes the best of cloud computing technology to run software and resources virtually on the internet. This cloud computing supports services like Platform as a Service (PaaS), Infrastructure as a Service (IaaS), and Software as a Service (SaaS). 
Download Free 90+ Tally Shortcut Keys
The services of SaaS make the most useful software in a business functioning like Tally ERP 9 to run efficiently without any need of extra hardware, resources, or any infrastructure. 
The SaaS service of cloud computing helps the tally database to get stored in a remotely accessible format, which makes it easy for the tally users to access their tally account and other resources from anywhere, at any time, using any device.
These cloud database services make it one of the most prominent solutions of today to combat the new dynamics of work from home and Tally remote working environments. 
A cloud database management system is a kind of distributed database system which allows computing as a service on cloud platforms. It offers feasible cloud based database services regarding managing and accessing infrastructure, resources, data, information, software, etc. all under one centralized network. 
The use of these cloud computing services helps users based at different locations to have control and access over the database stored without any additional requirement of extra software or resources. 
Different web applications and programs can scale up magnificently with the help of distributed database online storage solutions. This solution can also be utilized by outsourcing the resources and management of services completely to third-party servers.
Read through the below points in the following blog to know more about what cloud hosting access database actually is and how it can benefit your business.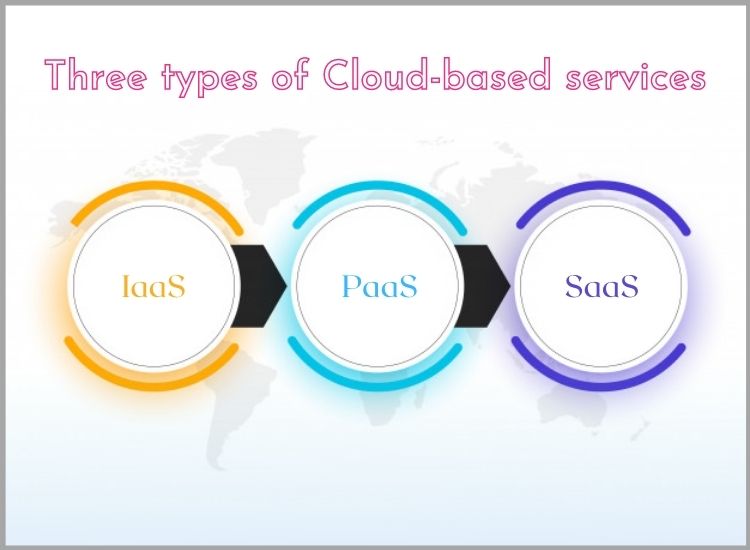 Evaluate the different types of Cloud Services
As we discussed before, there are usually three types of cloud-based services
IaaS (Infrastructure as a Service) – IaaS allows you to have a complete IT infrastructure that can be owned or rented along with all the other principal resources like the operating network systems, storage server, etc. on the efficient virtual technology of the cloud. This makes the whole infrastructure centralized and accessible from remote locations. IAAS solution of Tally Cloud is useful for Chartered Accountants.
PaaS (Platform as a Service) – PaaS is widely used by programmers for web design and other infrastructure activities that demand checking, evaluating, analyzing, and delivering the most complete software on the cloud that can make programming and developing on the web easy and efficient. PAAS technology Pros and Cons for Accounting and financial businesses.
SaaS (Software as a Service) – The SaaS is widely known for its effective use of supplying software and its services on virtual modes of the cloud. It can be used effectively to access or use any particular software from any different location without any additional resources. It can also help to manage and maintain certain infrastructure-related activities like software upgrades or the services of web clouding. 
The efficient features of cloud-based tally can help businesses to use their tally accounts remotely and with better control with the help of the cloud services mentioned above. Cloud can help Tally software to build an impressive and responsive Tally database design. 
How does Cloud-based Technology work?
Cloud-based database solutions work with the efficient technology of cloud computing which helps all the resources, infrastructure, and other applications to be stored at one centralized location. Through this centralized location, the technology of the cloud helps users to access the centralized resources, infrastructure, and other applications from anywhere, using any device at any time. 
Below are some of the major benefits of cloud database, which will make you understand how cloud database works and how is it so efficient –
Efficient Collaboration – 
In the new normal of remote working, employees need to understand and collaborate well with their colleagues from multiple remote locations they are working from. Cloud technology helps employees and businesses to easily connect, communicate, and share resources within their network by being wherever they want to be. This leads to effective collaboration on efficient grounds.
The cloud-based technology just needs the internet and a device to be accessible and that's it! It doesn't require any extra hardware, software, resources, or any additional program to get installed. This can cut all of your resource installation and management costs as all you would have to bear for is the internet connection. These savings achieved can be utilized well by investing in other useful services. This way cloud can turn out to be the most probable software for small companies. 
As the cloud technology works as a virtual storage space provider, you get expandable storage with a lot of storage space that is centralized and is accessible from remote locations. With its online database management, cloud databases help it very easy to store resources and access them remotely with complete security and flexibility.
Security is the most important concern for any business and the cloud manages it well with reliable and secure services. A reputed cloud-based technology will help you get a better uptime to work well on your productivity and counter security issues with robust measures. Cloud technology can help you save on all the chaos of different personal drive formats and dots. It will all-in-all make your network a lot less chaotic, safe, secure, and free from danger.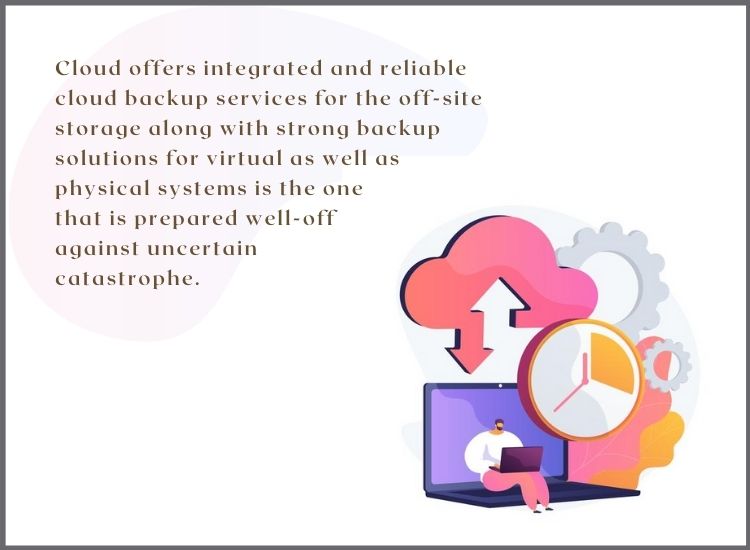 Equipped for Catastrophe – 
Every business must keep a strong backup and preparedness for any unforeseen disaster that can come. Cloud-based online database management that offers automated physical to virtual backup in times of server failure, or which offers integrated and reliable cloud backup services for the off-site storage along with strong backup solutions for virtual as well as physical systems is the one that is prepared well-off against any uncertain catastrophe.
Elimination of Physical Infrastructure – 
The efficient technology of cloud computing eradicates the management and maintenance duty of the end-user as the cloud computing provider takes care of all. The cloud computing provider manages the server and its necessary requirements. In the DBaaS environment, the cloud provider takes care of the management and operation of your database software, making you relieved and burden-free of any physical resource or whole physical infrastructure management.
The cloud-hosted databases make use of the updated kernel along with other important security software to combat online threats. Cloud can easily protect your data and safeguard your network from unforeseen dangers as well, as your cloud provider will take massive care in its facility. Cloud-based databases come with an advantage of cloud databases over traditional databases because of the cloud databases certifications of security and reliability.
Cloud-based databases are considered to be more faster and efficient than the traditional on-site systems because of the uptime it guarantees. The cloud computing providers set their configurations with 99.9% uptime that comes with faster speed and more enhanced performance.
Cloud makes everything quite easier for the user to access and control from any location, using any device and at any time, just with the help of an internet connection. It includes user-friendly activities like for instance, initiating a new database cluster and configuring it effectively for load balancing that actually used to be the Domain of the Database Administrator (DBA). The database tools take up the charge to manage all the database resources feasibly.
Why is Tally on Cloud acknowledged as a real boon and What are its benefits?
The remote working efficiency has been possible only with the help of the cloud, due to its efficacies in managing databases. Cloud technology has helped people working from different remote locations to connect under one network and access company resources and control them at their comfort. 
The efficiency of cloud technology with Tally works unmatched with any other solution, as it offers the feasibility of accessing tally accounts from anywhere, at any time, using any device. Also, all the ERP reports, data and resources can be saved effectively and securely on the cloud platforms. Tally ERP on Cloud has been efficiently possible with the help of the SaaS service of cloud computing. 
Below are some key Tally on Cloud benefits, that proves it to be a real boon for this generation of Tally users – 
Not Mandatory to

install Tally Software

on every system

No Driver installation needs for print.

Easy print from default local printers.

Users can be restricted with work-hour restrictions. 

Own

customization and configuration

file. 

The whole

cloud server hosting

and hardware maintenance carried out by cloud computing providers and trained professionals. 

Multi-layer security to safeguard your internal and external data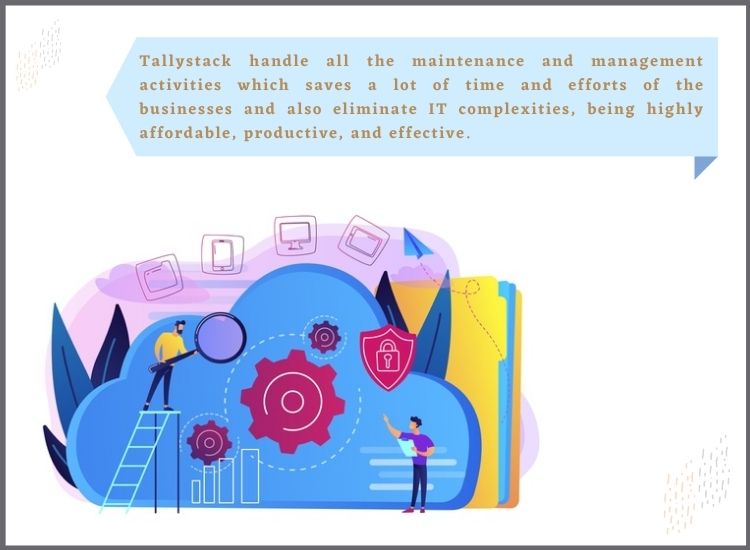 The efficient technology of cloud computing has helped many businesses to have a smooth transition to the new work from home and remote working model. Cloud technology has helped businesses to have centralized, secure, and reliable storage that is accessible from any location without any need for additional resources. 
Also, the cloud service providers handle all the maintenance and management activities which saves a lot of time and efforts of the businesses and also eliminate IT complexities, being highly affordable, productive, and effective. 
Getting Tally on Cloud databases has helped many businesses with the convenience of accessing their tally account full-fledged from any location, using any device, at any time, and without any extra resources. Accessing tally reports, data and other resources just got convenient and more flexible with the help of the cloud. 
Avail of the best offers on Tally on Cloud from Tallystack today and use your Tally account from anywhere, anytime, and with all the required resources added with our prominent cloud professional's management and maintenance.
It becomes a crucial task to keep a track of your financial books and manage enterprise resources simultaneously. And in this loop one often lacks in all over productivity and growth of the business. Perhaps to aid all the businessmen, accountants, managers, etc hosting tally on cloud servers has made an accessible way where through cloud computing you can avail Tally ERP accounting software, making your life easier and work efficient.
How Tally Cloud can be configured?
Tally on cloud can save you from wastage of a lot of time, investment and resources by installing antivirus, backup, storage, license, server hardware, and whatnot! By installing tally ERP software you get the best feature of using it anytime and on any device. 
What are the features of Tally hosted on Cloud? 
The convenience of accessing this server makes it the best cloud server after all you can get both, online Tally version on Mac and Windows devices as well. Every operating system works with Tally on cloud solutions providing you with other features like- automatic backup, security especially from hackings, easy data export, etc.
To learn more about Tally On Cloud, you can check out our videos.